News & Events
AJ Scientific Journalism Forum on digital challenges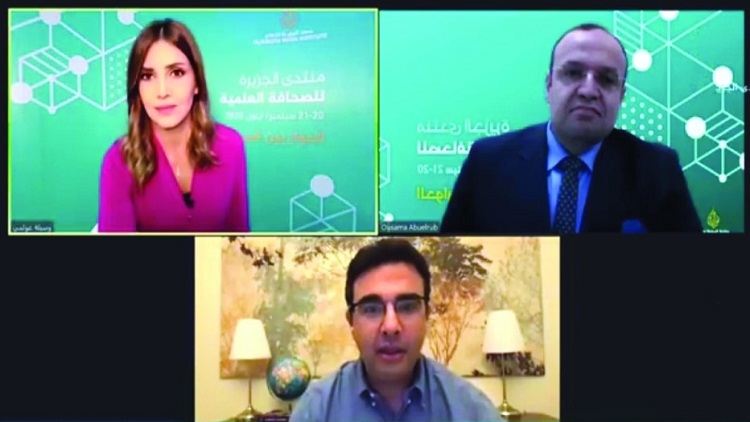 ​AJMI - Doha
The two-day Al Jazeera Scientific Journalism Forum, organized by Al Jazeera Media Institute, concluded Monday, September 21, with 1,500 attendants from 40 countries. The sessions exceeded 350,000 views on Al Jazeera Media Institute's social media platforms.
At the first session of the forum, Dr. Yasser Bishr, executive director of the digital division, spoke about the reasons for the spread of false and misleading scientific news, and the challenges facing the scientific journalism, such as changing the nature of newsrooms' work, and how digital transformation, digital journalism, and Google and Facebook's algorithms have affected traditional journalism.
Montaser Marai, manager of media initiatives department at Al Jazeera Media Institute, said the forum was an opportunity to listen to Arab experiences in the field of scientific journalism. The interventions were consistent with the objectives for which the forum was held, foremost of which is the ability to separate political and scientific news. He pointed out that the strong engagement with the forum's activities from journalists and interested people, confirms that there is a need to possess the tools of scientific journalism in our Arab media.
On the first day of the forum, five sessions were organized. Two workshops were held on the second day. The institute, on the fringe of the forum's activities,issued a guide to scientific journalism, which can be downloaded through this link.