News & Events
A collaboration agreement between AJMI and PTI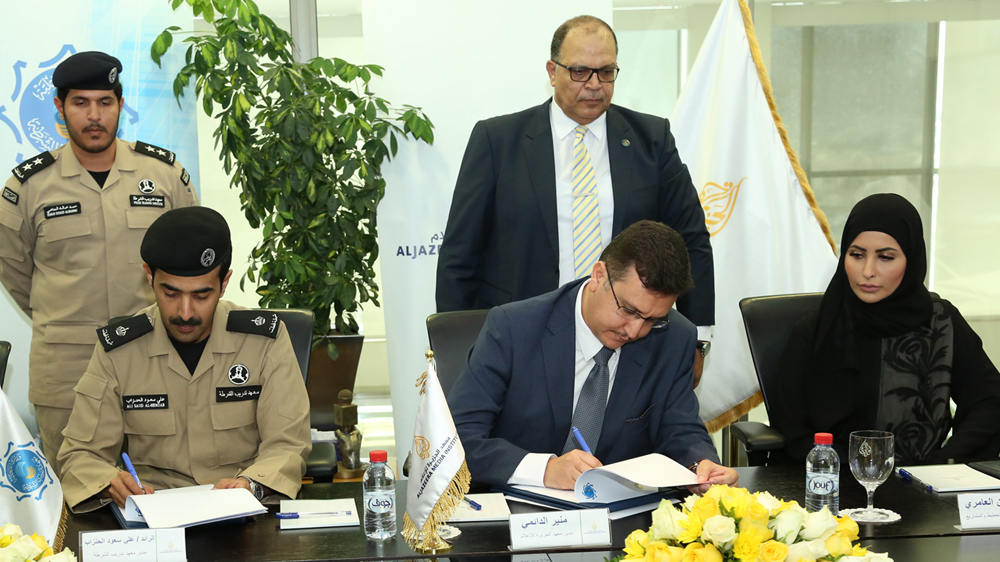 AJMI - Doha
Al Jazeera Media Institute (AJMI) signed a cooperation agreement with Police Training Institute of the Ministry of Interior at AJMI's headquarters, on Monday December 3, 2018.
The 3-year agreement was signed by Munir Daymi, Director of AJMI and Major Ali Saud Al-Henzab, Director of Police Training Institute; and it is effective immediately.
According to this agreement, the two parties will exchange expertise in various types of training including specialized and topic-focused training. They will work on developing professional and executive skills for the Police Training Institute. 
Munir Daymi expressed his pleasure for signing this agreement and thought it would take the relations between the two institutes to new horizons. Daymi pointed out the importance of this agreement in developing the professional and media skills needed for the Qatari staff especially under the current political circumstances.
Director of Police Training Institute, Major Ali Saud Al-Henzab pointed out that the agreement is signed in the framework of the institute's strategy to cooperate with various civil institutions. He commended the agreement for it formulates the already-existent relationship with AJMI. He looked forward to collaborate with aJMI to hold workshops, researches, and studies. He appreciated the potential efforts of AJMI to develop media skills of the Police Training Institute staff.