News & Events
AJMI SIGNED an MoU with Qatar Olympic Academy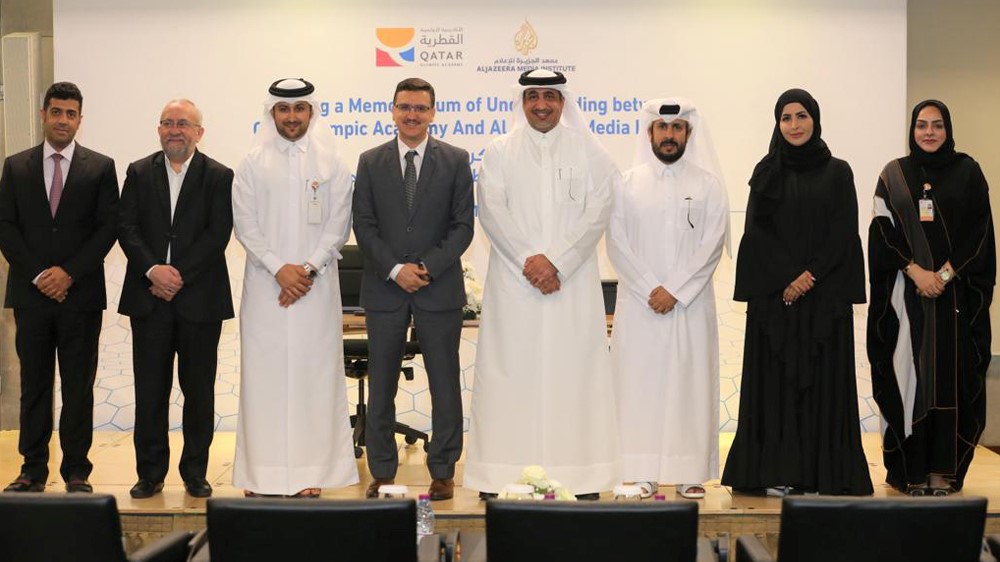 AJMI - Doha
Al Jazeera Media Institute and Qatar Olympic Academy signed on Monday, October 21, a memorandum of understanding and cooperation in the field of media training and media development programs.
Mr. Saif Mohammed Al Nuaimi, Executive Director of the Academy, welcomed this collaboration, which is being held for the first time with Al Jazeera Media Institute and said, "We are very happy to sign this agreement with Al Jazeera Media Network represented by Al Jazeera Media Institute. When we mention Al Jazeera Media Network, we realize that we talk about a global media brand that we are all proud of because it proudly changed the map of the world media.
 "So is Al Jazeera Media Institute which is a well-established media institute that is specialized in training media professionals and providing distinguished media and management courses in various fields of media industry, according to the best means and in accordance with the latest scientific standards."
"It is well-known that the Qatar Olympic Academy has collaborated with the International Sports Press Union and offered many training courses in the field of sports media. Those courses were so well attended.
"We wanted to be more specialized and professional in this field through this agreement with this distinguished media edifice, which has many veteran media personalities."
Today, through this collaboration, we aspire to work together to provide the most specialized joint courses in the field of sports media to develop the competencies of human resources inside and outside Qatar in a professional manner and to benefit from the expertise of Al Jazeera Media Network.
Munir Daymi, Director of Al Jazeera Media Institute, expressed his excitement with signing this MoU with the Qatar Olympic Academy, which ranks among the top 20 Olympic academies around the world through the programs they offer to Qatari and neighboring communities.
"Through this agreement, we are seeking to keep up with the scene and the sporting movement that Qatar is experiencing, especially with the holding of the Qatar World Cup 2022, and Qatar's hosting of many international sporting events recently, the latest of which was the World Track and Field Championships as well as the World Beach Games," Daymi said. "We look forward to further fruitful cooperation with the Qatar Olympic Academy in the near future in the field of sports media courses."
The memorandum includes providing media consultations as well as consultations in sports and Olympic sciences, holding joint workshops as well as seminars and conferences in the field of sports media, as well as exchanging technical expertise. It also provides for cooperation in any special way as needed by the two parties on the sports media field.