News & Events
Al Jazeera Media Institute wind-up a digital media training program in Somalia.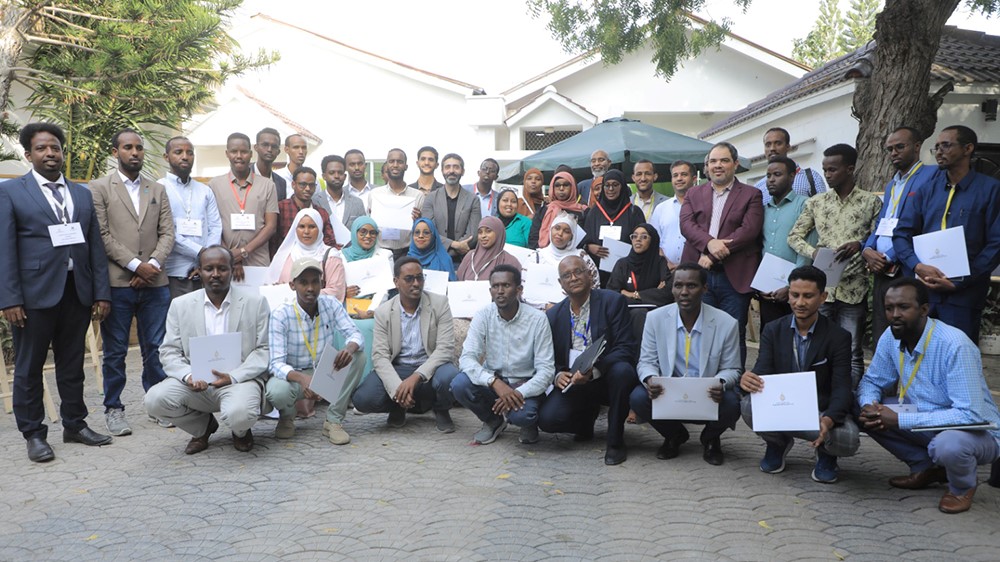 AJMI - DOHA
Aljazeera Media Institute wind-up on Thursday, 7 September a special training program designed to developing digital media skills for the interest of Somali journalists. The program was held in the frame work of Media for Development Initiative adopted by the Institute for 54 young Somali journalists and media workers.
The training program includes three simultaneous courses namely, storytelling for digital platforms trained by Director of Media Initiatives, Montaser Marei, Sub- editing led by journalist and reporter Ahmed Jarrar, and mobile journalism led by journalist and reporter Samir Al-Nimri.
The training program was conducted in partnership with the Somali Academy for Digital Media with the aim of supporting the rising Somali scene at the level of practice and education in the field of media in general and digital media in particular, which basically developed by the skills of Somali civil society and the energies of Somali young generation.
Montaser Marei, Director of Media Initiatives, said: "We came back to Somalia to build bridges of cooperation and exchange experiences with our Somali colleagues, learn from them and share our experience with them too, especially in the era of digital transformation in which digital platforms have become the most followed medium".
As for sub- editing course, trainer Ahmed Jarrar considered that the course tried to provide "the best ways to write and design press release that attracts followers and readers. We learned together about the methods of writing a news story and the best angles for processing and writing a story. The essence of the course was to develop the skills and abilities of the trainees in journalistic writing".
Trainer Samir Al-Nimri pointed out the importance of mobile journalism in the current period, saying: "Mobile journalism has become an essential part for every journalist and student who is interested in a journalism career, and this is what we focused on in our training in Mogadishu in order to provide them with the most important practices and skills in mobile journalism to help young people producing professional creative stories reflecting the modern Somali reality to erase the negative image that have been reflected to the world over the past years".
The training program which was conducted from 3 to 7 September, comes as a resumption of Media for Development Initiative activities in Somalia which started early 2019 but stopped later due to Corona pandemic.