News & Events
AJMI & UNESCO provided a Occupational Safety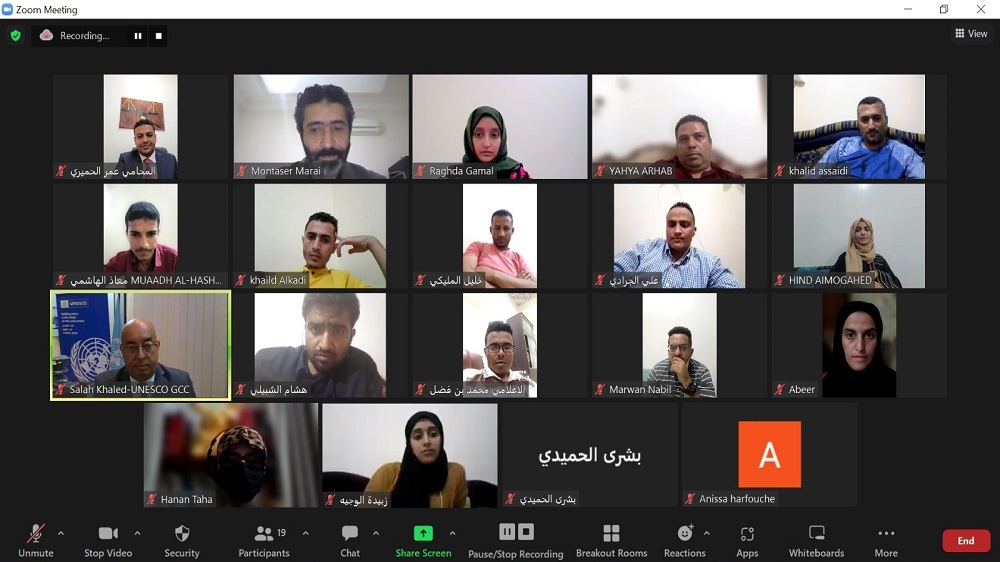 AJMI - Doha
Al Jazeera Media Institute (AJMI) on Tuesday, September 13, concluded a training course for Yemeni journalists on Occupational Safety for Journalists, organized in partnership with the United Nations Educational, Scientific and Cultural Organization (UNESCO).
The course lasted ten days and was attended online by 15 journalists from different Yemeni governorates, who received knowledge and skills that will help them enhance their security and safety during their journalistic work.
"At UNESCO, we believe that attacks on journalists intimidate everyone and leave society in a state of information poverty, and we will all lose when the media cannot do its job of providing reliable information to the public," said Salah Khaled, UNESCO Representative in the Gulf and Yemen and Director of UNESCO's Doha Office.
In order to advance peace, democracy, and development throughout Yemen, Salah said that UNESCO wants to foster a free and secure environment for media professionals by conducting this program.
Al Jazeera Media Institute's Muntaser Merhi, Manager of Media Initiatives, stated: "It is regrettable that wars and conflicts still exist in our modern Arab world. Journalists occasionally only receive recognition when they become breaking news after being attacked or hurt. However, we hope that journalists, particularly those who operate in challenging conditions, receive the respect and appreciation they deserve."
Trainers Mahmoud al-Kan, Ibrahim Saber, Bilal Benabid, Afra Hariri, Ihsan Adel, and attorney Omar al-Hamiri delivered the training.
The training is a component of UNESCO's efforts to address the needs of Yemeni journalists who are suffering due to the country's inadequate legal system and uncertain political circumstances as a result of the country's continuous conflict.