The repeal of Kashmir's autonomous status by the Indian government, combined with a crackdown on press freedom, has made life extremely tough for women journalists in the region
Zenaira Bakhsh, 24, an independent journalist based in Kashmir, was not always a news buff. It all started in 2008 when violent clashes erupted near her hometown in Kashmir over 98 acres of disputed Himalayan land and she found herself glued to the television and newspapers. She knew then that she wanted to be a storyteller.
Despite the challenges that exist for a woman living and working in Kashmir, Bakhsh managed to get a place to study for a degree in journalism at university. Getting her degree coincided with the repeal of Articles 370 and 35-A, which had provided special autonomy to the state of Jammu and Kashmir, leading to turmoil in 2019 and making this a particularly difficult and dangerous time to be starting out as a journalist.
While Kashmiri journalists have been working in a hostile environment for decades, things took a turn for the worse on August 5, 2019, after the Indian government unilaterally divided the state of Jammu and Kashmir into two Union Territories to be ruled directly from New Delhi. Kashmir has also been subject to regular communication blackouts making the work of journalists even more difficult. 
Bakhsh found her path blocked at every turn when she started to work as a journalist. "Officials would not give me quotes or take me seriously when I called them to get a comment," says Bakhsh, adding that the type of stories that journalists are permitted to write has been severely restricted. 
Over the years up until 2019, dozens of digital media outlets had started springing up, reporting local news from various regions of Kashmir and giving rise to strong alternative media platforms in the Valley. However, since the administration of Jammu and Kashmir announced its new media policy in 2020, reporting from Kashmir has become tremendously difficult, journalists say. 
The new media policy authorises government officers to decide what is "fake news" and what constitutes "anti-nationalism." Officials of the J&K Department of Information and Public Relations (J&K DIPR) also have this power which means that a government administrative body has the power to control the news that is published.
The policy also states that the Director of DIPR can suspend advertisements to newspapers, journals, and magazines that misrepresent information, violate any guidelines, or do not meet their desired standards.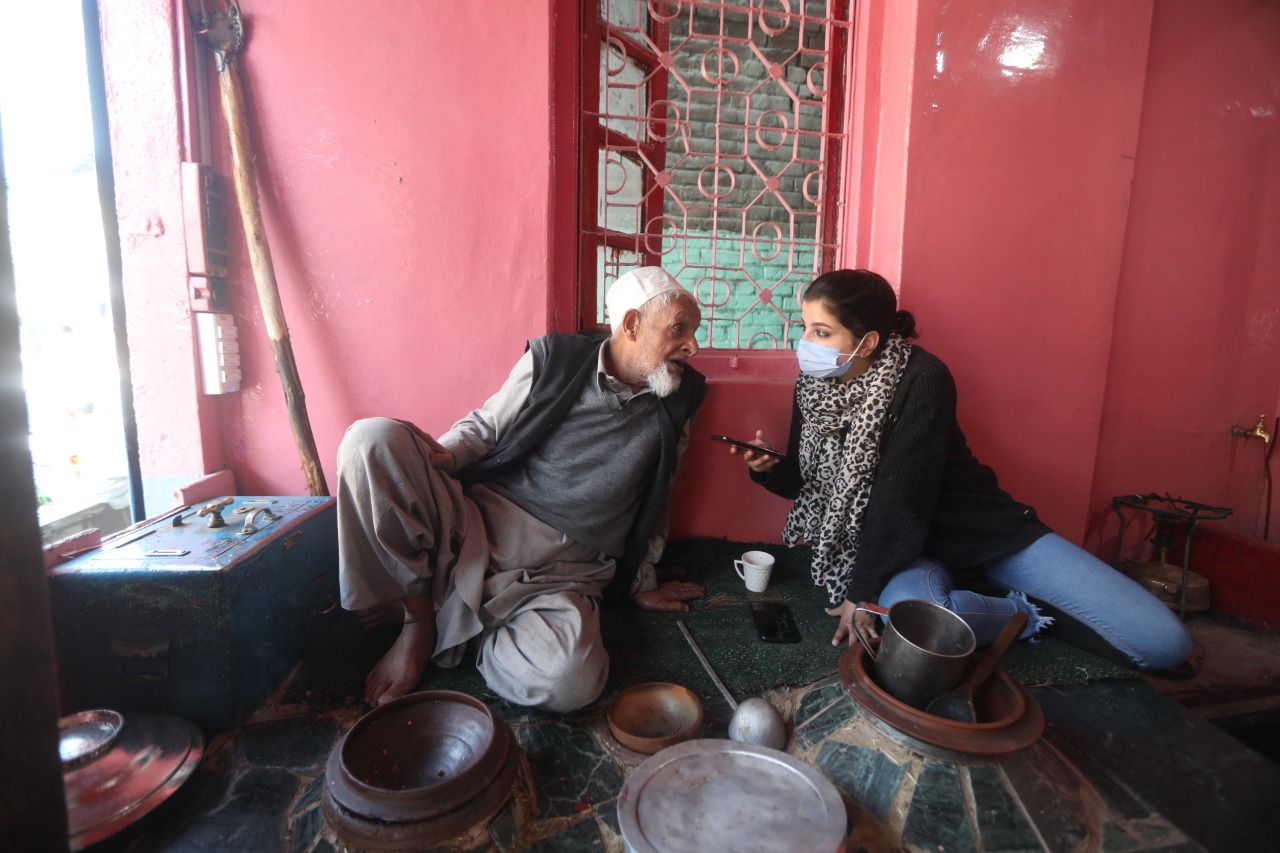 Summoned for writing 'anti-establishment' stories
Bakhsh says these difficulties have only made her more determined to keep reporting - particularly stories which reveal the lives of human beings. "It is important for me to continue writing. I want to bring out more stories about the women in Kashmir. My goal is to get a fresh and factual perspective from Kashmir after observing things as a woman." 
In the past two years, several local journalists, including women like Masrat Zahra and Quratulain Rehbar, say they have been "summoned" by the police or other government agencies, usually to answer accusations that they have written "anti-establishment" stories. A summons from the police does not automatically mean an arrest but may, after formal questioning, result in one, as has happened recently to prominent journalists Fahad Shah, editor in chief of Kashmir Walla, an online publication, and Sajad Gul.
The threat of such a summons for journalists in Kashmir has made many families more conscious about the safety of their female members and, therefore, more reluctant to allow them to work as journalists. 
Being a woman journalist in Kashmir, therefore, requires more than risking harassment and intimidation from those in society opposed to their work; it also means standing up to family members.
In fact, one of the biggest challenges for female journalists in the region remains convincing their families that choosing journalism as a profession is the right decision. "We often have to tell our parents that we have male colleagues around so they need not worry," says Bakhsh, who has worked on several human rights violations stories in Kashmir. 
"At first, I wasn't even allowed to stay out till late for reporting. My parents would keep calling me and there were many times that they tried to convince me to switch to another job. The situation has improved since then as they have read my stories now and trust my instinct more. But it has been a slow process and there are a lot of hurdles that I, as a woman, still need to overcome." 
In Kashmir, one of the world's most-militarised conflict zones, reporting has always been a challenge. But the recent rise in censorship, intimidation and frequent police summons has been swift and sharp and is now at an all-time high since 2019. In the past three years, more than 40 journalists in Kashmir have either been called for a background check, summoned or even raided by police with demands that they explain their stories, social media conduct or other societal behaviour. 
For Bakhsh, the answer to this sort of intimidation is to hold firm. "I really think it is all about finding our place in the field and then staying put. If more women continue to choose journalism as a profession, the community will eventually become accepting and more open to the profession," Bakhsh says.
She would like to see better support for women journalists and the development of a network of women journalists in Kashmir that could benefit all reporters in the region. "Challenges will always be there. But as women journalists, we need to build a support system for each other. I believe that there is a need for more women journalists in Kashmir who not only understand the region but can also narrate the experiences, problems, and achievements of common Kashmiri women," Bakhsh says.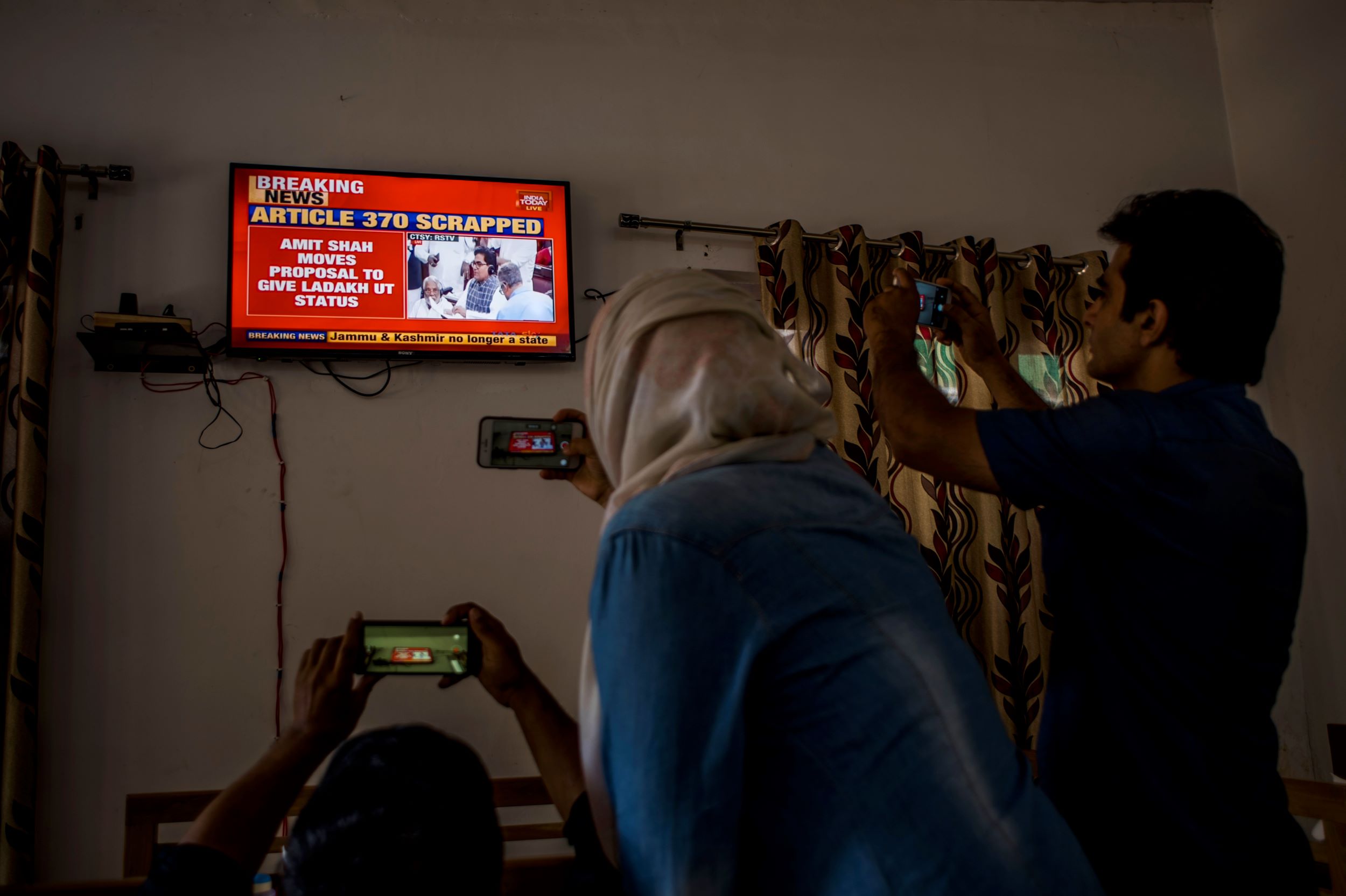 Slipping down the ranks for press freedom
Dwindling press freedom in Kashmir and repeated attacks on journalists have garnered international attention. After the repeal of Article 370, the Indian government imposed a communication and media blockade in Jammu and Kashmir which lasted for more than six months. 
In October last year, Carlos Martinez de la Serna, who is the programme director of the New York-based press watchdog Committee For the Protection of Journalists, sounded a warning. "The growing number of detained journalists in Kashmir demonstrates authorities' continuous and blatant lack of respect for press freedom," he said in a statement on October 20, 2021. 
India has rapidly slipped in the world press freedom rankings since Prime Minister Narendra Modi came to power in 2014. Last year, the country ranked 140 on Reporters Without Borders or RSF's World Press Freedom Index, 18 places lower than its ranking at number 122 in 2010.
Being a woman journalist in Kashmir requires more than risking harassment and intimidation from those in society opposed to their work; it also means standing up to family members

 
Though press freedom has been declining across the country since 2014, the situation was further aggravated for Kashmiri journalists in August 2019 when the region was stripped of its special constitutional status.
The Committee for the Protection of Journalists said India's ranking was heavily affected by the situation in Kashmir after the government put the valley under a communications blackout "making it virtually impossible for journalists to cover what was happening in what has become a vast open prison."
On March 5, 2020, Reporters Without Borders (RSF) released a report that cited 14 examples amid a surge in the harassment of journalists, many of whom have been forced to reveal sources in Kashmir since 2019.
A joint study by the Free Speech Collective (FSC) and Network of Women in Media India (NWMI) found that following the repeal of Articles 370 and 35-A, restrictions on mobility and heavily militarised roads are especially challenging for women journalists – a problem exacerbated by the fact that many do not have their own private transport.
Asia programme coordinator at the Committee to Protect Journalists Steve Butler said: "The restrictions on journalists, such as police harassment and arrests, affect everyone trying to report the news in Jammu and Kashmir. However, women face a different set of additional dangers sometimes such as intense online and highly sexualised harassment.
For instance, a recent incident of a mock "auction" of Muslim women also affected journalists in Jammu and Kashmir." This was a fake online auction in which prominent Muslim women - some of whom were journalists including Quratulain Rehbar - were put up for "sale" as maids. Most of the women had been vocal about the rising tide of Hindu nationalism since Prime Minister Narendra Modi came to power in 2014 and the auction described them as "Bulli Bai" — a derogatory term used to describe Muslim women.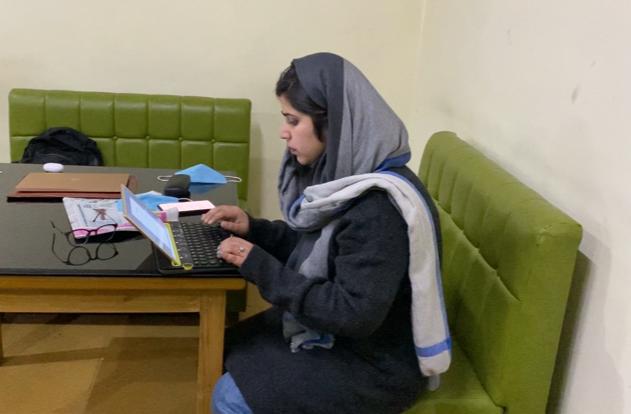 'What if this story causes trouble for my family?'
The latest crackdown on press freedom in Kashmir also means that women in the region are likely to face more restrictions and challenges than their male counterparts while reporting on an issue. 
Geeta Seshu, an independent journalist and co-founder of FSC - Free Speech Collective, an initiative led by journalists, lawyers and civil society activists - explains that women face gendered harassment which is distinct from the obstacles faced by the media community as a whole. "Women journalists constantly negotiate risk on the field, face sexual harassment or vicious online trolling, and have to constantly prove themselves as 'serious' professionals," she says.
Independent journalist Quratulain Rehbar, 27, studied science during her undergraduate degree but was always more interested in writing stories about people and documenting their narratives. Rehbar had always seen herself as a storyteller.
However, her job as a journalist often throws up personal challenges. Despite keeping a low profile and a limited number of friends, she says the regular scrutiny she faces from the police and the Counter Intelligence Kashmir agency as well as from her own community has "pushed me to the wall." In her village in south Kashmir, she says, even her close relatives and neighbours routinely engage in "moral policing".
"People ask me not to write critical stories that will bring trouble," she says. "This pushes me into an abyss because as journalists, we are already dealing with multiple issues and coercion from various ends. This 'tone policing' means we constantly have to ask ourselves: what if this story causes trouble for my family?".
'Resurrecting stereotypes'
The crackdown on journalism in Kashmir has also made families overprotective about women; many prefer women to choose "safe" professional sectors – education, health, and administration among others, says Bakhsh. Anuradha Bhasin, executive editor at Kashmir Image, who lodged an appeal to the Supreme Court when the communication blockade was imposed, notes: "There was no presence of female journalists in the valley newsrooms for decades. Now, when a lot of women have joined media houses or are working as freelance journalists, these new methods of suppression will resurrect stereotypes women faced previously. Women are more vulnerable but continue to work in even greater difficulties as threats have increased, but the space for them to report will further shrink." Her appeal has since been dismissed by the court. 
During her time at college, Quratulain Rehbar would read newspapers and watch news debates and says she much preferred to read regional publications over national ones because she found herself relating strongly to the stories of people on the ground. It was only after completing her undergraduate degree that she started to think about journalism as a career seriously and decided to pursue a postgraduate degree in journalism.
But, she says, Rehbar never gave much thought to the challenges that she might come up against in her profession due to her status as a woman, a journalist and a Kashmiri Muslim.
Upon completing her postgraduate degree, she joined the online publication, Kashmir Walla, where she learned the intricacies of reporting, writing and editing. "I had little idea about ground reporting and learned a lot on the job. Becoming a storyteller for my people and chronicling their plight had not been a part of my life plan particularly. But now that I am here, I recognise the need for regional publications as they document the misery of local people much more extensively than national publications," she says.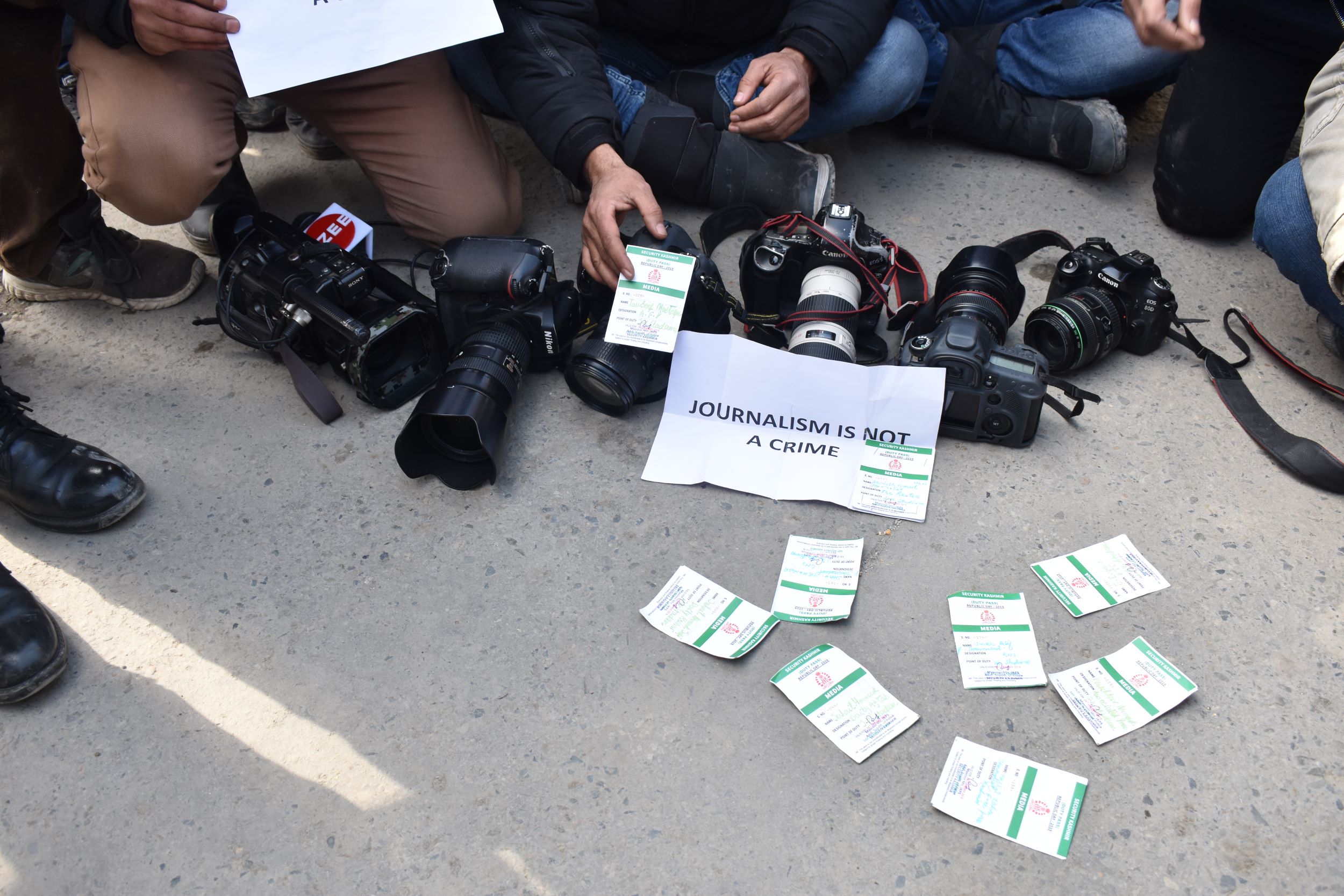 'Why would any family let women choose journalism?'
After four years of working as a journalist, Rehbar, 27, has developed a deep understanding of the challenges faced by female journalists in conflict zones such as Kashmir. 
"When I started working, I thought 'I am a journalist like others are' and I did not fully grasp the gender baggage we carry as female journalists," she says. "I always knew that there were challenges for journalists reporting from conflict zones. But I thought those challenges would not be very different from that of any of my male colleagues. My perspective has changed since I started reporting." 
In fact, Rehbar says, she has discovered first-hand how women journalists are more vulnerable than others due to the prevailing societal attitude that women are not meant for this profession. "The rules are different for women in Kashmir. Though all of us are vulnerable when it comes to getting calls from police and security agencies, women are much more at the risk of slander. Questions are raised about their character and integrity; they are wrongly blamed for the hassle it causes," she says.
Rehbar has also had to face concern about her career from those close to her. Her parents are worried about her safety, especially her mother. "My family is very supportive but my mother always remains concerned. When I was getting calls from security agencies, even at that point she brought up the question of changing my profession and suggested I consider it." 
Rehbar adds that she has found herself forced to practise self-censorship as she doesn't want to fall prey to the security agencies. "We all saw what they did to photojournalist Masrat Zahra. They charged her under the Unlawful Activities (Prevention) Act for posting content on social media. Doing that has sent a strong message that they will come after anyone," she says. 
She adds that she believes that the constant threats and intimidation will ultimately deter more women from joining the profession or even from studying journalism. 
"Kashmir has a close-knit society and families feel they need to protect the women. Why would they let women choose journalism when they are seeing the current state of journalists?"