6 Minute Read
 
During the height of the global pandemic, in May of 2020 as countries closed their borders, I became "stranded" in the United States. I found myself  without a crew of a photographer and a producer and television camera equipment. I did however, have an iPhone and a kit I assembled after taking an Al Jazeera mobile journalism course a few months prior. The year before, my hectic travel schedule as a senior correspondent forced me to leave the mobile journalism course midway through. However, I recognised how vital the skills could be and pushed my bosses to allow me to take the next available course. The timing proved to be perfect. 
At a time when many of my colleagues were unable to work in the field due to Covid-19 concerns and restrictions placed on travel, I became a crew of one and began to produce, shoot and report my own stories just a few months after completing the mobile journalism course. Granted, I already knew how to shoot and edit. However,  I needed the training to learn how to produce news stories with my mobile phone that met Al Jazeera standards. Due to working solo and with the limitations of shooting on an iPhone, I chose non-breaking news, enterprise stories where I was not bound by the demands of a looming deadline.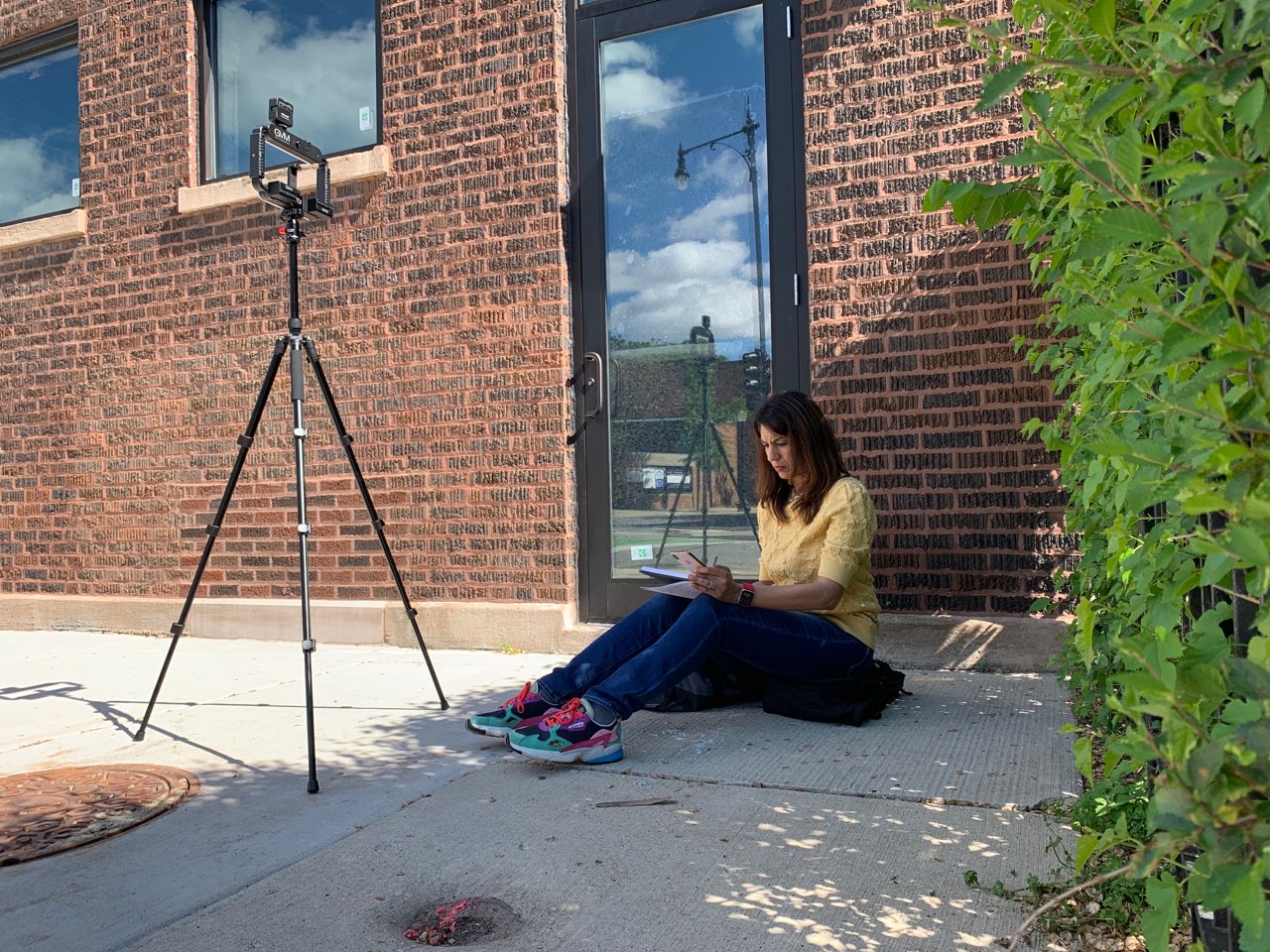 Shooting alone was often welcomed by the people I interviewed, many of whom were adamant about limiting exposure to other people, due to fears of the spread of the virus, and often had to be convinced to do in person interviews in lieu of speaking to me via Zoom . For example, when shooting a story about youth homelessness due to the pandemic, I arranged overnight access to a homeless shelter in Chicago. The staff were extremely worried about a Covid-19 outbreak which would have shuttered the shelter and left young people out on the street. The media liaison told me it was much easier to give me permission as a one woman crew than a typical three person team. Furthermore, after the shoot,  the staff mentioned that by walking in with only a duffel bag slung across my chest and my iPhone shoved in my jeans pocket, I was able to quickly put people disinclined to speak to journalists at ease. 
In fact, I was able to develop a rapport with the young people taking refuge at the shelter for the night, by joking that I know I didn't look like a real news crew but that I was working alone with my iPhone during the pandemic. A few people shyly approached me as I was moving around the shelter to get shots to ask me questions. I even offered a few of these tech savvy  members of Generation Z a closer look at my shots and how the iPhone kit worked. That only made it easier for me to tell this story of their plight. Not one of the young people at the shelter refused to be on camera. That is rare  when doing such a sensitive story that involves people worried about being stigmatized. 
When I shot a story with "Maria," a survivor of domestic violence, I believe the unobtrusive nature of an iPhone on a tripod helped reduce the apprehension she felt. Up until five minutes before "Maria" arrived for the interview at a park she chose near her home, she told me she wasn't sure she could summon the strength to speak about her ordeal. At the conclusion of our interview, she told me she often forgot that there was a camera recording. 
There is no question that there are limitations and challenges of working alone with a mobile phone.  I needed extra time to set up my equipment and microphone to comply with Aljazeera's Covid-19  guidelines. I also had to be very mindful of lighting conditions so I avoided shooting at night. I was also unable to film in rainy weather as I couldn't find gear to protect my equipment. If the conditions were windy, it was almost impossible to shoot without the shot being shaky, which was expected given how light the gear is.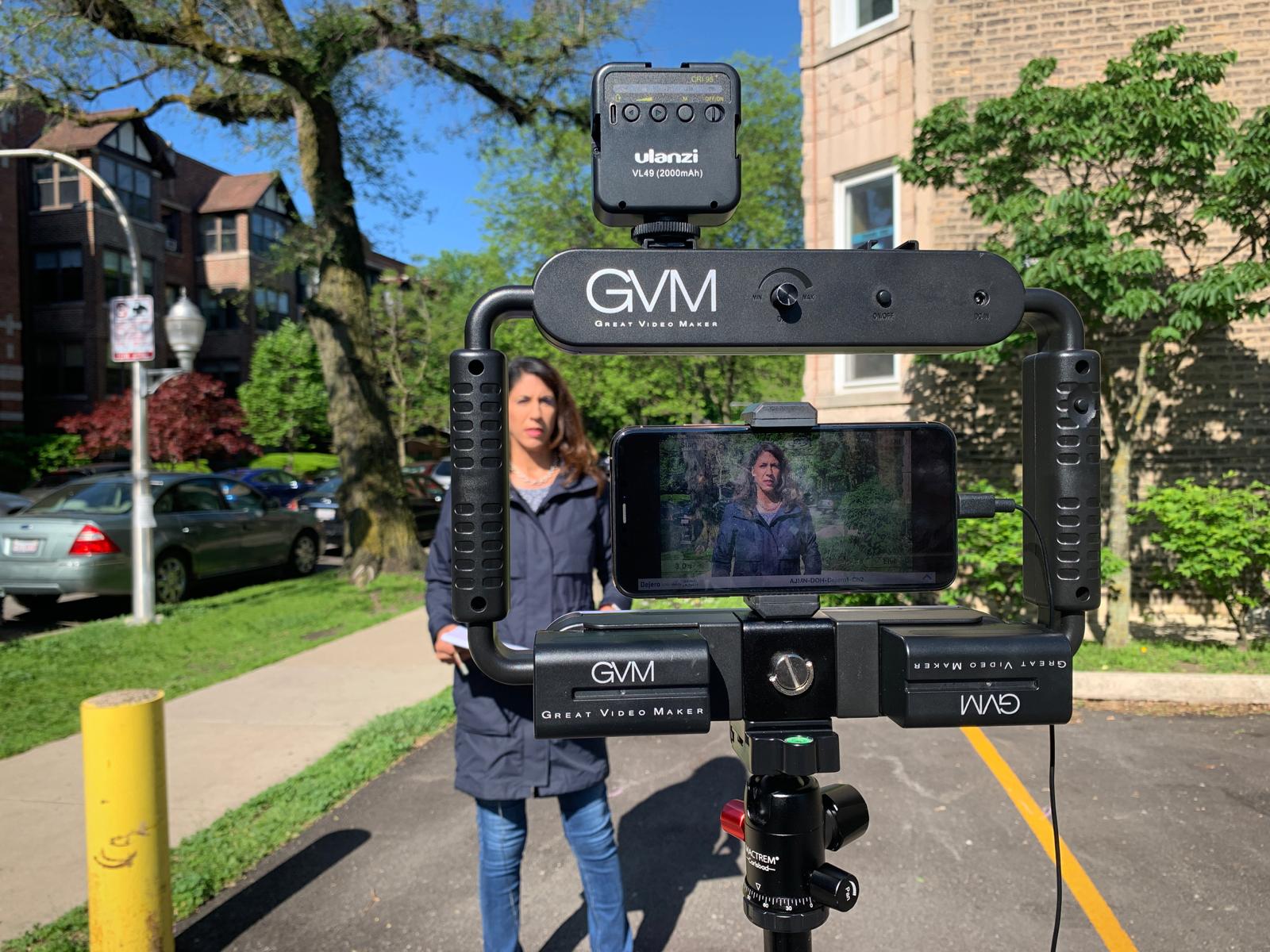 I discovered that filming objects from a far distance using an iPhone was almost pointless. Unlike a standard television camera, the zoom function on the iPhone is inadequate. To get the best shots, build proper sequences and create wide, medium and tight shots, you literally need to move closer to the object you are shooting. That means pulling the iPhone off the tripod and setting it on the ground to stabilize it. I would never shoot with a mobile phone hand-held unless I was  shooting something such as a protest. In that instance, I purchased a stabilizing piece of equipment called a gimbal, that creates broadcast quality nice and smooth moving shots. 
Being unable to monitor audio quality while shooting interviews was also a major drawback. I was forced to pause filming repeatedly to check audio levels, to avoid returning from the field and finding the audio unusable.
Due to storage limitations on an iPhone, I had to be very careful  how I recorded shots. I limited my interviews to no more than a couple of questions or several minutes each, since they would occupy a lot of storage space. Otherwise,  I had to stop during a shoot to transfer video clips to an external hard drive, which was time consuming and proved to be impractical as I was often given access to places for only a specific period of time and people I worked with had busy schedules.
The stories I shot with my iPhone also covered different topics, such as voter suppression in the United States ahead of the 2020 presidential and congressional elections, essential workers in a county jail where there was a Covid-19 outbreak and a new American economic initiative to pair workers with available jobs in the trades. 
During the racial justice protests that swept America after a Minneapolis Police Officer murdered George Floyd, I used the iPhone kit I'd assembled to do live shots on multiple occasions. In doing so, I became an additional correspondent in the field contributing to our network's coverage of this historic protest movement when there was either no photographer or interest in paying for a satellite truck.
There were of course times people snidely remarked that they couldn't believe that a senior correspondent with Al Jazeera English would be working alone with her iPhone. I realized that for many Americans I lacked the credibility and prestige of showing up at a shoot with a full crew of a producer and a photographer with a television camera and equipment that couldn't be purchased by anyone at the mall. However, the finished stories were the real proof of performance. To an untrained eye, I believe and I was told that the video is virtually indistinguishable from that of a standard television camera. Credit needs to be given to the team of editors in Washington DC who transformed my video into quality, compelling news stories for Al Jazeera English.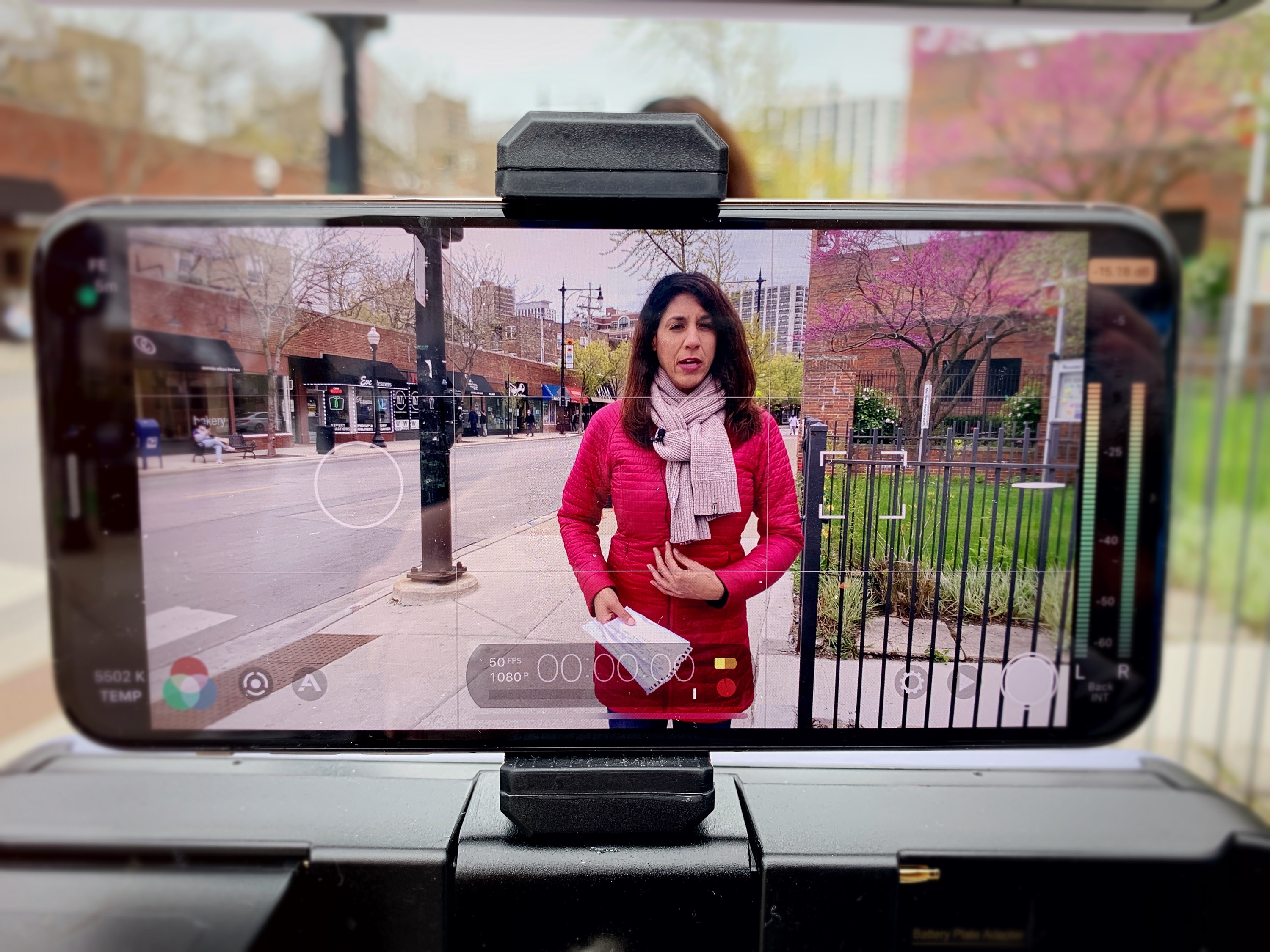 From an Al Jazeera standpoint, my ability to work with a mobile phone turned me, a senior correspondent, into a full news crew.  While I would not recommend correspondents work with a mobile phone on a daily basis or to cover breaking news stories as it diverts attention from our primary role, a mobile phone can prove to be  invaluable . It can become a second camera for a team in the field, an emergency alternative when a photographer is unavailable, a discrete way to record when official journalist access is restricted and it reduces the costs of newsgathering for enterprise stories.  
In the end, the fact that I worked alone to produce, shoot and report stories on my iPhone is likely irrelevant to our audience. What is relevant, is that I was able to continue working during  unprecedented circumstances at the beginning of the pandemic to report stories and highlight voices that align with our mission to give "voice to the voiceless and speak truth to power." Ultimately, our goal as a network is to create compelling, impactful stories regardless of the circumstances we face and the tools we use.