REPORTER'S NOTEBOOK: From changing the wet clothes of babies who have just arrived across the Aegean Sea to dodging police to interview vulnerable people who have poisoned themselves to avoid deportation - life as an aid-worker-turned-journalist in Eastern Europe.
Read more from our series on covering refugee stories: Part One, Part Two, Part Three 
In early November, a Facebook page with more than 16,000 followers called "Support Refugees in Poland, Belarus and Lithuania" posted an image from the Polish-Belarusian border: two plastic garbage bags hung by twine from barren trees in a forest. Volunteers had labelled one "SLEEP" - likely to tell those who found it that a sleeping bag was inside. 
Thousands of people, mostly Iraqi Kurds, have fled instability and economic devastation in recent months for Belarus, lured by President Alexander Lukashenko's promise of a quick entry into Europe, his method of retaliation for EU-imposed sanctions.
Instead, refugees have found themselves trapped on both sides by Polish and Belarusian border guards forbidding passage. Over a dozen have frozen to death in the forests.
But while EU and American diplomats spar with Lukashenko for "weaponising migrants", they ignore Poland's own gross human rights violations, as it pushes people back from its border in direct violation of the 1951 Refugee Convention.
That Facebook image reveals the current reality of the EU's borders. But it doesn't show the desperation of freezing refugees or the ingenuity of volunteers who, along with journalists, are barred from entering the border zone on the Polish side and must devise new ways to help people.
What it tells instead is a story about Europe as it struggles to live up to its professed democratic values, both moral and legal, in the face of challenges to those commitments.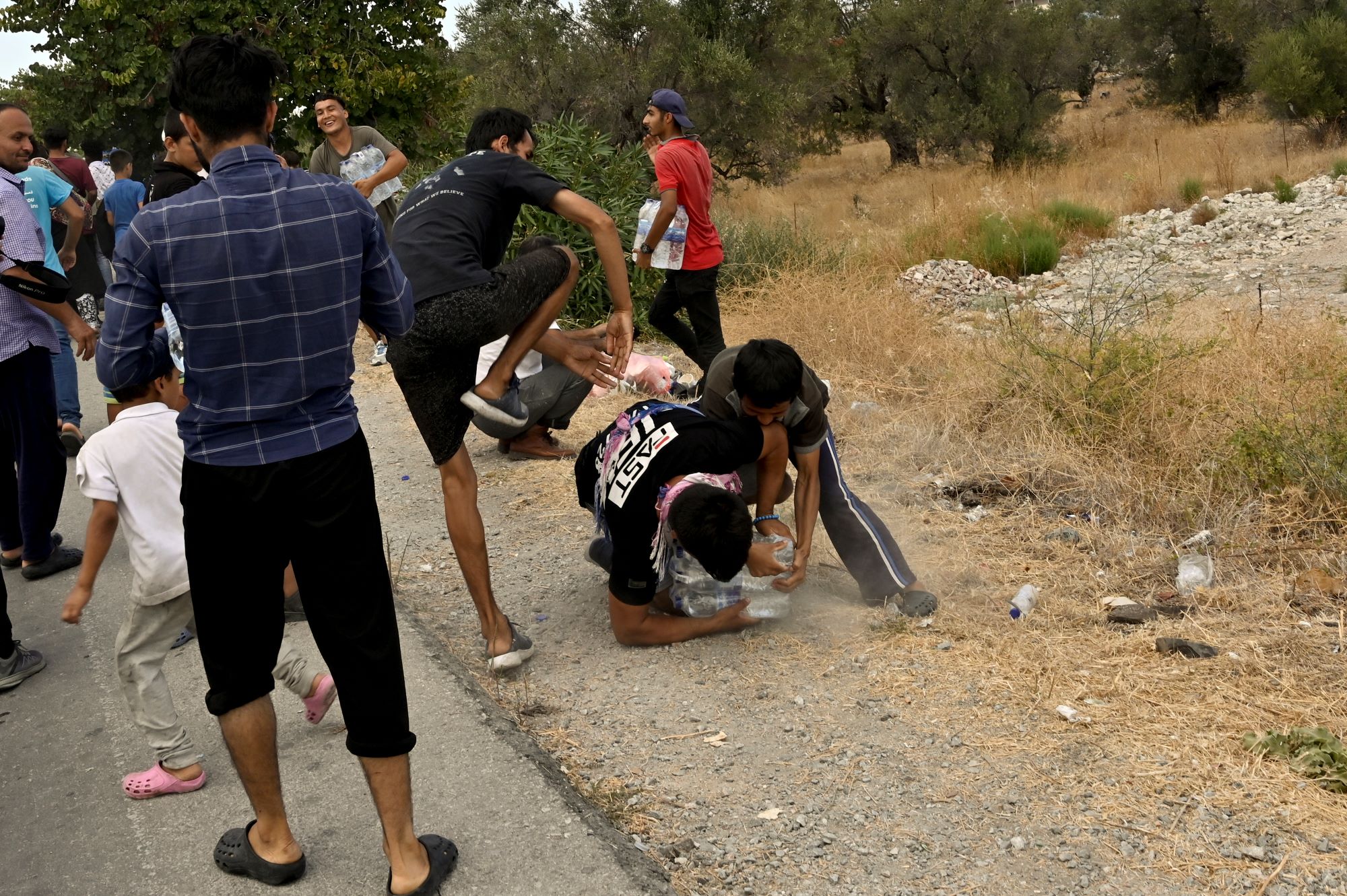 I changed the wet clothes of babies who arrived across the sea
I've never been to the Polish border, but I spent nearly two years working in humanitarian relief at other EU external borders, initially on Lesbos, Greece, just across the sea from Turkey. In 2015, Lesbos saw the largest influx of refugees during the "migration crisis" - some 500,000 people in a year - and still receives the most refugees of all the Greek islands.
Then, I worked in northwest Bosnia along the EU's external border with member state Croatia, whose border police regularly push refugees back to Bosnia to prevent them from entering the bloc.
As an American volunteer with European non-profits, I changed the wet clothes of babies who had just arrived across the Aegean Sea. I told families of five in a transit facility on Lesbos they must share a single can of tuna fish because we didn't have enough for the hundreds of people in our care. I watched a fellow volunteer with no medical training undo the improper stitching of the knife wound on a man's clavicle in an abandoned house because the local Bosnian hospital wouldn't take him in.
Thousands of untrained, mostly young people have responded to the consequences of the border crisis, while the EU has abdicated responsibility for the refugees at its doorstep. After all, I was the one handing out water to newly-arrived refugees on Lesbos, not the Greek police or the EU border force Frontex.
The stark image of these two plastic bags in the Polish forest captures this abdication.
The longer I lived at these borders, the more I wanted to report the stories I was hearing. I decided to leave humanitarian relief work to become a journalist.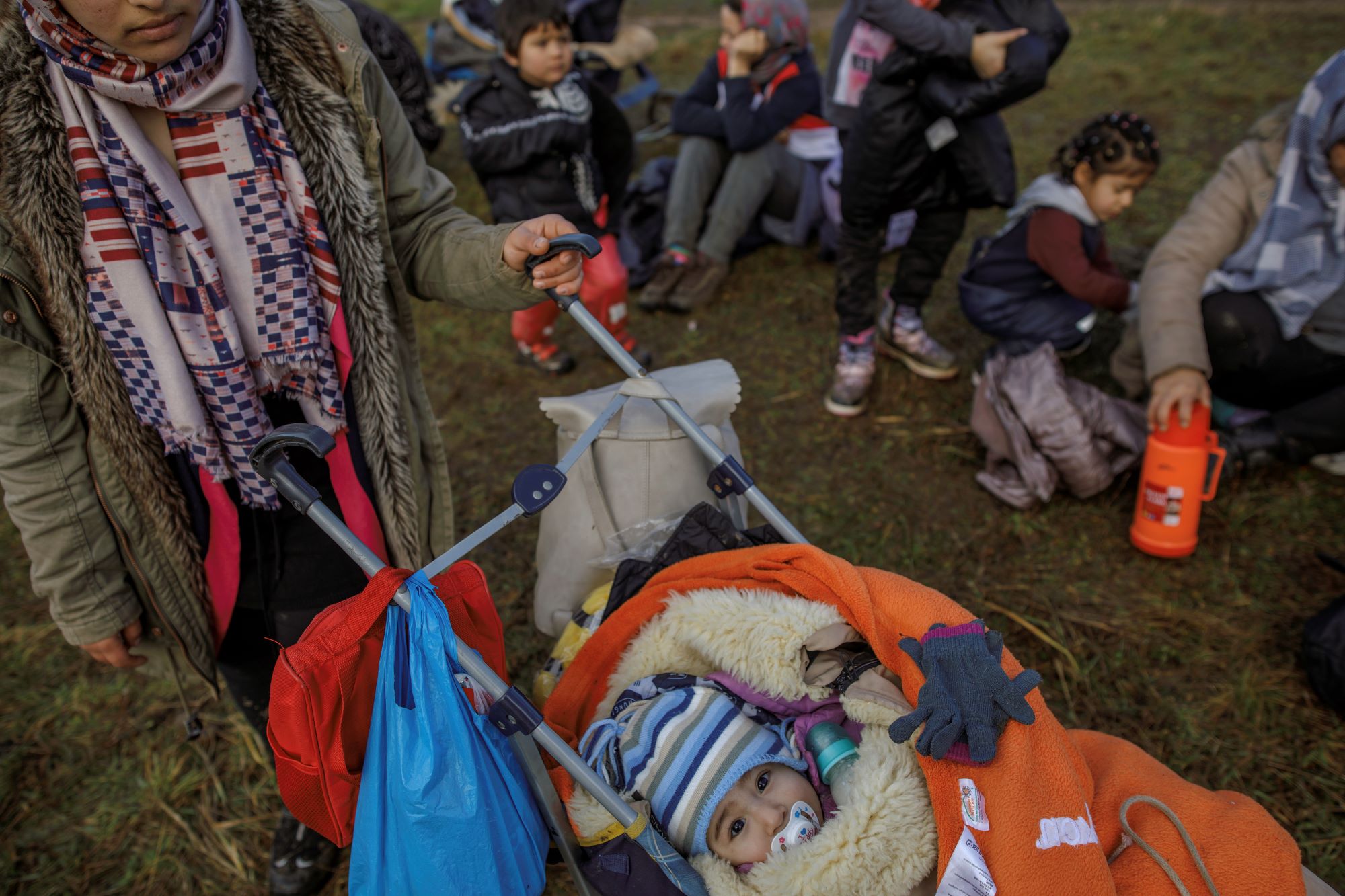 Our greatest worry is the police
I returned to the same small Bosnian border town as a journalist this spring, writing freelance features for Al Jazeera.
I had an advantage. The psychology of the place, the sort of challenges refugees there face - it was deeply ingrained in me. I already knew many of the people I was writing about, where they lived and the names of their children.
War correspondents embed with foreign troops. Migration reporters embed with volunteers and refugees. We don't have to dodge bullets. As far too many migration correspondents know well, our greatest worry is the police.
When I was working as a humanitarian relief worker, I had my passport photographed more than a dozen times and was threatened with deportation when I was committing no crime.
When I returned to Bosnia as a reporter, I maintained a healthy dose of caution. If I saw a police car outside a squat I was trying to visit, I kept driving. When the police pulled me over for routine traffic checks and asked what I was doing in this unassuming border town, I always said I was "just a tourist".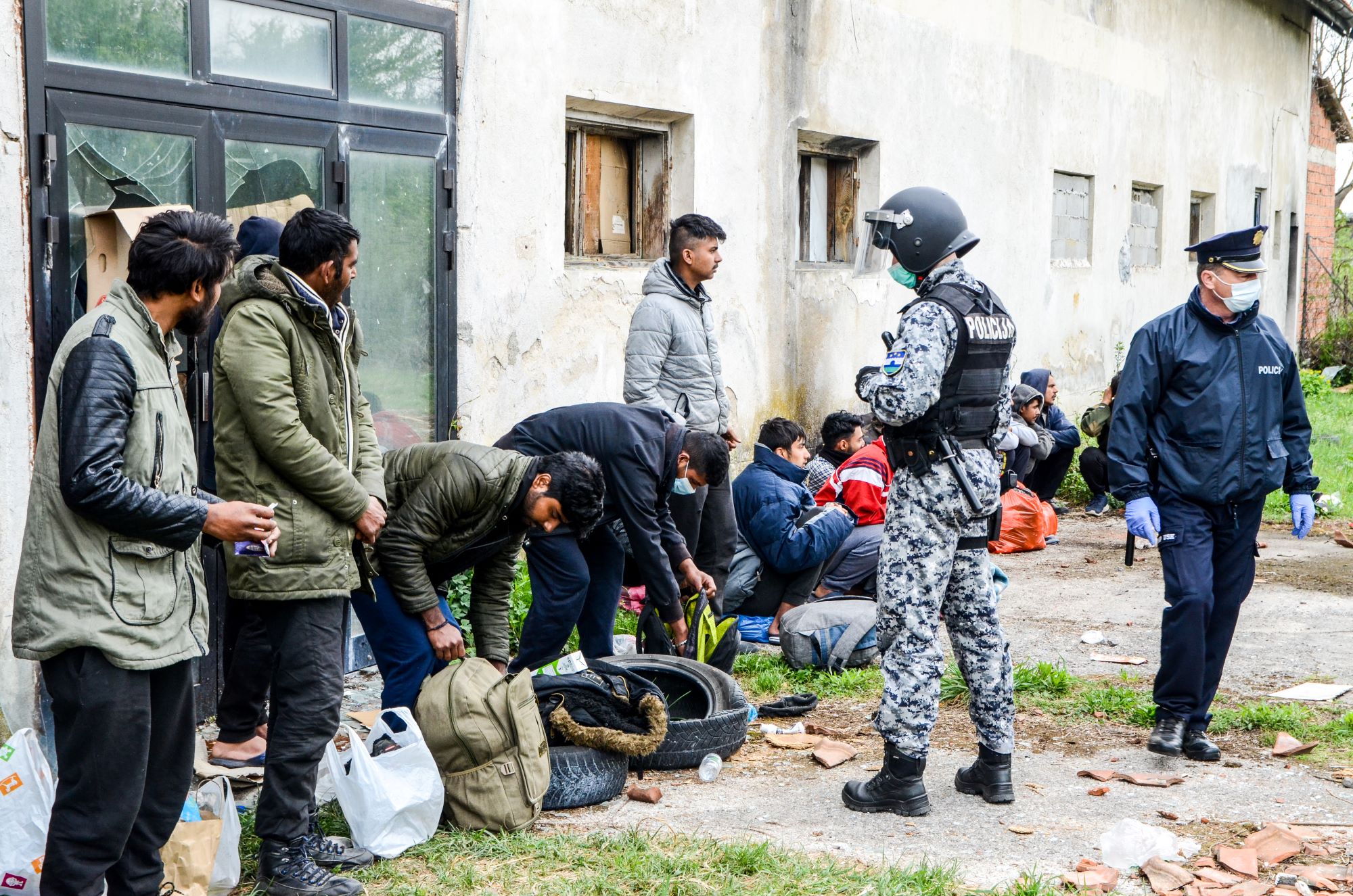 Overdosing for asylum
Early this summer, I started hearing stories from different groups of refugees I knew of how they deliberately ingested dangerous substances, like cigarette tobacco, shampoo, sleeping pills, and even opioids like Tramadol, while "on game" - the phrase refugees use to describe a border crossing attempt - in an effort to trigger a medical visit and avoid pushbacks from Croatia.
I wanted to report the story, but I needed more sources. A foreign paramedic I knew told me that in one village where many refugees lived, drug use to treat both emotional and physical pain was especially high.
Almost entirely abandoned after the war when its mostly Bosnian Serb inhabitants didn't return, the village consisted of a single road that petered out into a dirt track at the border with Croatia. Only a few houses were occupied by locals. 
It was an ideal place to camp out if you were trying daily to cross that border. When I went there, around 200 people, mostly Afghan families, were squatting in the abandoned, unheated houses. The nearest supermarket was a four-hour round-trip walk, and there were no other services.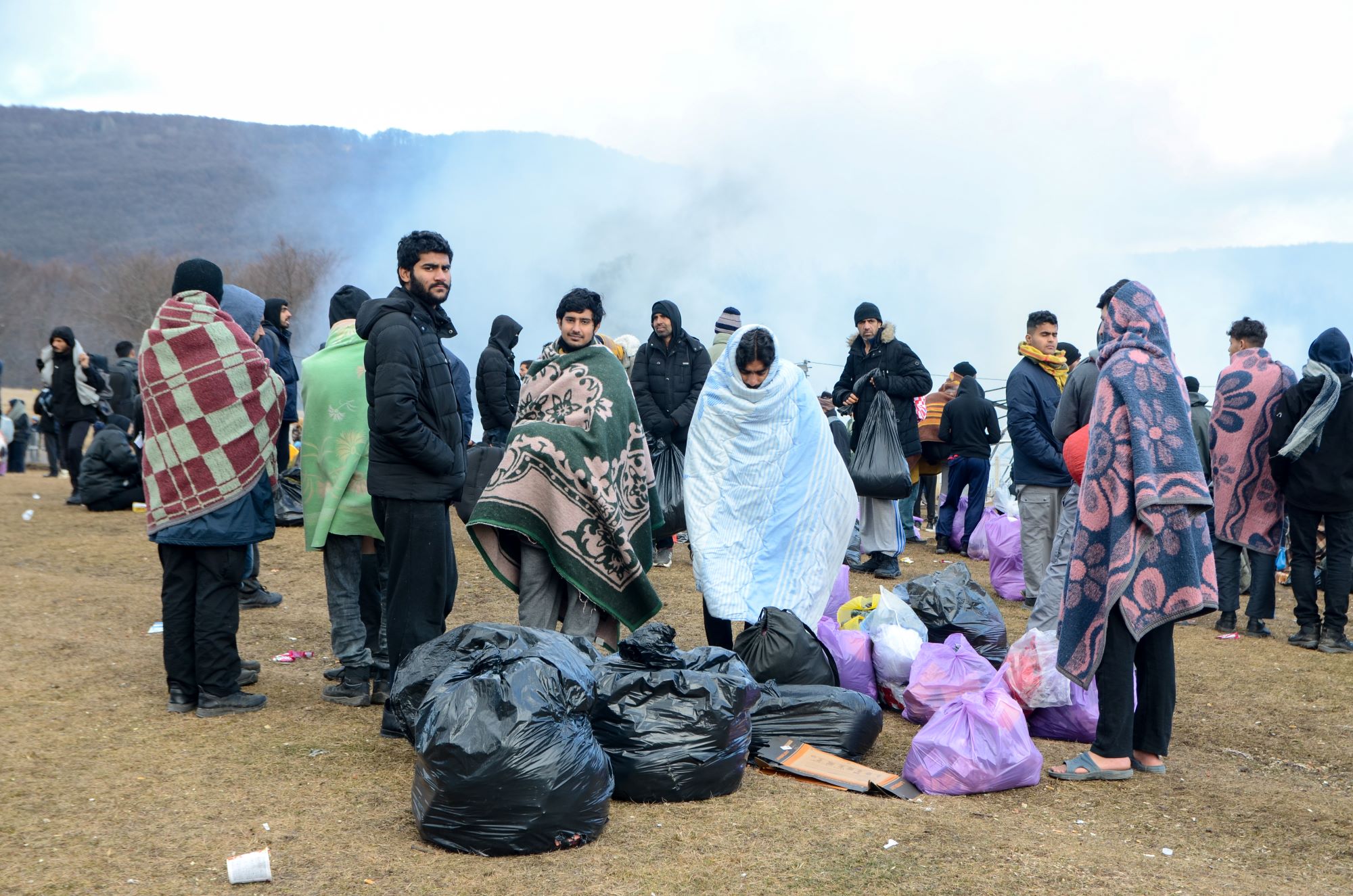 Threatened with deportation - for handing out diapers
The police cracked down especially hard on volunteers they found in that village due to its proximity to the border. I was caught there once as a volunteer, while distributing diapers, tents and snow boots. A rather friendly Bosnian policeman told me if he ever saw me there again he would deport me the next day.
Volunteers had to devise clever ways to continue visiting the village and avoid regular police checks. The smartest solution turned out to be the simplest - walk there, so the police can't see your car from the road.
One hot summer day, I joined two German volunteers from a Berlin-based collective who were heading to the village. (I'll keep the name of the village obscured and change the names of the volunteers, who gave me permission to tell this story but fear criminalisation for their work.)
I started hearing stories from refugees of how they deliberately ingested dangerous substances in an effort to avoid pushbacks from Croatia

 
The weather forecast said rain, so I packed extra socks and a raincoat in my hiking backpack. Hanna and Claudia packed soap, shower gel, repaired phones (broken by the Croatian police, refugees said), small phone charging banks, and a single, flat battery for a hearing aid belonging to an old Afghan man who lived in the village.
We set out at ten in the morning and drove as close to our destination as we could get, parking our car at the house of a friendly local. We walked along paved roads until they ended, then trekked through forests and farmers' fields.
The landscape was staggeringly beautiful: it didn't rain in the end, and the hills rose and fell gently as we walked through long grass still wet with dew, chirping insects all around us. We gingerly picked our way through a potato patch. 
Hanna and Claudia, two non-Muslim, white German women in their early 20s, had instructed me to cover my head with a hijab during the walk, in case locals saw three foreign girls hiking through the wilderness and, understanding which village we were headed to, called the police. Wearing hijabs and carrying backpacks, we looked like refugees. At first I found the precaution a little excessive, but I was later grateful for it.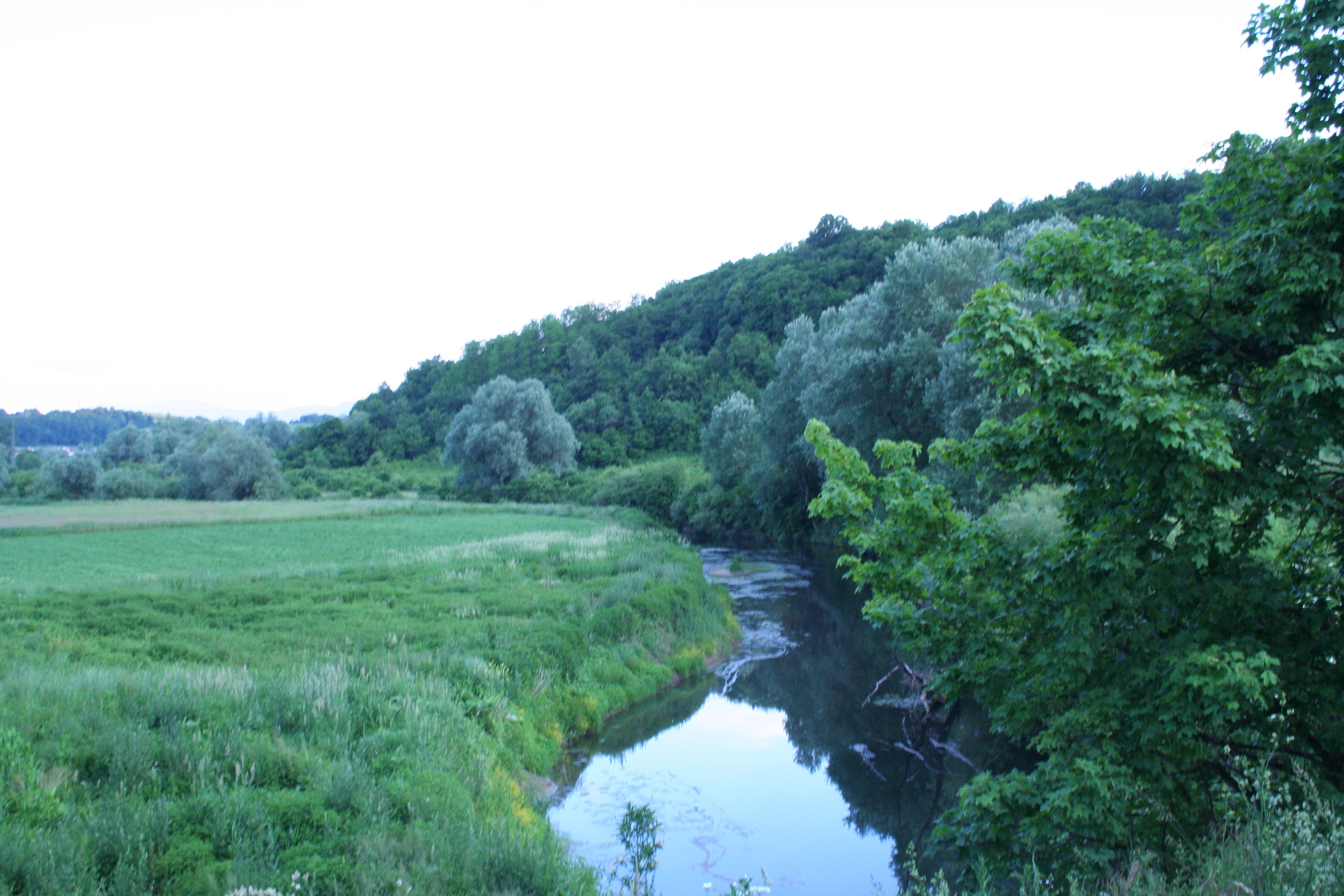 Eating tobacco to make themselves sick
After two hours of hiking, the village street unfolded before us at the crest of a hill. I could immediately hear the low rumble of many voices speaking in Farsi.
The volunteers planned to visit each encampment of people - there were around 10 houses in total, but many more people sleeping rough in tents - before sunset. At the first house, I started chatting with a teenage boy who spoke good English. He said he was 17 and travelling alone. Most of his family had been killed by bombs in Afghanistan and he had spent years in Greek refugee camps before pushing north.
As we spoke under the shade of a tree, I took in the scene. Dozens of tents were pitched in the summer grass, beaten flat by many feet. People waved at me as they cooked over open fires. A group of small boys in broken sandals were playing around the tree. One had a ballpoint pen clipped to his shirt collar like a restaurant health inspector. They had no toys, so they amused themselves by throwing sticks up into the tree and revelling as they rained down upon our heads. 
People swallow tobacco with a sip of water so that they throw up in front of the Croatian police
I asked the teenager: "Are people here taking Tramadol? Are they deliberately taking too much while on game so they appear violently ill?" The boy beckoned over a young man in a red T-shirt who looked to be in his early 20s and was limping on his right leg from a pushback, he said. 
Yes, the young man said, people take it for "game" sometimes, but just to power through the pain, not to throw up. For that, people take "tootoon" of course.
I looked perplexed and the teenager explained to me by pulling out a cigarette and ripping it open to reveal the tobacco, the "tootoon". People swallow that with a sip of water, the young man said, so that they throw up in front of the Croatian police. "Maybe then, they won't push us back to Bosnia."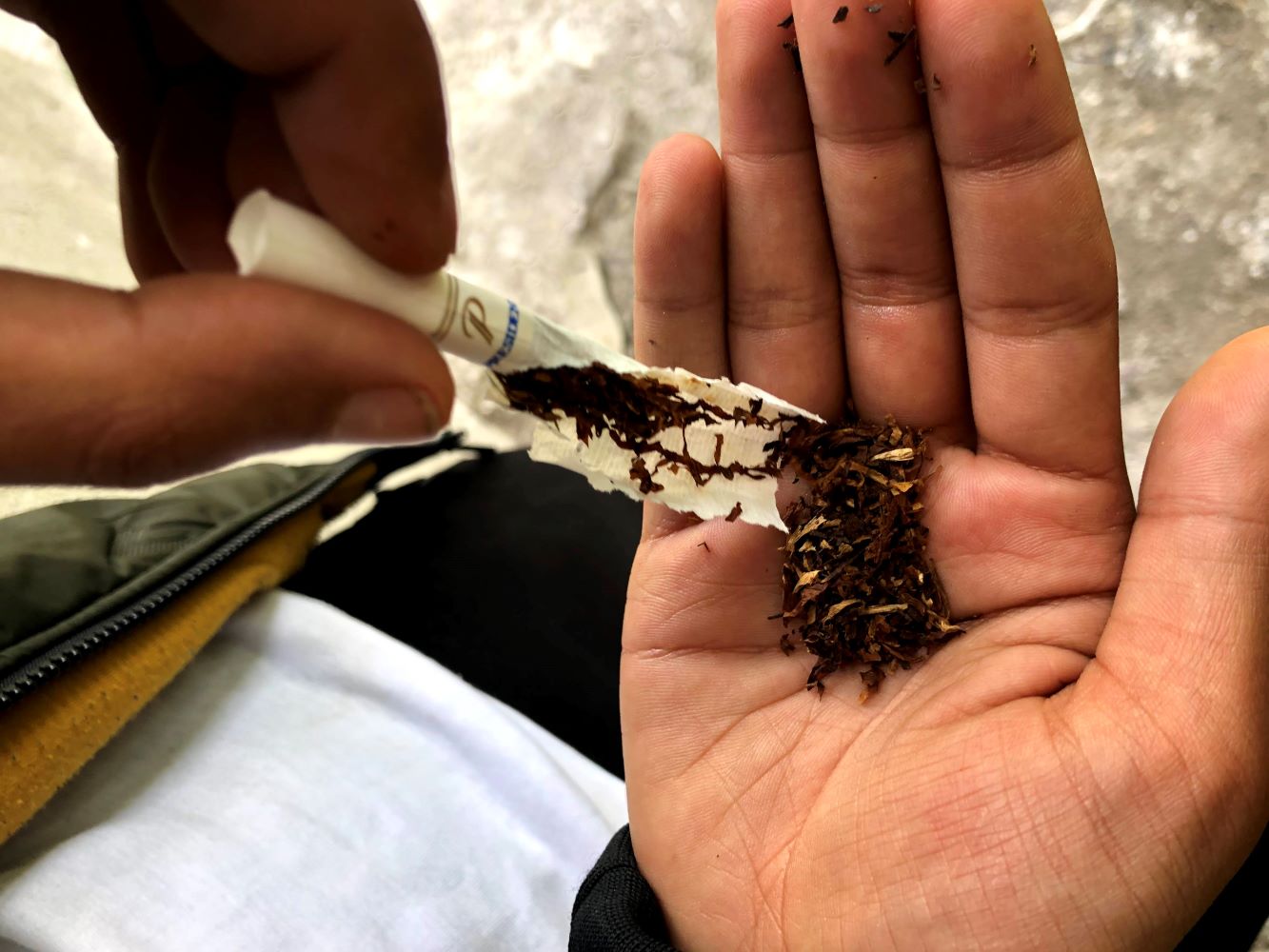 Treated with violence and depravity
Hanna and Claudia were walking to the next house, and I went with them. At "Magic House" - so named because a former inhabitant had been skilled at magic tricks, I met a man with clear blue eyes who spoke excellent English from years of working for a joint Afghan-American government programme building roads and schools in rural parts of the country. He couldn't get out of Afghanistan through a traditional asylum process and neither could his brother who, when we spoke, was in Mexico trying to cross through the desert into the US.
Several times during the day, police cars drove by on the village road. Knowing our worries about the authorities, refugees always shouted for us to hide inside the houses or duck into tents when they saw the cars approach. We waited until the police's voices died away before returning out in the open.
Fatima asked us why the Croatian police were doing this to her. Her teenage son stood nearby and watched his mother break down
At another house, we met an Afghan woman named Fatima, a relatively new arrival to Bosnia, who had travelled with her family from Greece not so long before. She was still shocked by the violence and depravity she had experienced in Croatia after crossing the border.
The tears that filled her eyes smudging the makeup she still put on every day, Fatima asked us why the Croatian police were doing this to her. Her teenage son stood nearby and watched his mother break down. Claudia, standing at two metres tall, reached down to hug her. We all thanked each other profusely as we parted, although for what I do not know, as we hadn't brought Fatima or her family anything.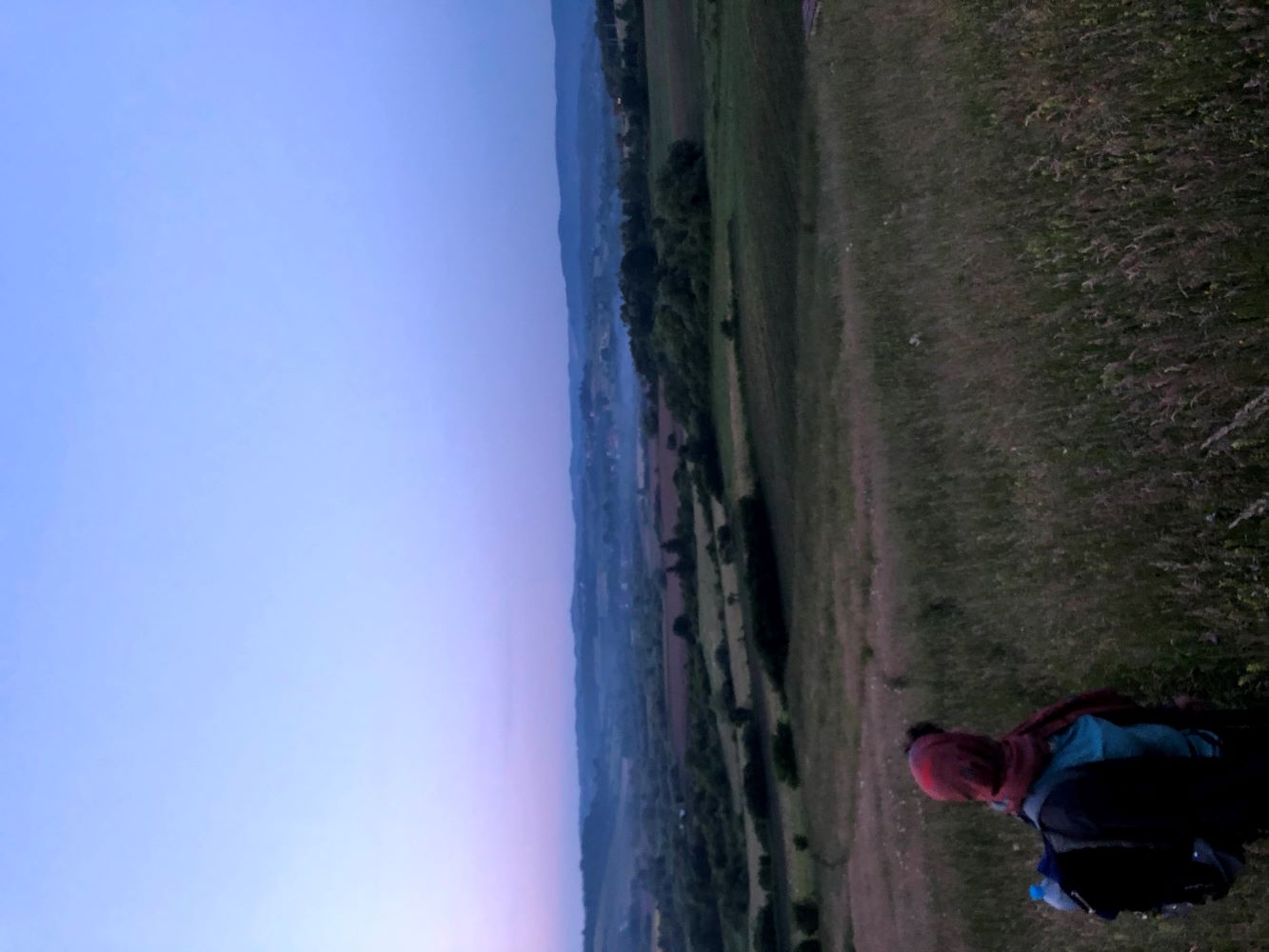 None of the children spoke a word
We were towards the end of our route, the sun already low in the sky. Hanna and Claudia's backpacks were almost empty after meeting dozens of families.
Walking south down the village's main road, we came across four adults and three children sitting nearly in the middle of the asphalt. A car drove past and we hid behind our hijabs. The people, who were all Afghan didn't seem to care if they were hit or not. They had just been pushed back from Croatia.
We sat down on the road with them. One of the couples was in their mid-30s and identified one of the children, a boy, as their son. The two girls, around six and eight, belonged to the other couple, who looked to be in their 70s but turned out to be in their early 50s. The man kept repeating his name over and over, as if we might recognise him. The wife just looked exhausted.
None of the children spoke a word the whole time we sat with them. The older girl stared straight into my eyes for several long seconds before smiling weakly. They were beautiful children.
A car drove past and we hid. The people, who were all Afghan didn't seem to care if they were hit or not. They had just been pushed back from Croatia
It turned out Hanna and Claudia had been searching for the younger couple all day. The woman had asked the previous week for a pregnancy test.
Claudia smiled knowingly at her and the pair left us, crossing the road and settling down in a field of dry grass. Claudia, a 23-year-old architecture student, explained to the woman how to urinate on the testing stick. The woman did so privately and returned to Claudia to wait for the results, her husband soon joining them. The three broke into smiles: the woman was pregnant. The couple had been trying for years to have more children.
As they were waiting for the test result, another car drove up and stopped. Still sitting on the asphalt, Hanna and I swivelled our bodies away from the car that idled just a few metres from us, shielding our faces in the cocoon of our scarves. The driver yelled at the older man in broken English to get off the road. 
After the car left and we showed our faces again, the Afghan man told us the driver had flashed his ID - he was an undercover police officer in an unmarked car. We had been that close to getting caught. It's difficult to say what would have happened if we had been. Perhaps nothing at all, or just a stern warning, but perhaps something unpleasant, like a police summons or even deportation.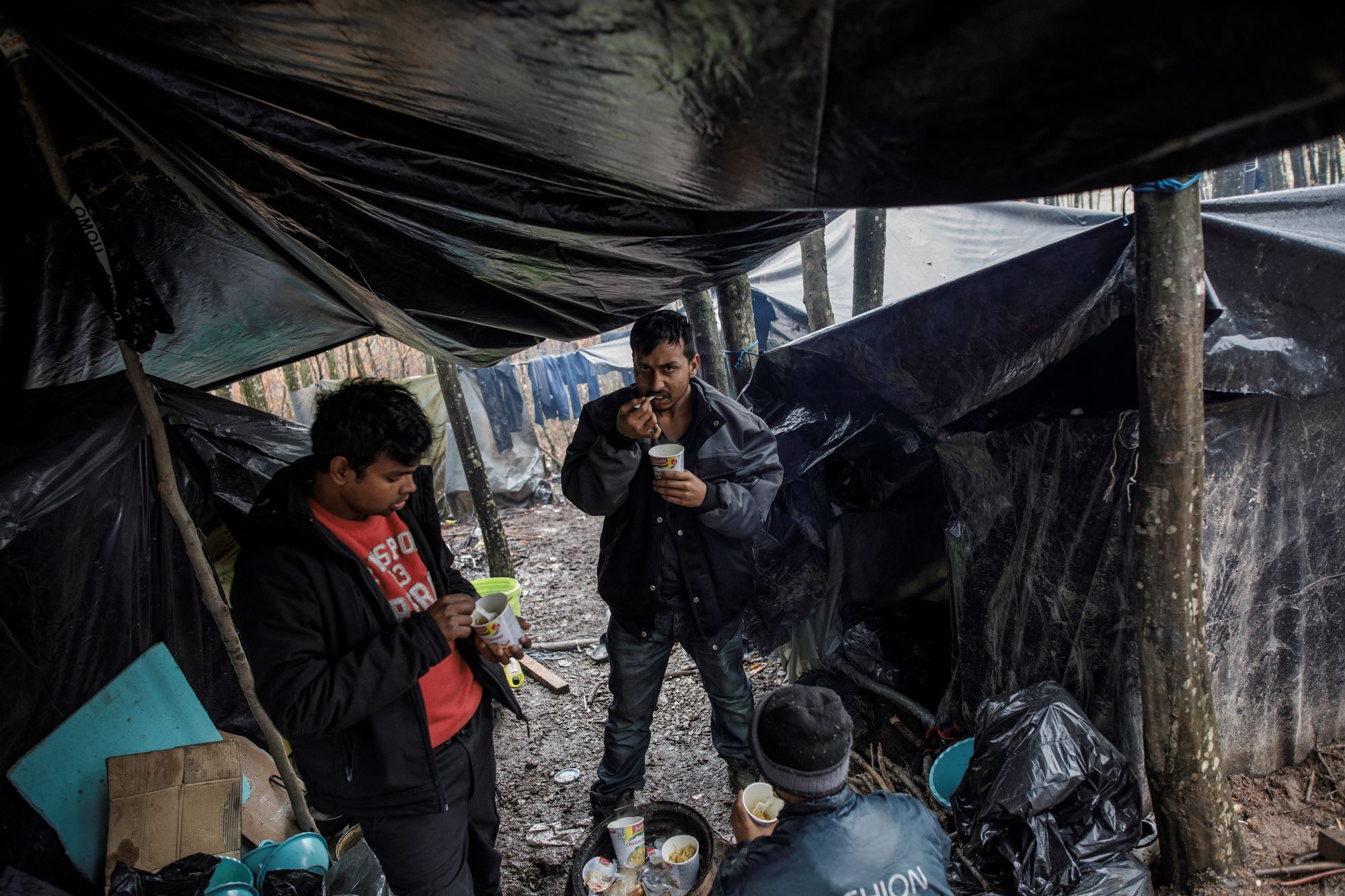 Deported - for loading blankets into a van
I knew other volunteers who had been deported from Bosnia the year before for loading blankets from a warehouse into a van. This constituted "work", apparently, and volunteers don't have Bosnian work permits, which are nearly impossible to get.
The older man had protected us. He said he had tried the "game" 15 times, and had problems with his knees.
There was nothing we could do but leave them and press on. Hanna and Claudia finished their tour as the sun was dipping below the horizon, bathing everything in golden light. I had interviewed half a dozen people about deliberate drug overdoses.
Hanna and Claudia had done the trek several times and knew the way back. Retracing our steps through the wheat, potato and corn, we watched the sunset together and saw the earth below our feet turning purple in the fading light. We reached the car just as night truly fell. 
Building knowledge
How do you build knowledge of a topic, of a place? Where does knowledge come from, even?
I wrote about things I saw with my own eyes. I wanted to learn about migration, so I picked up and went to these small border villages - and lived there for years.
Knowledge comes from time. Moments when nothing is happening, the conversation falters, and you put your notebook aside.
It comes from gathering firewood with your interview subject so they can offer you tea. It comes from looking at photographs of people's children whom they haven't seen in years on their smartphones. It comes from patterns, moments repeated over and over until their truth is etched into you.
At the end of this summer, I left the Balkans. Now I'm in journalism school in New York City, far away from these stories. But at night I lie in bed and let the names of the tiny Balkan villages where I spent so much time roll over my tongue. Velika Kladuša. Skala Sikamineas. Šturlić. Klio.
Aid workers and journalists alike have for too long been responding to a crisis that everyone else wishes to ignore

 
They're small towns, but they are the real battlegrounds of Europe. The war is not refugees versus EU citizens, or the EU versus Belarus.
This is a war between Europe and itself to decide what kind of democracy it wants to be. It's Europe struggling to adhere to its own laws and moral codes, unable to reconcile what is written down on paper - tolerance and acceptance - with its own intolerance, racism and Islamophobia. The people who get hurt the most - although at its core the war is not about them - are the refugees themselves.
When I stopped being an aid worker and started reporting, my values didn't change. Aid workers and journalists alike have for too long been responding to a crisis that everyone else wishes to ignore. We don't want to carry this weight any longer. We stood here every day promoting the values of our society and our government, only to find in the end they didn't belong to anyone but us.