While covering a story about a Spanish proposal to outlaw all middlemen involved in prostitution, AJE senior correspondent Natasha Ghoneim and her team came up against a wall of silence, but managed to get a story nevertheless
We spent almost two weeks looking for prostitutes. We found them in the red light districts of Barcelona, almost desolate due to the pandemic, along the highway and near truck stops and parking lots in a town just kilometres away from Spain's border with France. we found them in a brothel. 
I still can't shake loose the image in my mind of driving down a narrow alley late one night in Barcelona and seeing three brown-skinned girls, with too much make-up on, clad in sparkling, barely-there clothing despite the chill, being herded by a man who was surely their pimp. When a car began following us, we knew our scouting mission was over for the night.
Our photographer on this shoot was a bi-lingual English and Spanish speaking man. I figured it would be easier if he approached women alone initially, as opposed to the three of us at once.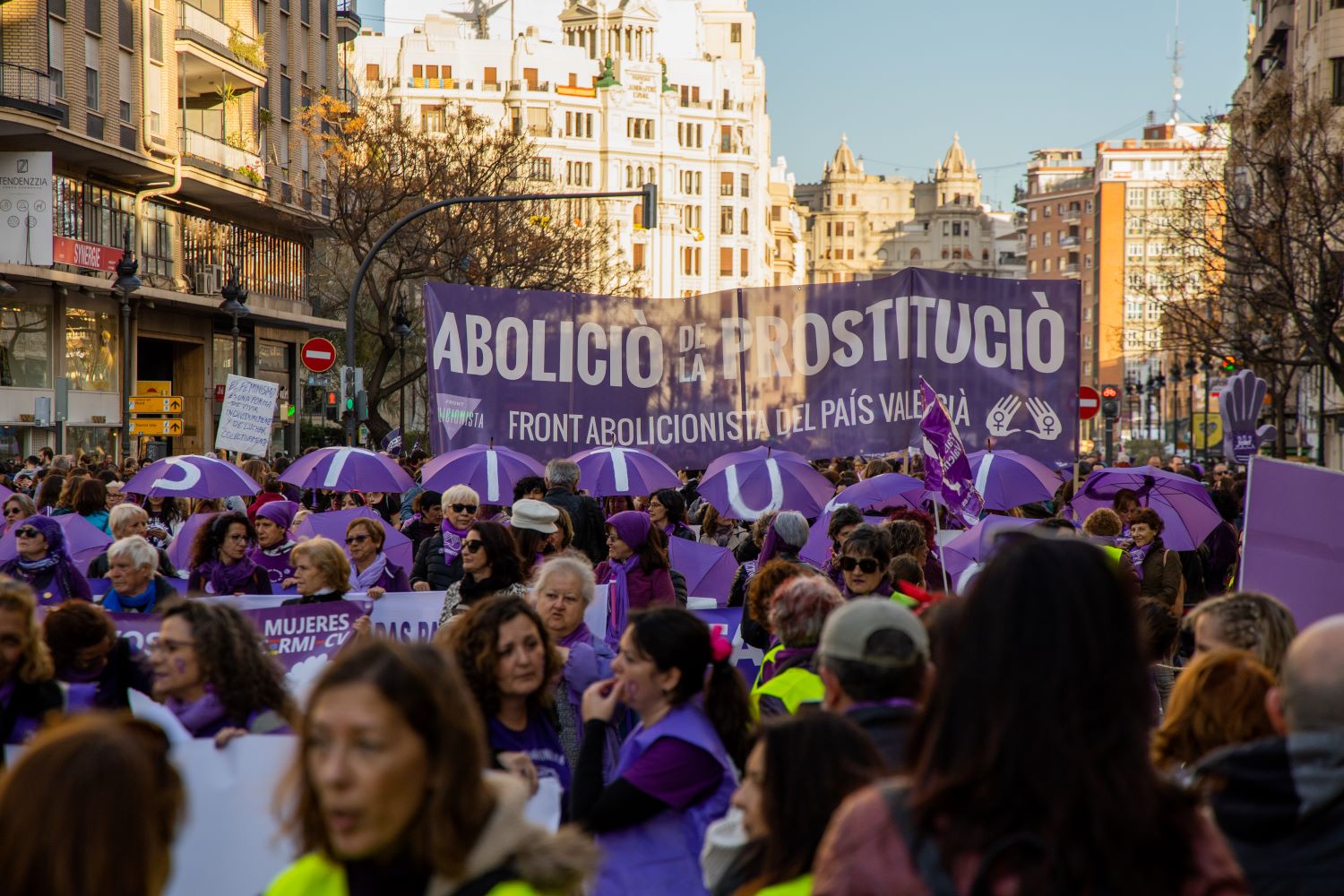 When approaching people spontaneously in the field, I'm very sensitive about not wanting anyone to feel ambushed. An ambush interview is best reserved for politicians who are refusing to be held accountable.
We wanted to speak to prostitutes because we were reporting on the Spanish prime minister's vow last year to outlaw prostitution. The multi-billion-dollar-a-year industry has been decriminalised in Spain since 1995. The approach of law enforcement has been to punish the pimps not the prostitutes. 
Brothels have legally opened by renting out rooms for prostitutes to service their clients. However, the current prime minister takes the line that prostitution is violent and tantamount to the enslavement of women. There are also concerns that since most prostitutes in Spain are migrants, many women and girls are being trafficked. 
The thousands of sex workers and the union that represents them are fighting what they see as a threat to their livelihoods. 
In fact, the union representative we called told the producer she would not speak to us if we mentioned sex trafficking in our story saying legitimate sex work and sex trafficking are being "conflated" and she was fed up with journalists "misrepresenting" the issue. Needless to say, our dialogue with her ceased immediately since she was not going to dictate the terms of how we reported the story.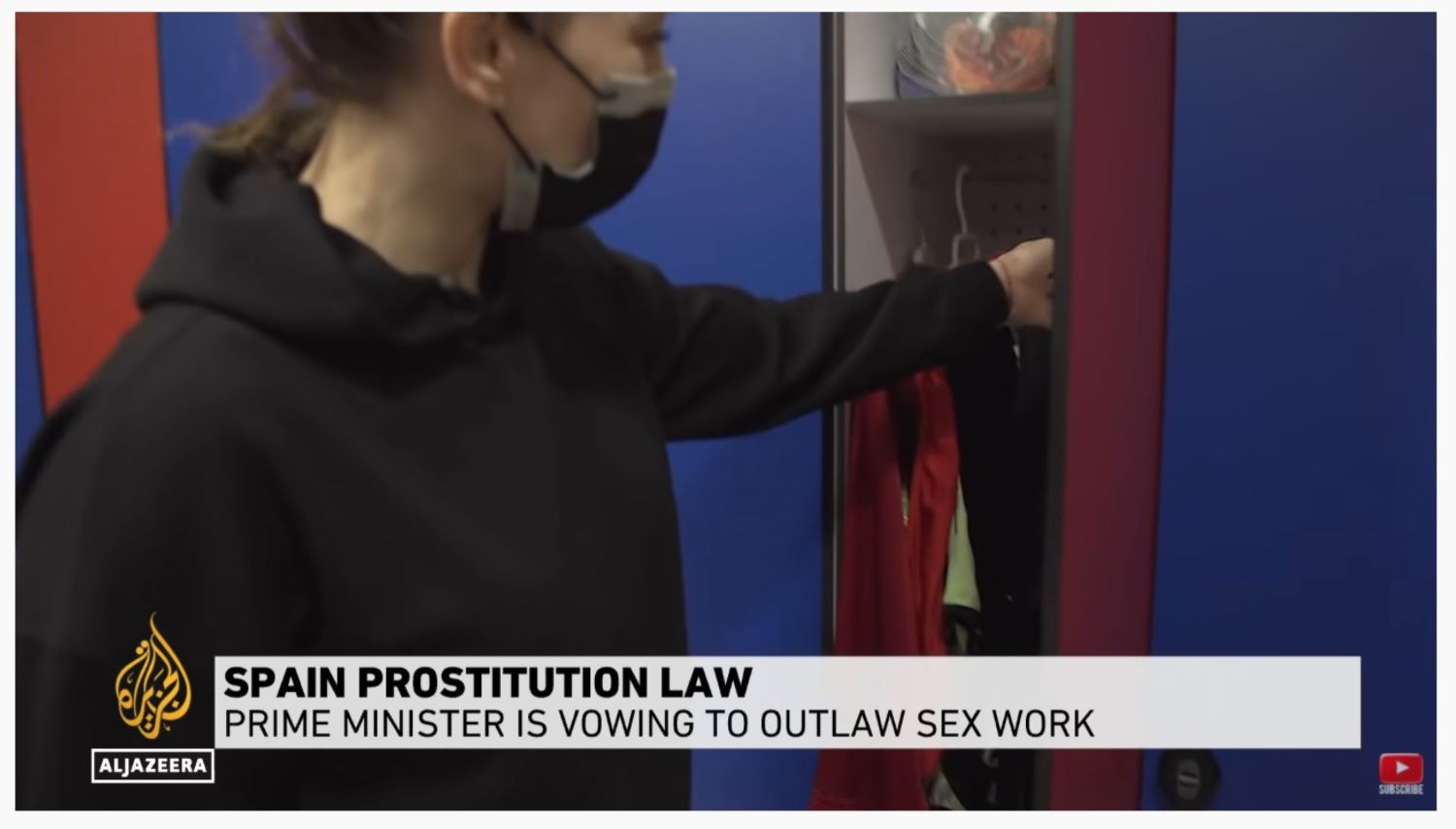 We'd hoped the union would easily lead us to a prostitute that would be willing to share her perspective. Instead, our crew had to go back to the basics of reporting. 
As my revered  former newspaper-editor-turned-professor at Columbia University used to say, we "wore out the shoe leather". 
We found women who were honest about their challenges. Business had dropped precipitously during the pandemic. Some preferred working the streets as opposed to inside a brothel to make more money, despite the dangers. 
Others clung to the "safety" of the brothel, where security cameras were ubiquitous, the guards poised to defuse trouble and, in at least one instance, there was a COVID-19 testing clinic on site. 
But woman after woman rejected our request to speak with us on camera even though we promised to conceal their identities. I wondered if it was shame more than the typical fear and discomfort.
Ultimately and surprisingly, we found our main character inside Club Paradise in La Jonquera.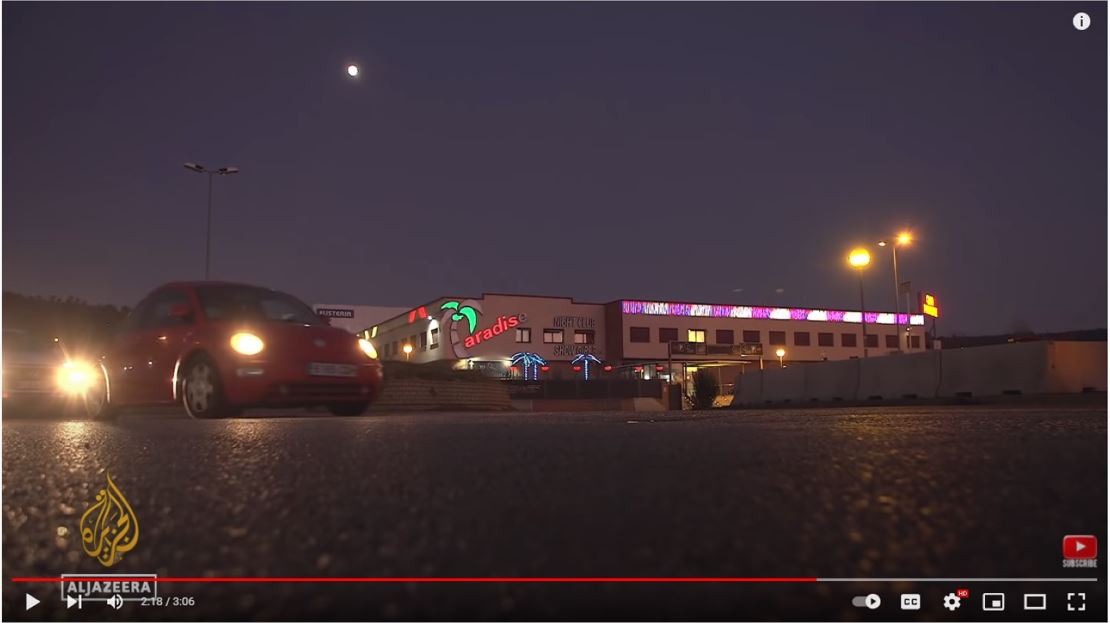 It is touted as the largest brothel in Europe. You can get there in minutes from France and the manager told us most of their customers were French. We made several trips to the sprawling facility nestled in an industrial area behind a semi-truck mechanic. 
The proposed law in Spain would extend punishment to not only pimps, but any middle men who profit from prostitution. It would effectively shutter the brothels since women pay to rent rooms for their clients. 
Our producer explained to the brothel's management that we wanted to hear their thoughts and speak to one of the women who work there. They listened politely but were noncommittal. 
The Club Paradise owners are media savvy. They had already previously allowed journalists inside "Europe's biggest brothel".  The pandemic had decimated business due to extended COVID-19 closures and, now, the prime minister and women's rights activists had their sights on closing the brothels again. This time, permanently.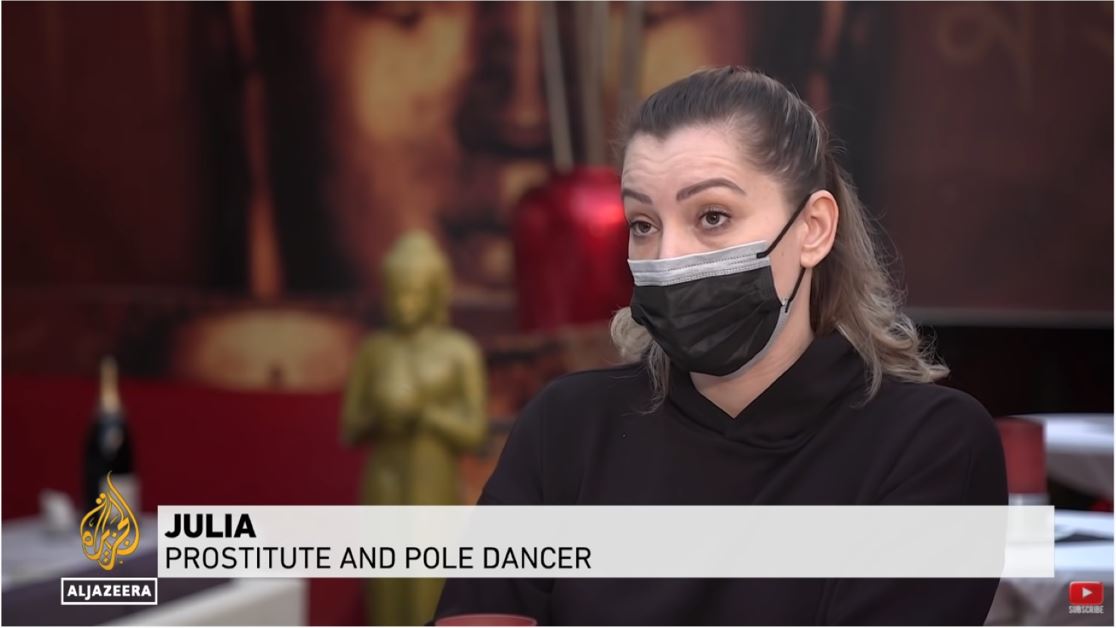 Days later, as we were still searching for a prostitute to speak with us, the manager called the producer to say he'd do the interview before the club opened. He cautioned that he couldn't guarantee he'd be able to convince one of the women to speak with us.
Daily journalism especially, is often tenacity coupled with luck. All we could do is wait and hope for the best, while continuing the search with a tight timeframe to turn the story. 
We met Julia at Club Paradise. No doubt, Julia is a stage name she gives to her customers. Julia told us she's a 33-year-old immigrant from Romania who was seduced into sex work by her passion for pole dancing. 
She excitedly swiped through her iPhone to show me impressive videos and asked me to feel her stomach. "Like steel." 
Julia made it clear she is "proud" of what the job has afforded her - a home, the ability to take classes and support her family. She says with a "normal" job, she was barely subsisting. 
That said, she knows her choice of work has an expiration date and she's studying, planning and dreaming of a time when she can open a gym.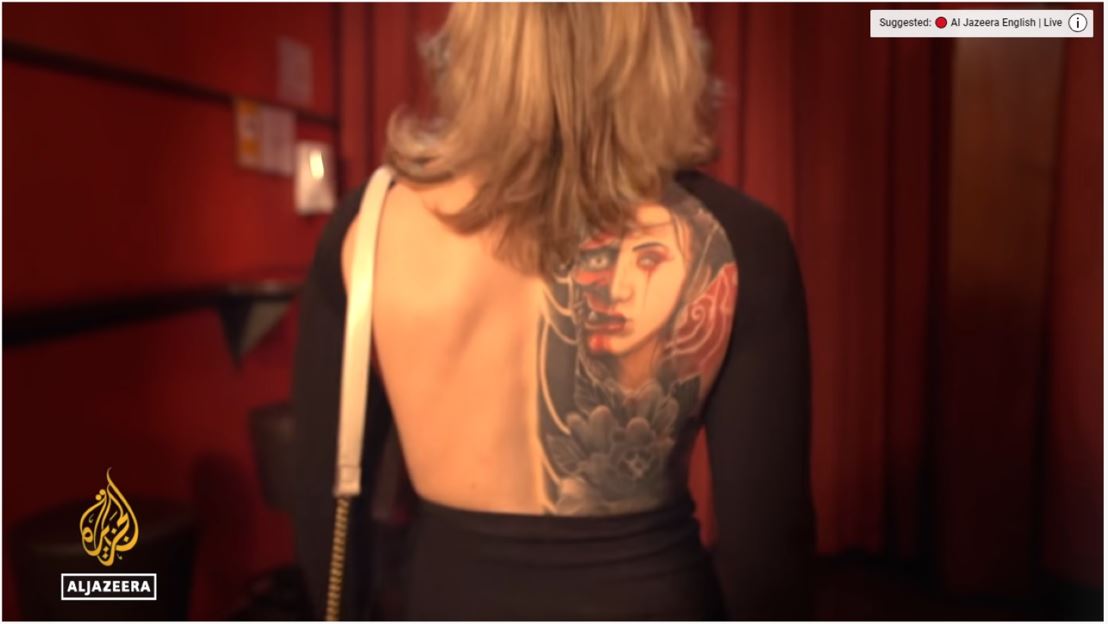 Julia stood out from the prostitutes we'd been seeing and talking to. She was confident and extremely articulate despite English not being her native language. She looked healthy. 
She still had the musculature from her childhood days in Romania as a gymnast. Her complexion glowed sans make-up. She spoke to me about the strict diet she kept to maintain her physique and energy. When she told me she didn't drink or smoke, I believed her. 
Despite Julia's unapologetic stance that sex work was a choice for her and a bridge to achieving her goals, it was with those goals in mind that she asked that we conceal her identity. With the COVID-19 pandemic, she had a surgical mask on hand and she kept it on when the camera was rolling. 
As smart as Julia was, there seemed to be a complete void in her experience and view on sex work and the intersection of sex trafficking. She told us she did not know anyone for whom sex work was anything but a choice. 
She even explained - and we saw - husbands and boyfriends dropping their partners off for work at Club Paradise. But she simply could not acknowledge that some women and girls are forced into prostitution.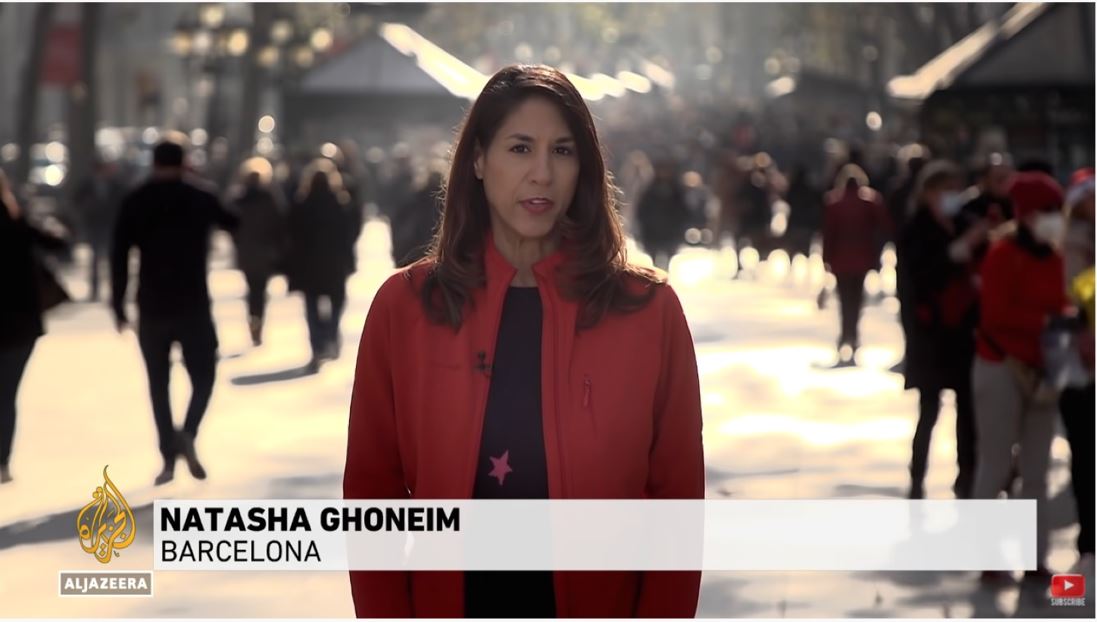 I had hoped to find a woman who was recuperating from the trauma of sex trafficking to use as a counterpoint to Julia. We'd been looking for one the whole time. 
In the end with our looming deadline, not only could we not find a victim, we couldn't find a representative from one of the organisations combatting sex trafficking to speak with us. 
Although I mentioned sex trafficking and gave statistics in the story, it remains the one thing I'd wished we'd been able to develop more through character, in this three-minute story. 
It's a shameful global issue which primarily affects women and girls, that warrants more action, attention and news coverage. 
And I keep wondering about that trio of brown-skinned girls in the Barcelona alley. Are they safe now?
Watch the Al Jazeera English story by Natasha Ghoneim: