A decade after the brutal murders of a prominent journalist couple in Dhaka, the killers have still not been brought to justice - they remain at large along with those responsible for the deaths of many other journalists
 
It is 10 years since the dead bodies of Bangladeshi journalist couple Sagar Sarowar and Meherun Runi were discovered by their then five-year-old son at their rental apartment in Dhaka, the capital of Bangladesh. 
At the time, Sarowar was working as news editor for the private channel, Maasranga Television, while his wife, Runi, was working as a senior reporter for another private television channel, ATN Bangla in Dhaka. After visiting the crime scene on February 11, 2012, the then-home minister, Sahara Khatun, promised the nation that the killers would be hunted down within 48 hours. 
His dramatic proclamation was echoed the following day by the Inspector General of Police, Hassan Mahmud Khandker, who boasted of "significant" developments in the case just three days after the killings.
A decade on, however, little progress has been made in this case. Sarowar was understood to be about to publish a second edition of his book about the Indigenous people of Chittagong. His brother in law, Nowsher Roman, said after the killings: "The killers took Sarowar's laptops and mobile phone with them after the murder. Mysteriously, they didn't take [his wife] Runi's phone or any other valuable goods from the apartment". 
The investigator informed the court that they never found the missing gadgets. If the police did investigate what happened to Sarowar's laptop and phone, it was not reported. 
After the police drew a blank, the case was handed over to the elite police force, Rapid Action Battalion (RAB). RAB would go on to arrest eight people in connection with the case, but none of them confessed their involvement in the murder and no formal charges have ever been made. 
The Committee to Protect Journalists ranks Bangladesh 11th on its Global Impunity Index for countries with the most unsolved journalist murders 
Over time, any hope for justice simply faded away. 
Recently, in an interview with the German broadcaster, DW, the brother of Runi, Nowsher Roman, said he found it hard to believe that the police were unable to find any clues about the couple's murder. He added: "It seems like the killers are very powerful. And nobody wants to identify them. Even journalists haven't done any in-depth investigation into it".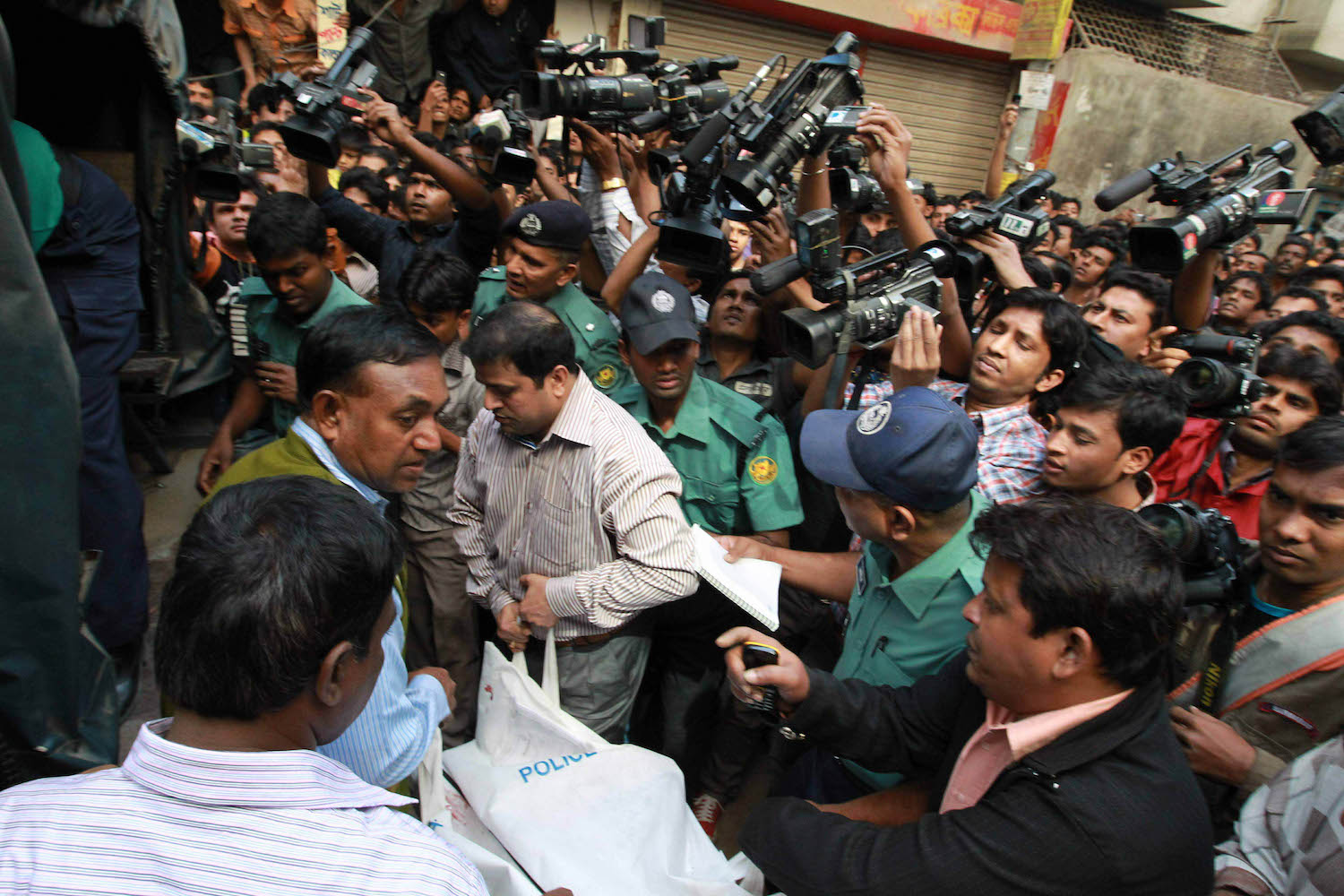 A raft of unsolved murders
Sadly, this is just one of many cases of journalist killings in Bangladesh in recent decades. According to the non-profit activist group, the Committee to Protect Journalists (CPJ), 33 journalists have been killed in Bangladesh since 1992. 
Mohiuddin Sarker Nayeem, a reporter for a privately owned local newspaper, Dainik Cumillar Dak, headquartered in Comilla district of Bangladesh, is the latest victim. Nayeem was killed near the border with India on April 13 this year, by a group of alleged narcotics dealers. 
The next day, April 14, Nayeem's mother accused an alleged narcotics dealer named Razu of being responsible for her son's killing. Soon after, police arrested four suspects in connection with the murder and Razu was killed during a gunfight with the RAB police unit on April 16.
Many murder cases of journalists remain unsolved for decades, however. In 2000, Shamsur Rahman, a former special correspondent for the Daily Janakantha was killed by two armed men at his office in Jashore district of Bangladesh. 
The dead journalist's brother, Bokul told the media in 2021 that investigation into the case had not even begun yet despite it being overseen by the Speedy Trial Tribunal of Khulna. Overall, Bangladesh has a poor track record when it comes to solving the murders of journalists - the CPJ ranks Bangladesh 11th on its Global Impunity Index for countries with the most unsolved journalist murders. This means the killers remain at large. 
The killing of veteran journalist Manik Chandra Saha in January 2004 was another example of an unsolved killing of a journalist in Bangladesh. 
Saha was a correspondent with the daily New Age and a contributor to the BBC's Bengali-language service. The assailants allegedly stopped his Rickshaw, a three wheeler, while he was going to his home in Khulna city from Khulna Press Club and dropped a hand-made bomb on him.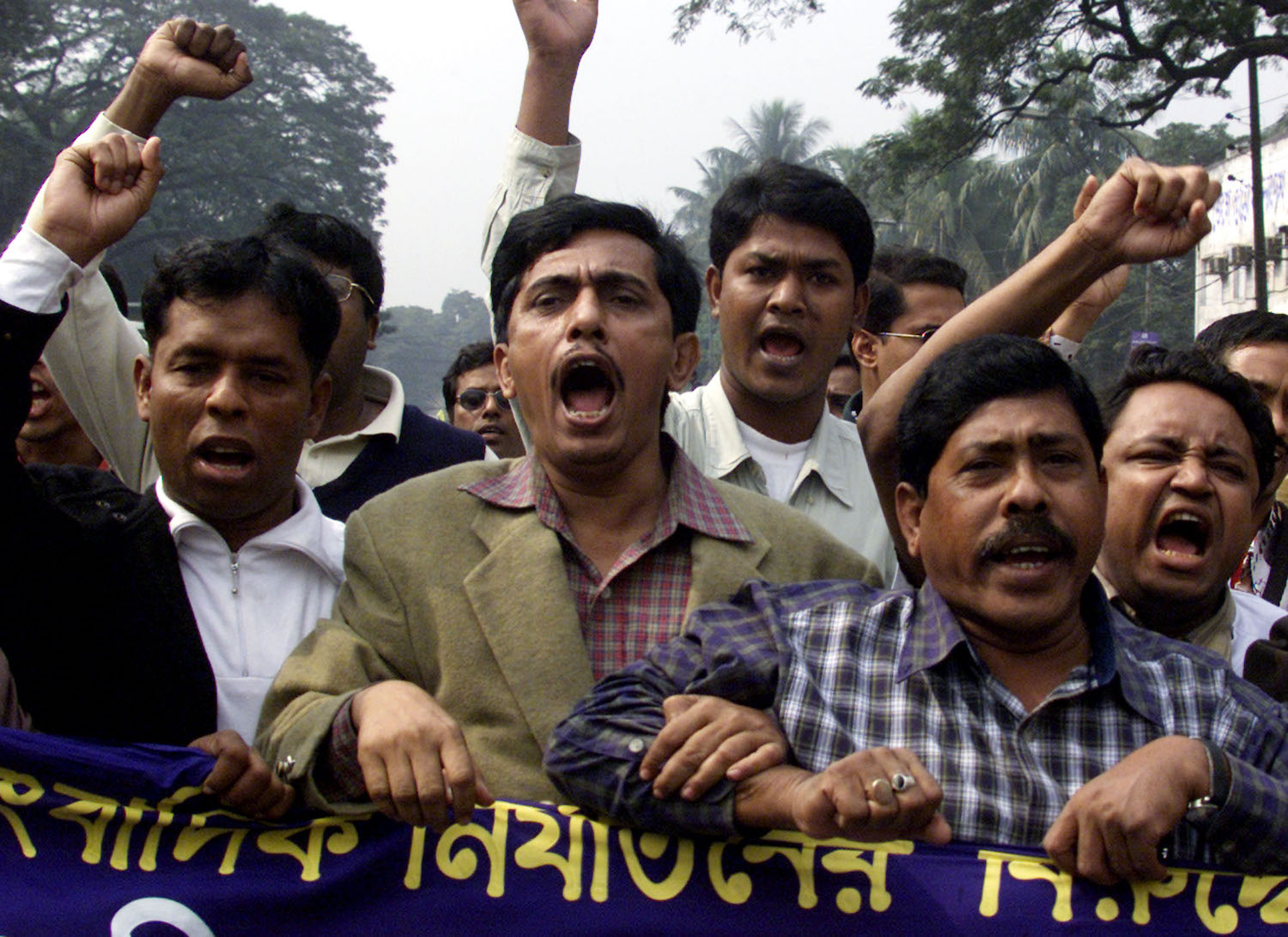 On the day of Saha's murder, Janajuddha ("People's War" - an outlawed extremist faction of the Purbo Banglar Communist Party) claimed responsibility for the bomb in letters faxed to local news organisations. After a lengthy investigation and trial, on November 30, 2016, nine of the 11 accused were sentenced to life imprisonment and another one year of imprisonment for non-payment of a fine of Tk10,000 each ($107). 
The journalist community protested, rejecting the verdict as too lenient. The death penalty had been widely expected and they demanded reinvestigation of the case. 
Only five months later, yet another journalist, Humayun Kabir Balu, editor of the Bangla-language daily, Dainik Janmabhumi, was killed by another bomb attack in front of his office-residance in Khulna by the same group. Finally, some 16 years following the murder, a court in Khulna sentenced five people to life imprisonment and fined them Tk 10,000 each in January 2021.
So, what makes killing journalists so easy?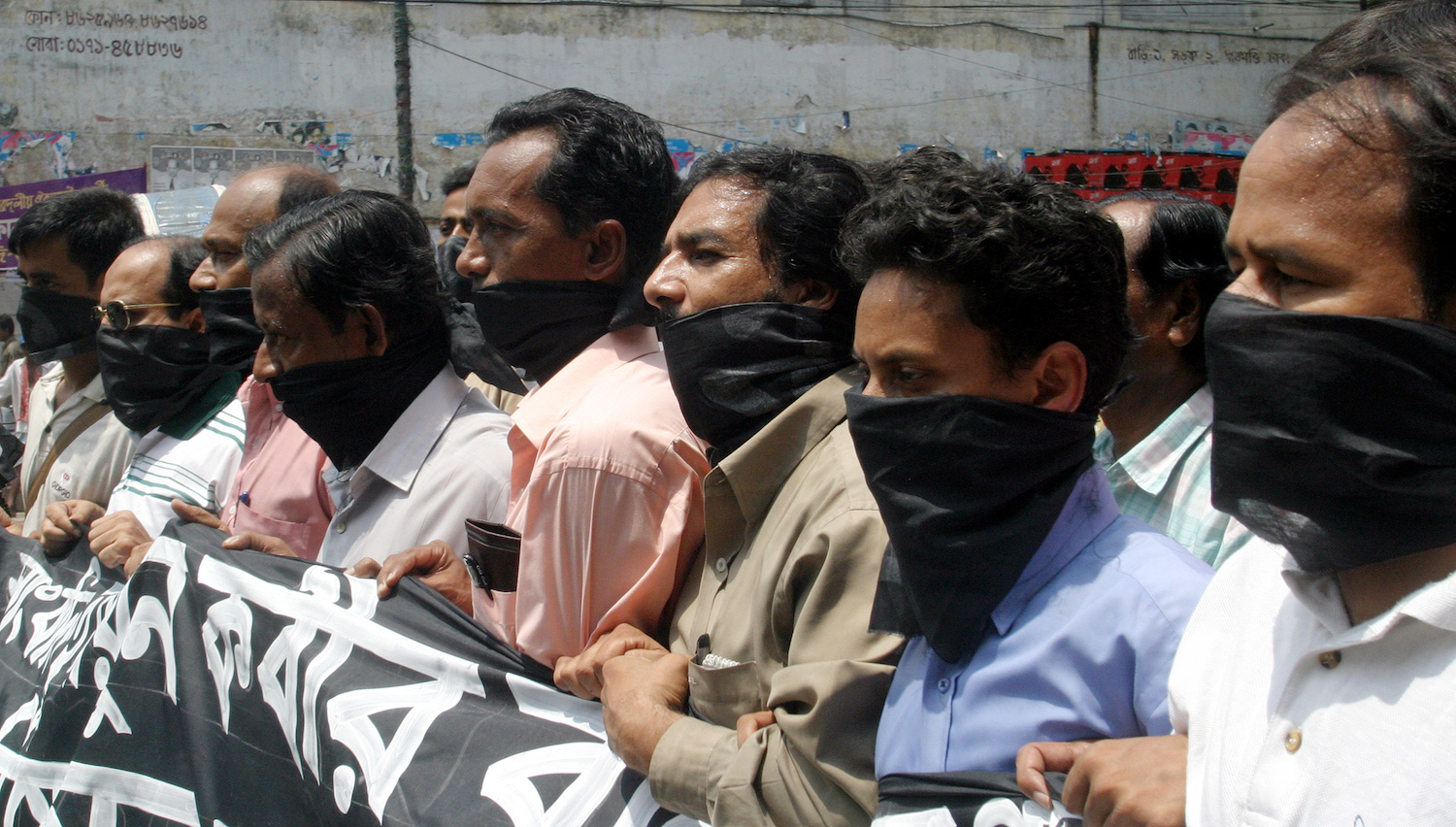 Government inaction
Politicians have enthusiastically played the blame game when it comes to condemning the murders of journalists, but have rarely taken action themselves once in power.
The Bangladesh Nationalist Party (BNP) was in power at the time of Saha's killing, while Awami League was the opposition. The current prime minister, Sheikh Hasina, was the opposition leader. 
It seems like the killers are very powerful. And nobody wants to identify them. Even journalists haven't done any in-depth investigation into it
Nowsher Roman, brother of murdered journalist Meherun Runi
Hasina not only condemned the murder but also blamed the BNP-Jamaat coalition government for failing to bring his killers to justice. The same BNP-Jamaat led government had previously condemned the killing of journalist couple Sagar-Runi and demanded the resignation of the then home minister, Sahara Khatun, for her government's failure to arrest the killers of the couple in 2012. 
Meanwhile, the UN says its experts never received a response when they wrote to the Awami League-led government in 2012 following the murder of Sagar-Runi. In December 2018, the former President of Bangladesh Federal Union of Journalists, Monjurul Ahsan Bulbul said at a discussion in Dhaka that the organisation had changed its protest slogan as a result of government inaction.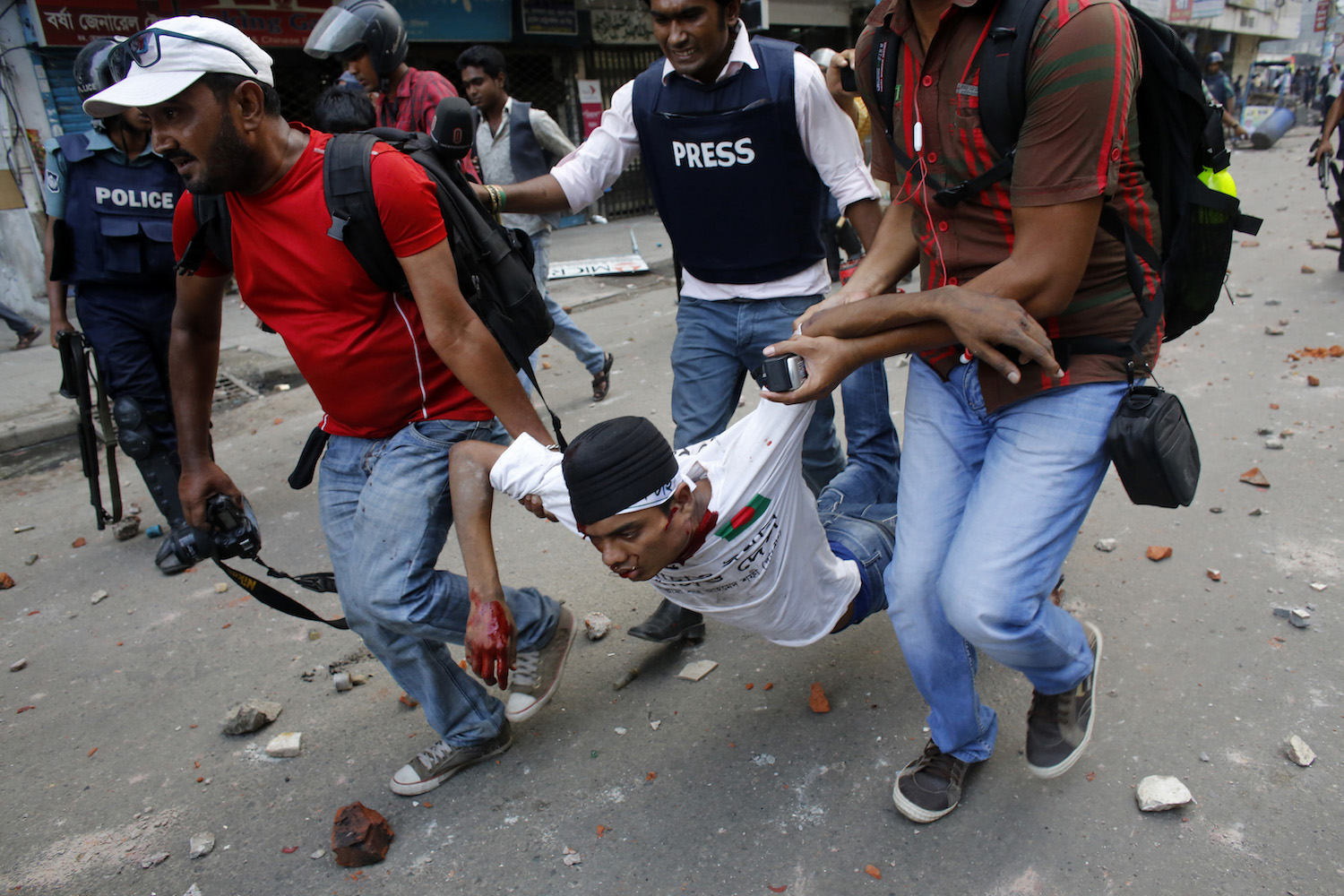 "Our slogan was, 'we don't want justice as we don't get justice'," he said. "There must be a political commitment to end impunity," he added while he also criticised Sheikh Hasina's government for not taking forward the investigations of journalist killings.
Journalist unions in Bangladesh are divided by different socio-political ideologies. After the killings of Sagar and Runi, however, the journalist community demonstrated unity as it continued to demand justice for the couple. Unfortunately, this unified stance did not last long. Indeed, one of the union leaders - Iqbal Sobhan Chowdhury - was even appointed to the role of the ruling party Awami League's president, Sheikh Hasina's, Information Affairs Advisor in July, 2013. 
Chowdhury also later received a broadcasting license and his TV channel, Dhaka Bangla Channel (DBC), is now on air.
Sagar Sarowar's former colleague at DW, Arafatul Islam, condemned the resulting inaction when it came to investigating the journalist's murder.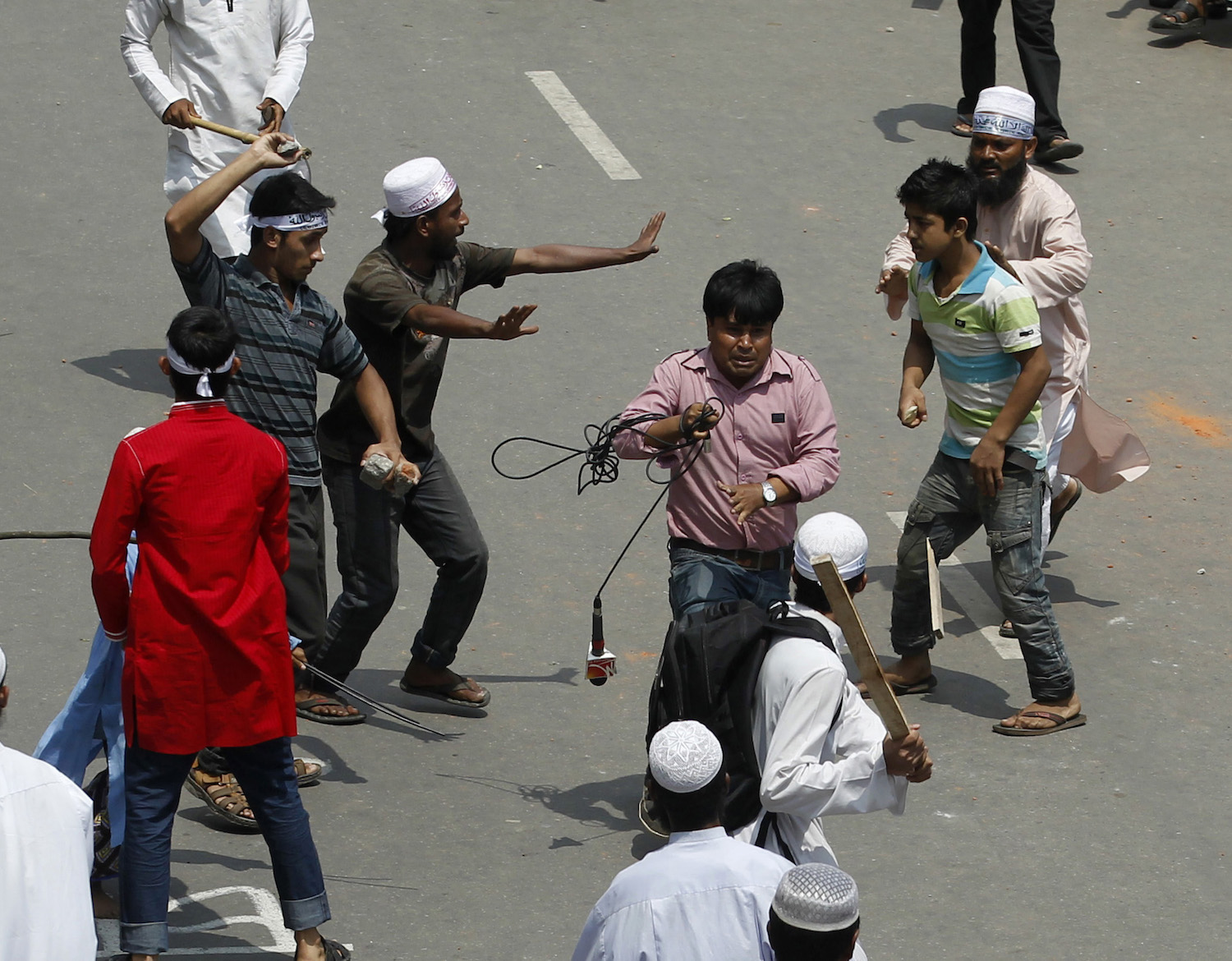 On November 23, 2020, Gayeshwar Chandra Roy, a senior leader of the  opposition political party, BNP commented: "We saw a journalist leader was awarded to thwart the protest against the incident. If the issue of Sagar-Runi's murder can be silenced through an award, then such murders will continue".
Political connections 
Bangladesh is a small country but it has several thousand media outlets. However,  a large number of owners of media outlets in Bangladesh are either directly or indirectly affiliated with political parties. 
The concern is that owners of media outlets may prioritise their political connections over their employees' welfare and over independence of the media. 
ATN Bangla, the employer of Runi, which is chaired by Mahfazur Rahman, for example, was the first private channel in Bangladesh. Rahman was granted the licence for the channel in 1997 during Sheikh Hasina's first government from 1996 to 2001.
Following criticism of the government's failure to identify Sagar and Runi's killer, the prime minister of Bangladesh Sheikh Hasina said: "It is not possible for the government to guard anyone's bedroom." 
Following this remark, on May 30, 2012, the ATN chief suggested at a press briefing in London that Sagar and Runi might have been caught up in an extra-marital affair - something for which there was no evidence. 
The killing of the journalist couple Sagar-Runi has become one of most discussed cases in Bangladesh. And yet, justice for their murders remains elusive
Rahman later apologised for this comment. Meanwhile, the failure of the police to solve the crime or even to submit an investigation report has sparked many different - and frequently wild - rumours about the true circumstances and motivation of the killings of Runi and her husband.
Rumour and speculation run riot
Bangladesh has been ranked 147 out of 180 countries for levels of corruption by Transparency International, which said it was one of the countries with a concerning trend of weakening of anti-corruption institutions. 
Recently, five UN Special Rapporteurs reported: "It is widely believed that the journalist couple Sagar and Runi were targeted as a result of their investigative reporting into corruption in Bangladesh's energy sector, which they were about to publish." Meanwhile, social media had been flooded with yet more hypotheses about their deaths. 
Another website named Alchetron reported a rumour in Dhaka that the couple had been killed because they had obtained sensitive information about land acquisition by a "powerful corporation" .
Another website - Pakistan Defence - reported a different rumour that Runi had collected information about the business dealings of several prominent government officials and that she and her husband had resisted pressure to destroy this information. 
In February 2012, the then Dhaka Metropolitan Police's ADC, Mohammad Monirul Islam, told journalists: "We are almost certain about the motive but cannot disclose it for the sake of the investigation."
A decade later, the public is still in the dark as to what this motive may have been.
The killing of the journalist couple Sagar-Runi has become one of most discussed cases in Bangladesh. And yet, justice for their murders remains elusive.