The beginning was like no other. I am a Palestinian born in Libya in 1983. My parents had lived there in exile. Many Palestinians were dispossessed from their homeland after Israel was established. Up to a million people were forced out after the 1947-48 Arab-Israeli war. Then again after the 1967 war between Israel and the neighbouring countries. Hundreds of thousands lost their lands and homes. After years of struggle against the Israeli occupation following a popular uprising, Israel finally agreed to allow some Palestinians to return to their homeland in return for the recognition of the state of Israel. 
    In 1993, the Oslo Accords created the Palestinian Authority (PA). By the time I turned 13, the first elections of the Palestinian Legislative Council were taking place and, that same year, my family was moving back to Palestine. A totally different chapter of my life started.
    Arriving in Gaza, I did not find the freedom that I had enjoyed abroad. To some extent, decades of Israeli occupation had a massive negative impact on our once liberal society. Decades of military occupation had destroyed the social fabric of our nation. It seeped into all walks of life.
    As a child, I dreamt of being a pilot and travelling freely from one country to another, but everything I had wished for and dreamt about had vanished into thin air when we came back to Gaza. Gaza was surrounded by Israel from land and sea. Even the airspace was under their control. On a personal level, my own behaviour utterly clashed with social traditions. It seemed girls could not simply be who they wanted to be at that time. I was not willing to settle for that. An uphill struggle challenging local traditions ensued. 
    In 2000, I started working for the government affiliated Palestine TV as a presenter for a children's program. I also wrote for two university magazines. Throughout all my activities, I tried to change the way people saw girls and women. I wanted to push the internal boundaries imposed on us.    
    Later on, in 2004-2005, many international organisations supporting Palestine visited Gaza. I spent most of my time with them, trying to understand how they saw my country and the Israeli-Palestinian conflict. I learned that most of them needed to be more informed about what was happening in our region. I especially understood that foreign media outlets had to be warned about the hidden stories in Gaza. In 2005, when a German journalist from Der Spiegel needed a fixer, I did not hesitate. Working with her allowed me to step into the world of international correspondents. I started developing a network and meeting several other foreign journalists, becoming the first woman fixer in Gaza.
    Covering war is dangerous by all means. Parachuting into war or conflict zones is suicidal for international journalists if they do not know the lay of the land. Where do you fly in or drive into a given country? Where do you stay? Who do you trust? Who will introduce you to the key political figures on the political scene? How will you communicate if you do not speak the language? These and many other questions can either be answered by fellow journalists, friends, or from experience. However, in most cases, the bulk of the news reports published by a foreign correspondent from war-torn places like the Gaza Strip only becomes a reality because of a fixer. That is the person who facilitates the work of journalists covering foreign countries. Sometimes it can be a local journalist, a translator or someone with good contacts and knowledge of the area. The fixer is the eyes and ears of any foreign journalists operating outside of their comfort zone. He or she connects the journalist with the stories, the people and the contacts needed to report the news of that country.
Gender Barriers
    Being a fixer in Gaza is not easy, let alone being a woman fixer. In addition to the great responsibility a fixer role generally entails, when you are a woman, gender prejudice is all around you. Working with foreigners was ill-seen. Back then those who did that were considered to be serving Israel's interests. To add to this, I was working with them late at night. This was considered culturally reprehensible behaviour for women. Most of my relatives tried to convince my father to make me quit my job. But my father's reaction was not at all what they expected. He was always encouraging and supportive, and sometimes during working nights he would accompany me or ask my brother to do so. 
Journalism is a male profession in my community. Some people from Gaza do not believe we women have the ability to work in this kind of field. Having to work with male journalists exposed me to harassment; although I proved time and time again that I am able to succeed even at times when they were not. Frequently–still way too often—merit and capacity are shadowed by gender biases. 
    However, there are also upsides to being a woman fixer within my cultural environment. Women have better access to certain places and persons than men. For example, I find it easy to reach families and make women and children open their heart to me. This requires empathy and an honest will to listen, but if I were a man, even if I had all the understanding and humanity in the world, some people wouldn't be as available as they are with me for the fact that I am a woman. 
    My husband has been a great support. He has stood by me at all times, even if at some point, he too was criticized by society for being married to me and allowing me to work as a fixer. For the conservative Gaza society, our family breaks the mould. He has been a stay-at-home dad, watching over our children, while I've been out covering war and conflict. He is my rock. I always give him the contact information of the person that gives me access to the story so if I don't call him every two hours, as per our agreement, he can call the person and find out if something happened to me. Leaving him and my children behind when I go to cover war stories is the hardest part of my job.
Working Under War and Occupation: A Double and Permanent Risk
    As a Palestinian living under occupation, my sympathy is first and foremost with my family. I also have responsibility as a fixer towards my country and my people. This means that I cannot always accept to work on sensational stories that could tarnish the reputation of my people. It also means that I have to protect my sources if I am doing a story. When you work in a conflict zone, your sources can get killed if they talk. I try to never put a life in danger to get a story, and I have to be careful with whom I work with. For example, if Israeli journalists come under the disguise of a western passport, I have to be careful. Often people who are against Palestinian people's rights want to give us a bad image internationally. They want to portray us as terrorists. They want to describe a Gaza that is evil and backward. I won't allow myself to be used by journalists with clear political motivations. At the same time, I cannot of course hide some of the ugly truths that this society harbours. The context is crucial. But as a fixer, you do not have editorial control or oversight of what gets published, so one must choose carefully who you work with and on what stories. 
    I also must document everything that happens and stay honest and neutral. One way of building and keeping that neutrality is to remain unbiased and read between the lines when sourcing information from news pieces, as each local channel, magazine, and radio station has a different point of view and very often a different agenda too. 
    I have covered every war and large-scale Israeli onslaught on Gaza. It has been hard. I have survived airstrikes, targeted assassinations, and explosions that have killed thousands of people. I consider myself lucky. But this brings me to another serious point: Protection.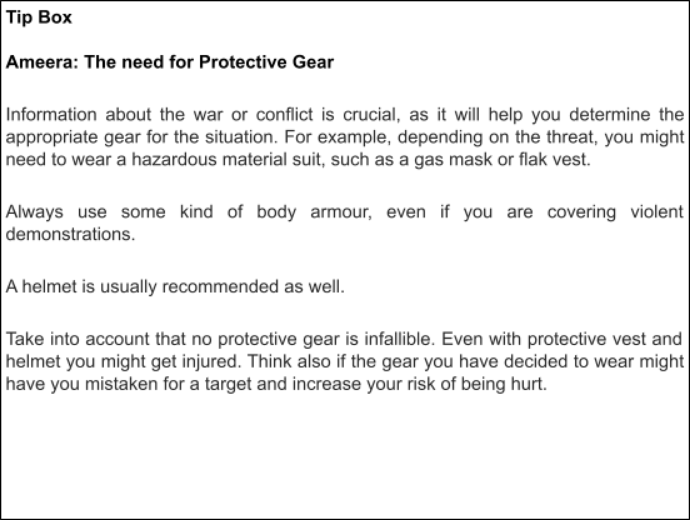 The absence of protection–the permanent vulnerability of local journalists in conflict environments—is a difficult part of my job. Most groups I work with come to Gaza on a short mission, but I live here all-the-time. Danger is ever-present in my life and that of my colleagues. We do not get to go back home, take safe shelter, and unwind because to us Gaza is home. During Israeli invasions, we did not even have any basic protective gear, such as body armour or helmets.
    Moreover, being a fixer for international correspondents sets the bar a little higher in terms of difficulties. In Gaza, a foreign reporter simply cannot get far without a fixer. The authorities mandate that you have a local, approved sponsor or fixer to help you. The local fixer is often held responsible for the work of visiting journalists, who usually hire them for short periods. This can lead to great implications for the local fixer if things go wrong. 
    When Israel shells, it can target most areas in Gaza, whether military or civilian. This means that when under attack, violence strikes most of the 360-square kilometre strip, affecting many of its 1.7 million inhabitants. Trying to cope with all that is happening simultaneously, while protecting the journalists that you are directing and guiding, requires a lot of effort and puts a lot of stress on you as a fixer. One must know the terrain and always locate entry and exit points in any place targeted by shelling or any area in which one is covering. If I feel the area is too dangerous for a foreign reporter to join me, I'll explain the situation to them and let them make a decision. If they decide to go with me, I never think about the risk they–we— are taking, or else I would put myself and those with me in danger. I would panic and not be able to think straight or act in a timely manner.
    It is important to build a solid network of people in local communities. This is crucial to being a successful fixer. Firstly, for developing a real, human and honest relationship with people that truly transcends your journalistic objectives. If you succeed, people will open up to you and tell you their stories. They will provide you with unprecedented access to information no one else has. This also comes with a responsibility. They are human beings just like me, not casualties, or tragedies, or numbers. We are all Palestinians, living in Gaza. Secondly, having this network provides you with backup. If I face any problem in any place, I can find somebody who can help me, who respects me and I can trust. Needless to say, you should never put any of these people at risk.
    Sensitizing correspondents about the dangers in covering certain stories is also part of my job as a fixer. I have to sound the alarm if we are stepping into topics or angles that may simply upset the people in power in Gaza. My job, at the end, is also to reduce the safety risks to which a foreign journalist is exposed to in a foreign land. A good amount of responsibility is on your shoulders as a fixer.
The Whys
    Still, there is something that beats all the difficulties of being a woman journalist and fixer in Gaza: I get to tell the world what is happening here, what we are going through, what defines us best and what we suffer from the most. 
    I have built a large network within civil society and different Palestinian factions that have allowed me to have a comprehensive perspective and insight of what happens in my own city, to my own people. I see other people suffering–the hardest part of my job— and I must tell their stories. That is my commitment to myself and my community. The stories I hear and the pictures I see with my own eyes are true, and I cannot get them off my mind. I still remember the details of every story and event that has deeply affected me. I cannot even find the words to describe them now. 
    The Israeli siege imposed on the Gaza Strip hampers all parts of life here. It has an impact on the economy, the culture, our freedom of movement, and the people. Economic hardship is a key motivator for many who take on this job, risking their lives every day. Many have become fixers now. However, we live a new day everyday hoping things will improve. 
    Although, most of my archives have been destroyed in the conflict, sad and happy memories abound in each corner of Gaza. There is not a place that does not remind me of families or people I have met.