Who or what are driving news and discussions about COVID-19 on social media? It all depends on where you are in the world.
Journalists can learn a great deal - and source great news stories - by following what is being said on social media. This is particularly true when it comes to understanding how people around the world are responding to the COVID-19 pandemic. 
An analysis by the Social Media Insights Lab at the University of South Carolina shows significant differences between attitudes in the Arab world compared to Europe and the United States. 
Lab researchers reviewed more than 870 million social media posts made between January 1, 2020, and July 31, 2021. Much of the sample was made up of posts on Twitter (69 percent). It also included comments on news stories as well as posts on various forums and blogs. 
The analysis found: 
• There is less stated resistance to vaccines in 21 Arab-speaking countries than in Europe and the US. 
• Earlier in the pandemic, comments in the Arab world focused more on the economic and social consequences of the coronavirus while in the US and Europe, comments were more sensationalised and focused on people like former President Donald Trump and entertainers like Pink and Selena Gomez.
• News organisations have the biggest impact on social media conversations in the Arab world while politicians and other public figures have a more significant impact in the US and Europe. 
"We have been following these coronavirus conversations since early 2020," says Kaitlyn Park, Insights Lab manager. "COVID-19 has been a hot topic on social media and while there are many similarities worldwide, there also are major differences when you look at specific topics, such as vaccines." 
Westerners are more influenced by 'personalities'
The Insights Lab found hesitancy toward the vaccines worldwide, but the degree of hesitancy varies by region with less resistance in Arabic-speaking countries. 
The Insights Lab's powerful Brandwatch Consumer Research software used artificial intelligence to better understand the massive data set. It looked specifically at negative sentiment, which can mean different things, including critical comments about the vaccines, about public figures talking about the vaccines or about the coronavirus itself.     
Among almost 30 million posts in the Arab world, 28 percent were negative. By comparison in Europe, 38 percent of more than 354 million posts were negative. In the US, 31 percent of more than 420 million posts were negative.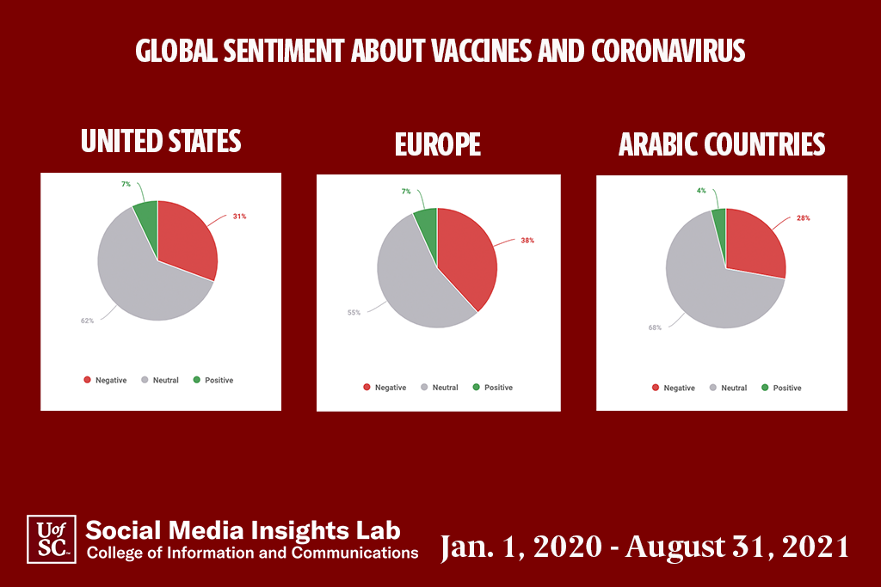 "When you look at the big picture, the differences in sentiment are significant," says Park. "In the Arab world, comments tend to be more factual, while in the US and Europe, comments include more opinion." 
In the US, for example, the social media posts that had the most impact came from politicians like President Biden and US Senate Majority Leader Mitch McConnell as well as media figures like PBS Correspondent Yamiche Alcindor and Fox Business host Lou Dobbs.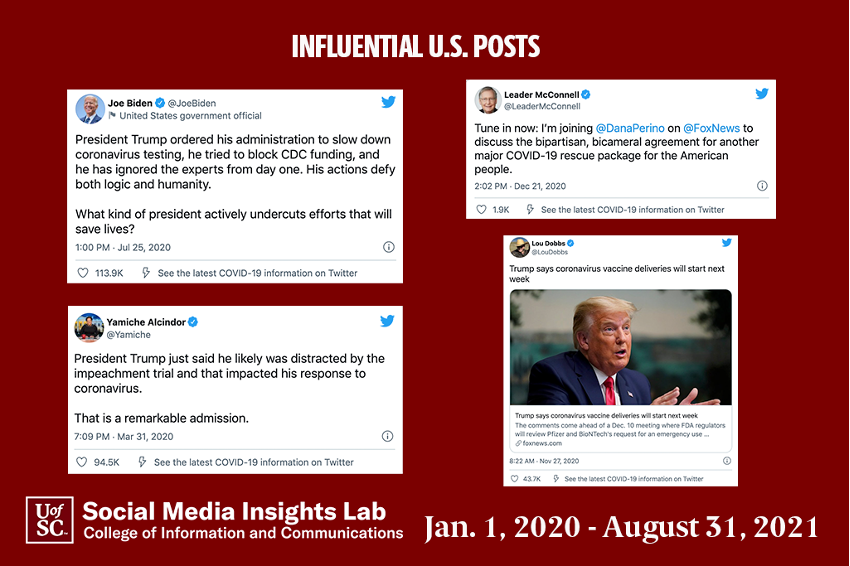 In Europe, the posts that had the most impact came from writer Samina Chaudhry tweeting about the death of her husband from COVID-19; the World Health Organization; and media figures like Piers Morgan tweeting about Boris Johnson's policies relating to COVID-19 in the UK.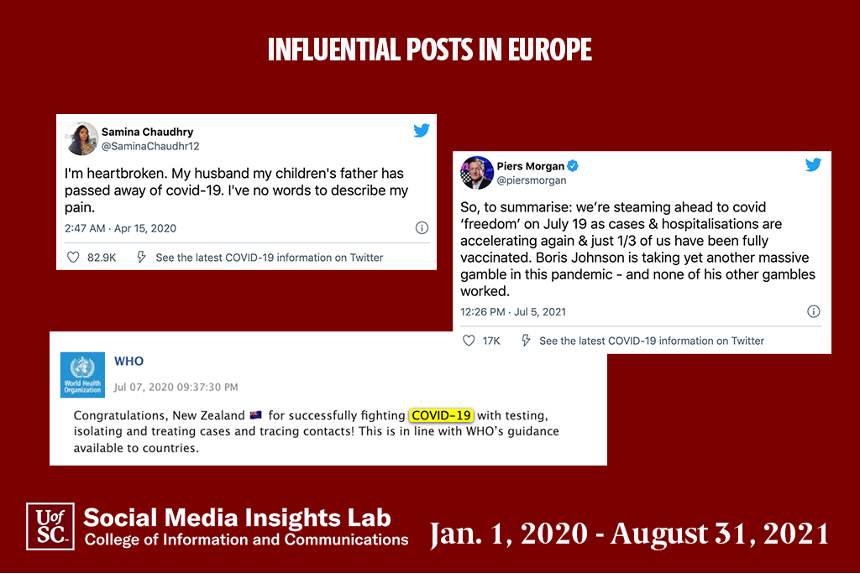 In Arabic countries, the posts with the most impact were made by Mohamed Al Karbooli (Iraqi MP) tweeting about the rising numbers of COVID-19 cases among Iraqi prison inmates; the Saudi Al Hilal Football Club tweeting about the vaccination process for its players; and a video posted by Al Jazeera Arabic's Twitter account about clearing the Kaaba site in Mecca for sterilisation during the pandemic.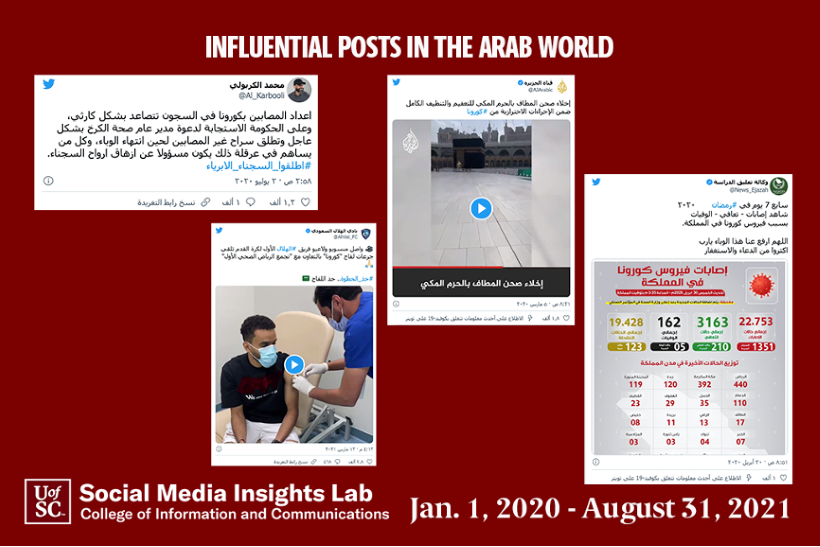 Official sources and scientists more influential in Arab world
A good way to get an overview of social media conversations is to look at the word clouds generated by the lab's software. For the US, common words in general discussions about the coronavirus include "Trump" and "President". In the Arab world, people are more likely to rely on official sources and scientific opinion.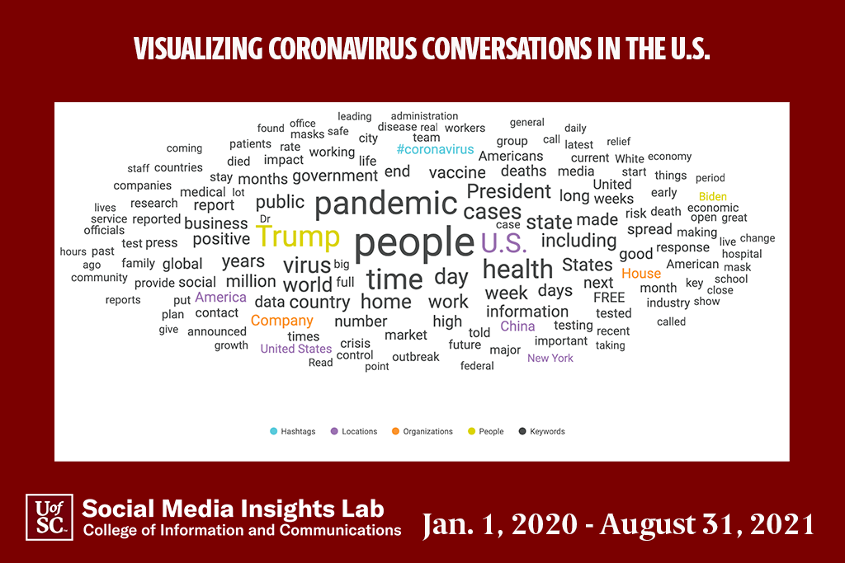 Former US President Donald Trump is a divisive figure and, during his presidency, he wielded a powerful presence on social media. His frequent posts about COVID-19, which often were critical of public health officials and downplayed the severity of the virus, had a major impact. For example in June, 2020, Trump posted this Tweet: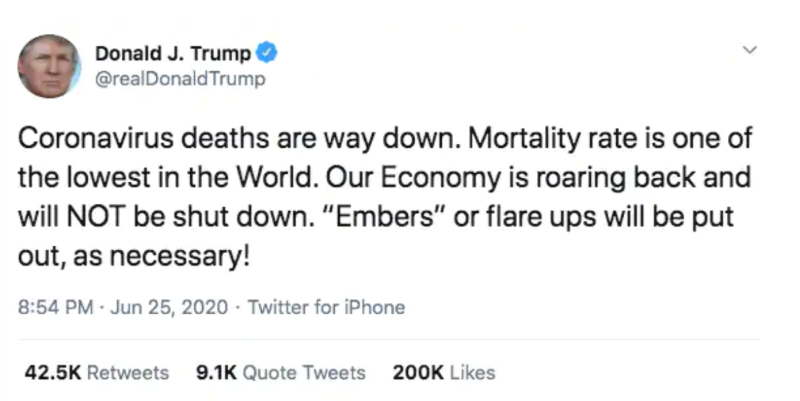 The rise in COVID-19 cases and deaths in the months following this Tweet by the former US President was partly blamed on his refusal to take the disease seriously.
On the day Trump made this comment, the United States was averaging around 41,000 new COVID cases and 2,466 deaths per day, according to a database maintained by The New York Times. However, as the year progressed, the number of coronavirus cases and deaths grew significantly, peaking seven months later at more than 300,000 new cases per day and more than 4,000 deaths per day. The increases have been blamed, in part, on the President's reluctance to take the disease as seriously as he might have.
The word cloud for Europe also reflects the impact of politics. Trump and British Prime Minister Boris Johnson are frequently mentioned.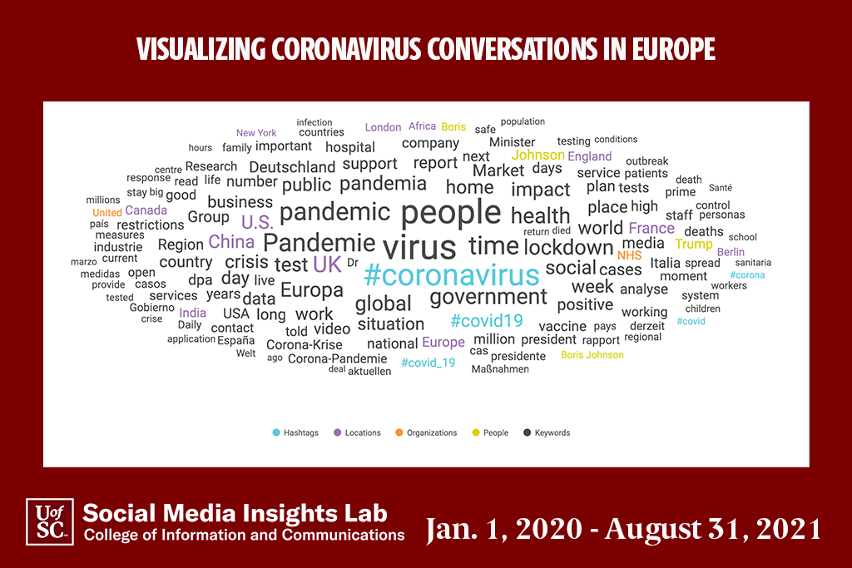 By contrast, the word cloud for the Arab world, which includes posts in Arabic and English, is less personality-driven and more focused on the impact of the disease and the responsibilities of the government, as shown by words like "Ministry", "Procedures" and "Precautions".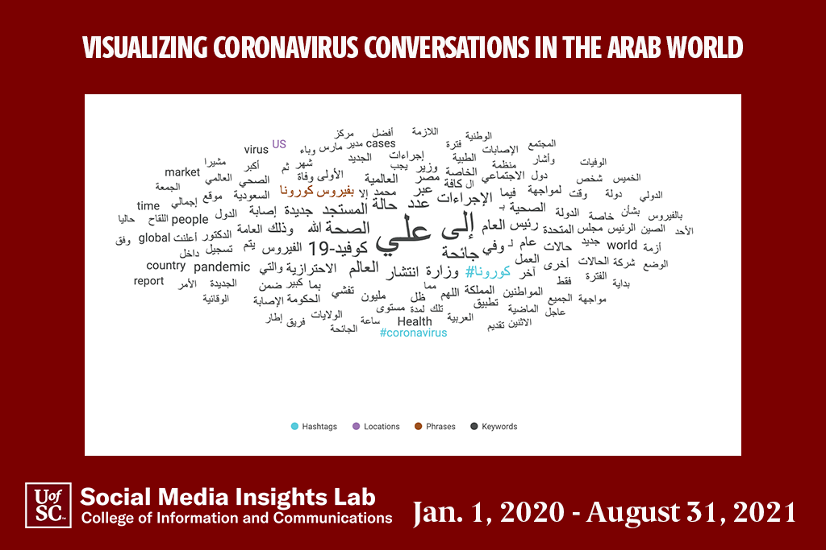 "Posts in the Arab world were more neutral and commenters were more interested in the long-term impacts of COVID-19," says Park. "Conversations seem to be less politicised than in the West, where many challenged the recommendations of health officials and scientific authorities."
Measuring 'impact'
Topic wheels are another way of gauging these conversations and the wheels tell a similar story. Trump is frequently mentioned in the US. In Arab countries, health and cases are more frequently mentioned.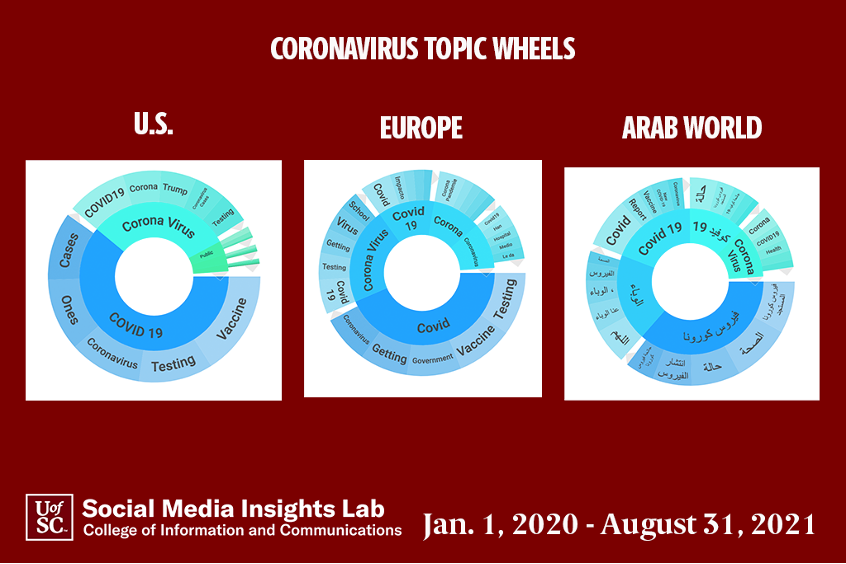 The lab's Brandwatch software is able to evaluate who has the greatest impact on these online discussions.  Researchers looked at this from two perspectives.
·       Those with the largest followings on social media.
·       Those with the greatest impact, as measured by the Brandwatch software.   
Among the accounts with the largest number of followers in the Arab world, news organisations like Al Arabiya and Al Jazeera top the list of those driving coronavirus conversations.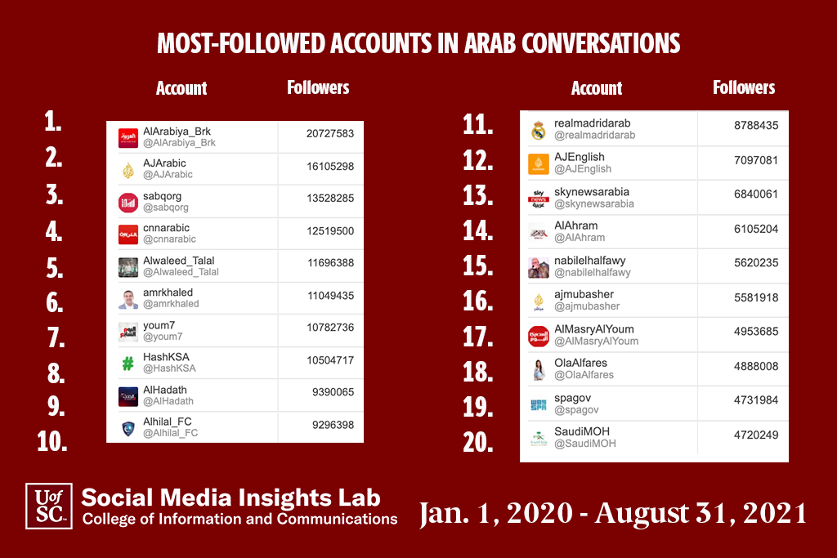 In the US, while media companies like The New York Times and The Washington Post had a big impact. So, too, did entertainers such as Selena Gomez and Pink.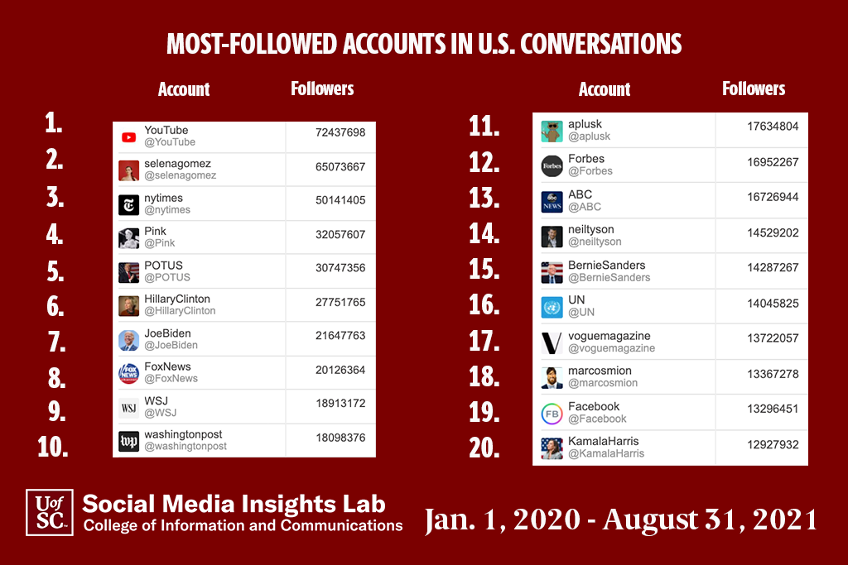 Europe was somewhere in between. Most of the European top 10 is composed of news organisations. However, the list also includes two football clubs - Liverpool and Barcelona.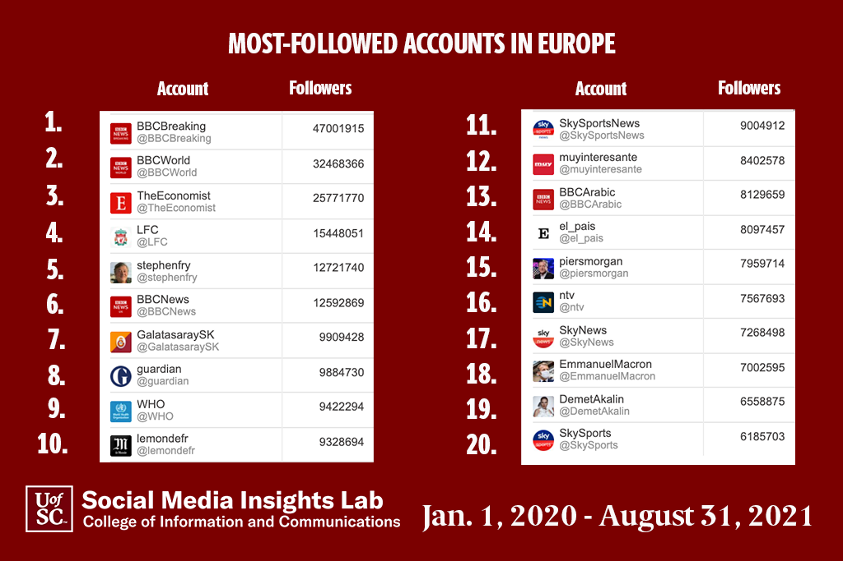 The Brandwatch software also evaluates which posts have the most impact or engagement, which typically is defined as being shared, liked or commented upon. These influencers may not have the largest number of followers, but they do have the greatest impact on social media conversations.
Top influencers in the Arab world included several news organisations as well as individuals such as Mohammed al-Karbouli, a prominent Iraqi MP.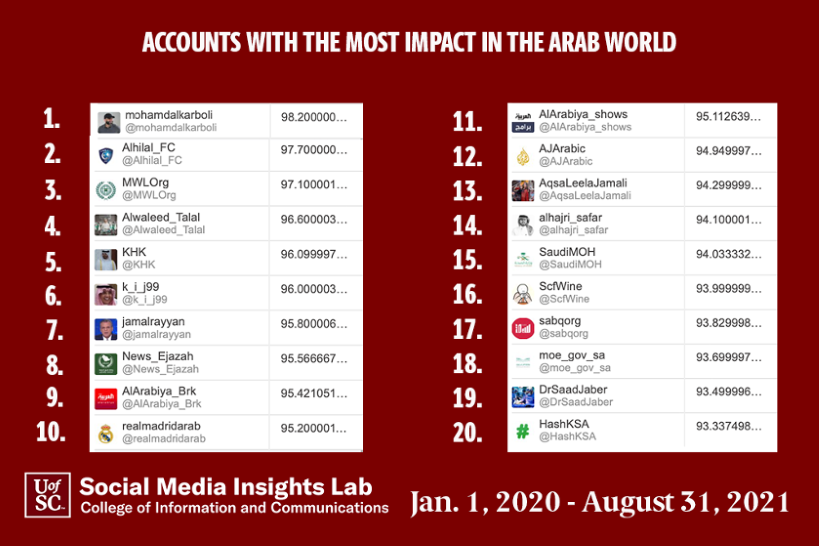 In the US, the list of high-impact influencers included politicians, political commentators and a few journalists. Until he left office and was banned from Twitter, Donald Trump also was a significant influencer.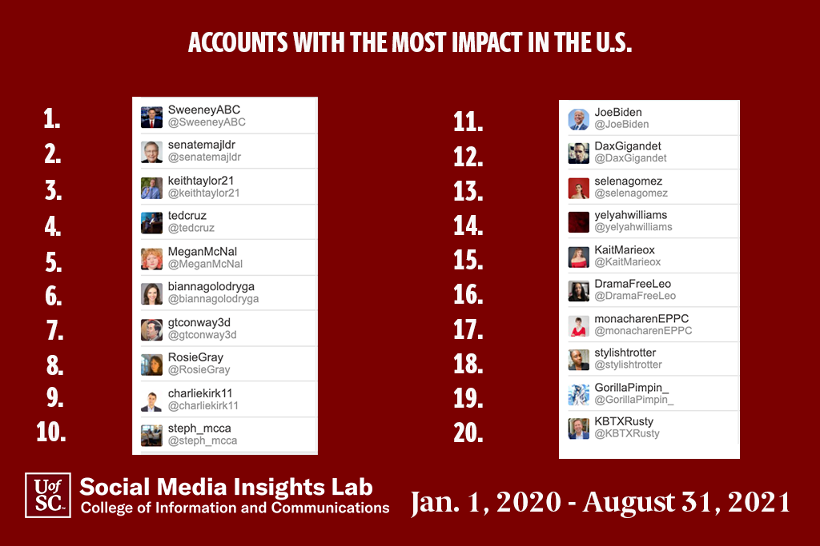 In Europe, the list of high-impact influencers includes a mix of writers, news organisations, politicians and individual personalities.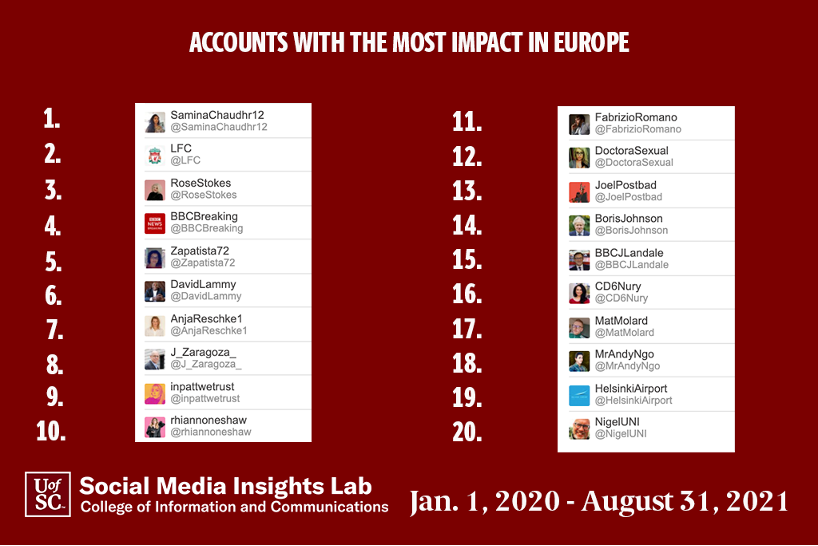 These influencer lists substantiate and help to explain the more politicised nature of American and European conversations when compared to the Arab world. 
Knowledge is power
It is often said that knowledge is power and, in commerce, the use of social media analytics is becoming increasingly popular because of the information they can provide. Businesses use these techniques to better understand their customers, including what they are saying and who is influencing them. 
In the same way, journalists can use social media analytics to understand what the general public is saying as well as to better understand their sources of information and, in some cases, sources of misinformation. 
There are several ways to analyse social media and they range from simple and cheap to complicated and more expensive. Social media platforms like Twitter and Facebook offer free tools to better understand the performance of a post. These tools are useful in helping newsrooms strategize and plan content based on what gets the attention of the audience as well as what engages them through comments, likes and sharing. 
For journalists, the paid service Chartbeat can be found in newsrooms all over the world. Chartbeat is useful in understanding which stories are getting attention, who is reading a site, how long they spend there, where they came from and sometimes where they go after they leave. Chartbeat can help drive a social media strategy and establish priorities for coverage. 
There also are paid services like Hootsuite and Talkwalker. They offer some of the same insights as the free, in-app tools, as well as word clouds and data on trending topics. These programmes typically provide a snapshot of what is happening at a particular time but do not offer historical context. 
Using artificial intelligence
There are also more powerful - and more expensive - programmes like Brandwatch Consumer Research, NetBaseQuid and Sprnklr. They go beyond single platforms to include news websites, forums and blogs. By working across platforms, they provide a fuller picture of what is being said about a given topic. The obvious challenge is making sense of all the data these programmes are collecting and analysing. That's where artificial intelligence (AI) comes in. 
AI programmes can gauge the emotional tone of conversations by using auto-sentiment technology, which is useful for identifying patterns within large sets of social media data. AI has its limitations, however. For example, it generally cannot detect sarcasm and nuance. That's where the human element comes in. A human analyst must constantly analyse and revise a search, training the AI what to look for. 
"The key point is not the technology, which certainly is impressive, but rather how we use the technology," says Tom Reichert, Dean of the University of South Carolina College of Information and Communications. "For journalists as with commerce, social media analytics can provide context and understanding to the stories we cover." 
While there is much to be learned from social media, it is worth noting that most people are not making comments on Twitter. Analytics provide insights, but not necessarily the entire story. There still is an important role for journalists. 
*The Arab countries in this analysis include Algeria, Bahrain, the Comoros Islands, Djibouti, Egypt, Iraq, Jordan, Kuwait, Libya, Morocco, Mauritania, Oman, Palestine, Qatar, Saudi Arabia, Somalia, Sudan, Syria, Tunisia, the United Arab Emirates and Yemen.