How should we go about reporting on members of vulnerable communities in an ethical way? We examine the case of Rohingya refugees, overwhelmed and struggling for survival in the refugee camps of Cox's Bazar, Bangladesh 
During the monsoon season of August 2017, drenched in rain, hungry and deeply traumatised, thousands of Rohingya Muslims fleeing ethnic cleansing in Myanmar were arriving in Cox's Bazar, Bangladesh, where they might finally find refuge. The majority were women and children, carrying little, bar a few personal possessions.
"It was the bottom of human misery," recalls Redwan Ahmed, a freelance Bangladeshi journalist. Ahmed has been reporting extensively on the Rohingya refugee crisis since September 2017, just after the very start of the exodus from Myanmar. 
According to Medecins Sans Frontieres (MSF), an estimated 745,000 Rohingya fled Myanmar and crossed the border into Bangladesh on just one day - August 25, 2017. Today, there are 34 refugee camps in Cox's Bazar with around 1.24 million Rohingya struggling to survive in overcrowded camps and makeshift settlements.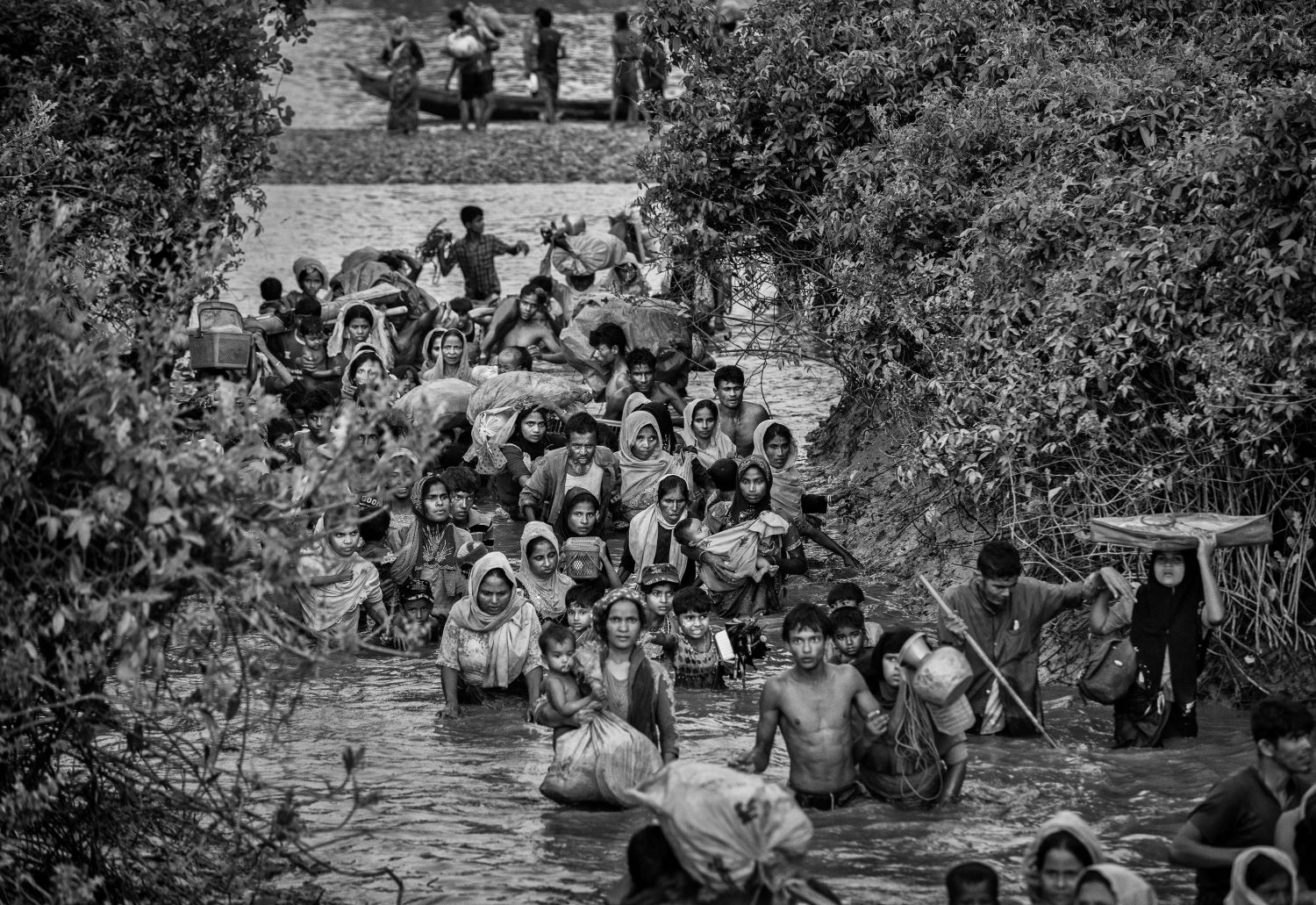 Since then, hundreds of local and foreign journalists and photographers have flocked to the scene with their equipment ready to capture the latest news about the unfolding tragedy at Cox's Bazar.
Ahmed remembers vividly how perplexed the Rohingya Muslims were by the media attention: "Most of them were not used to seeing foreigners, Bangladeshis included - most hadn't seen white people [before]." 
Not only were they overwhelmed by the media presence but also by the presence of international NGOs (non-government organisations). "For many of them, they were seeing big vehicles, four-by-four wheelers for the first time," Ahmed adds.
Walking on tiptoe 
Reporting on one of the world's largest refugee camps and the most persecuted minority groups is not an easy task, not least because of declining press freedom. 
In 2021, Bangladesh ranked 152 out of 180 in the World Press Freedom Index. Since 2013, Reporters Without Borders has reported an overall decline in press freedom in the country, making it tough for journalists to report on socio-political issues inside Bangladesh. 
As well as this, interviewing Rohingya victims of violence is something that must be done with extra sensitivity. "Lots of tippy toe," says Ahmed as he remembers one haunting interview with a Rohingya refugee woman that he conducted in Cox's Bazar during his first few assignments there.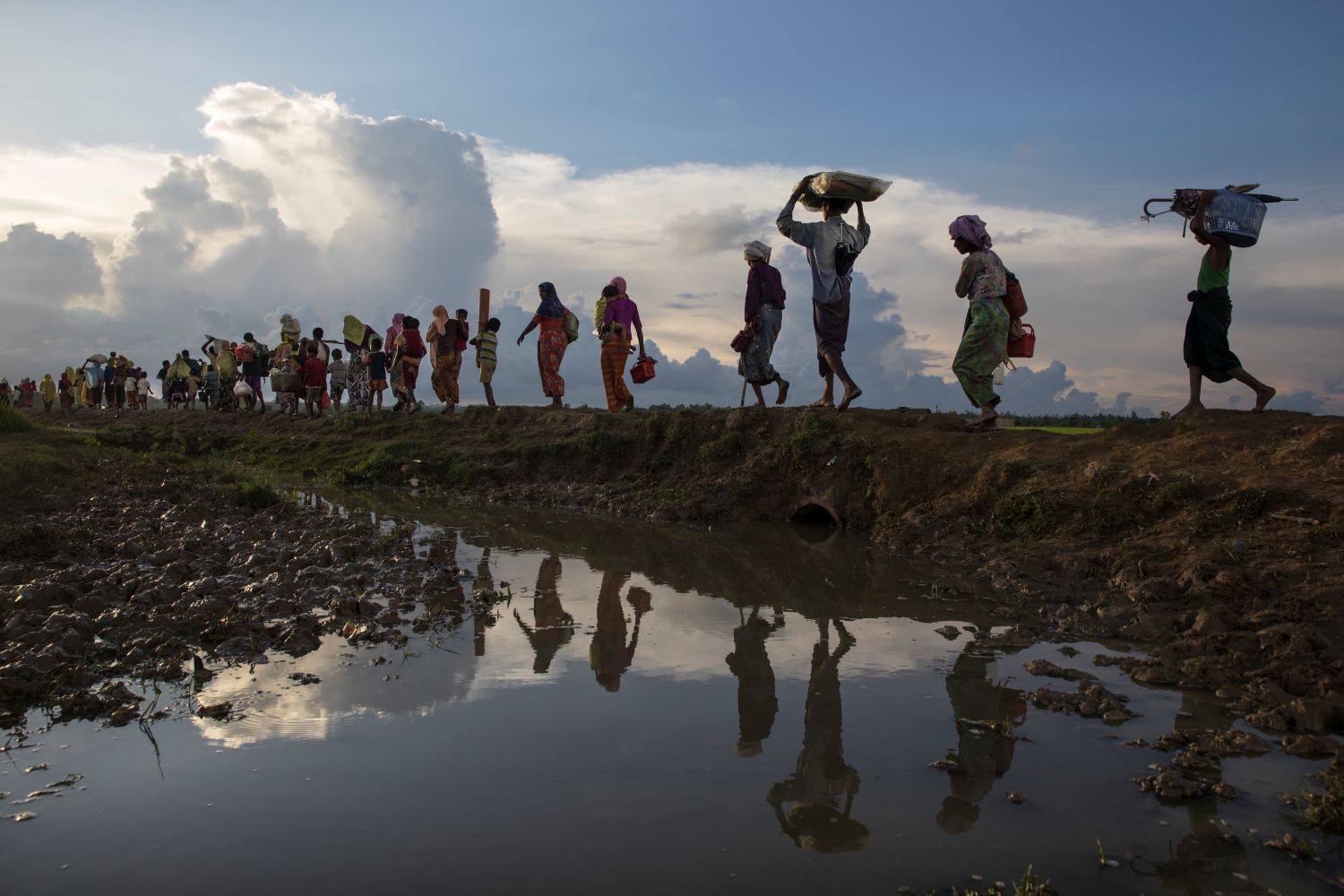 He learned just how well-prepared journalists need to be to hear the sorts of horrifying stories he would hear during his time there. "This woman had been forced to watch her toddler son be snatched from her lap and thrown into the burning fire." 
Living conditions most refugee women and girls experience in the camps and the sheer complexity of it is a sensitive matter. Ahmed says he had to develop an entirely new, completely empathetic approach to his work.
Women and girls living in refugee camps in Cox's Bazar have frequently witnessed or been survivors of mass atrocities such as killings, rape and extrajudicial executions. But the situation is more complex than just facing persecution from "others". 
Within their own communities in the refugee camps, there have also been numerous reports of violence against women, child marriage and domestic abuse, as well as sexual abuse by members of the Bangladeshi Authorities. However, it is important to keep in mind that each woman or girl is an individual and therefore reporting on them should be done on "a case by case basis", says Ahmed.
It is crucial, therefore, for both foreign and local journalists and photographers to have an adequate understanding of the overall context and living conditions in the camps before approaching women and families for a story or a photograph.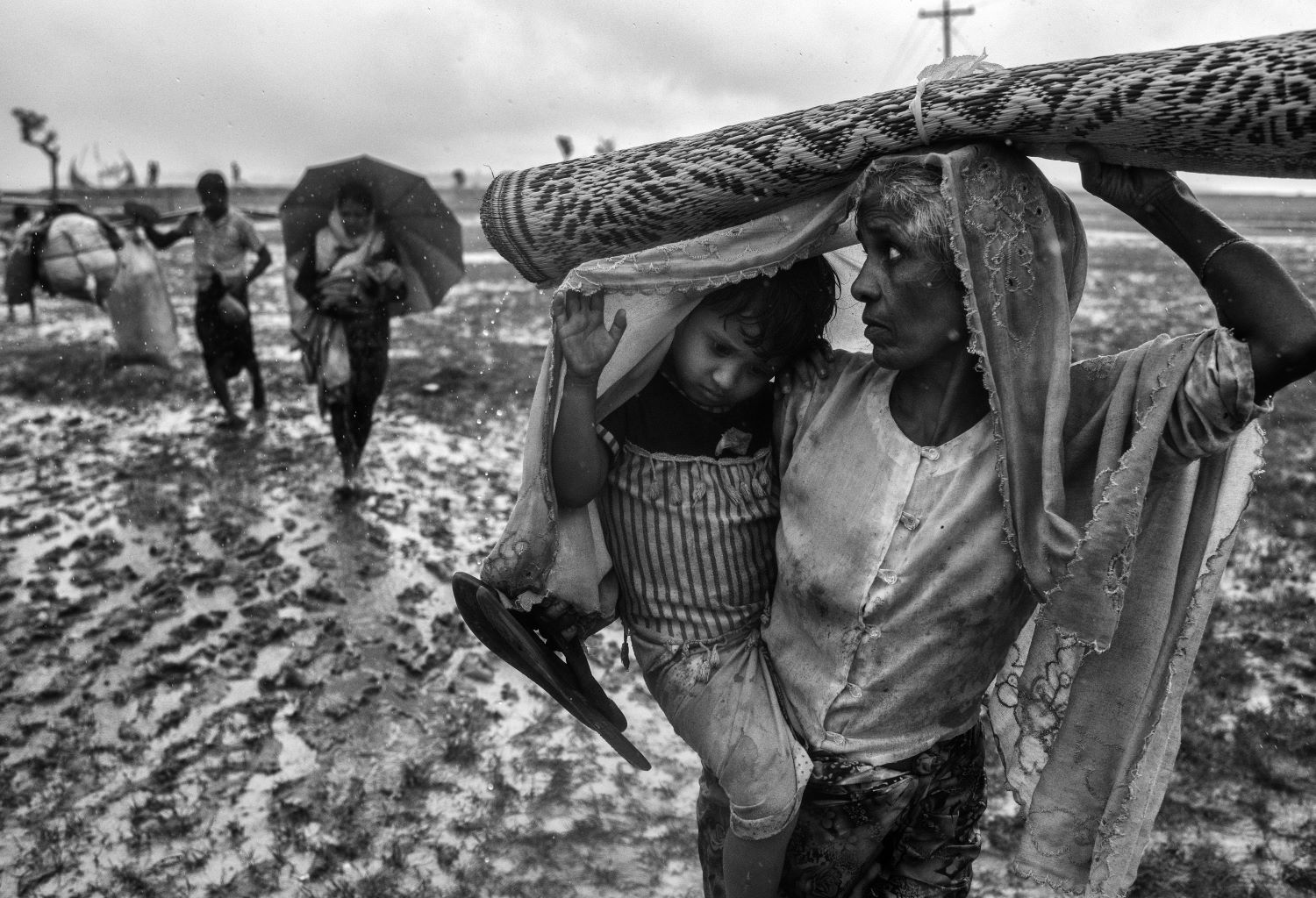 Reporting from the camps
In order to carry out any journalistic work in Bangladesh - and in Cox's Bazar - foreign journalists must obtain a working Journalist Visa before arriving. According to Ahmed, "freelancers have previously been deported" when they did not have the right paperwork. Additionally, security in the refugee camps is carried out and strictly monitored by the Bangladeshi Authorities and it is recommended that journalists always carry a form of ID. 
Apart from ensuring you have the correct paperwork, there are many other factors to consider before you start searching for interviewees and sources to build your story. 
This can be a difficult process, particularly for journalists coming from abroad. However, collaborating with a local journalist - or "fixer" - will give you better access to the Rohingya community. 
Working with fixers can be a contentious issue. Many are professional journalists themselves, not just people who "know people" and can translate. 
If you are a foreign reporter needing this sort of assistance, make sure you credit them in your publication and discuss payment before conducting any field work. Ahmed, who is a professional journalist, has also worked as a "fixer" for a British journalist. In his case, he says, he was fully credited and properly paid for his work. Sadly, in many cases, this does not happen.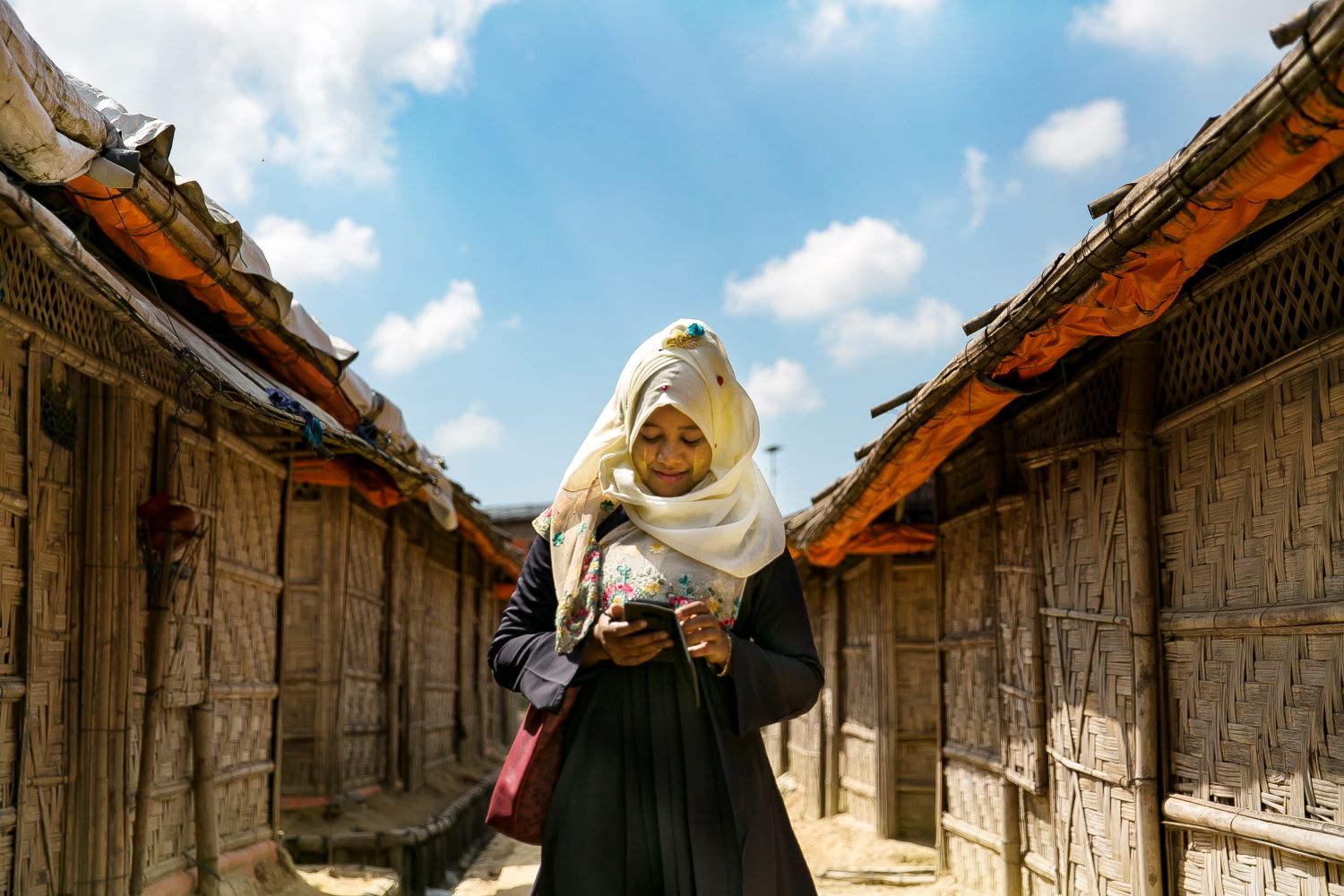 Another option is to contact a local NGO or women's shelter as they work closely with women and girls in the camps. This will give you better access to interviewing victims of sexual and gender-based violence (SBGV) and hearing their stories. There are also camp leaders, known as "Maji", who can connect you with other individuals in the camp. 
If you have time, spend some time in the refugee camps prior to your interviews and use the time to get to know the people living there. Often this will most likely result in one person connecting you with another individual. 
Cultural and religious sensitivity 
A Communication Field Officer from an NGO on the ground at Cox's Bazar, who did not wish to be identified in this article for security reasons, says: "Refugee women are culturally sensitive here in Bangladesh." She explains that "it is very unlikely" that a Rohingya woman or girl would agree to have photographs or videos taken of them, especially without the permission of a guardian. 
Indeed, this would be considered culturally unacceptable and since Rohingya tend to be conservative Muslims, the women and girls often abide by the purdah - a religious and social practice of female seclusion, whereby women are required to cover their bodies to conceal their forms and to be segregated from the opposite sex.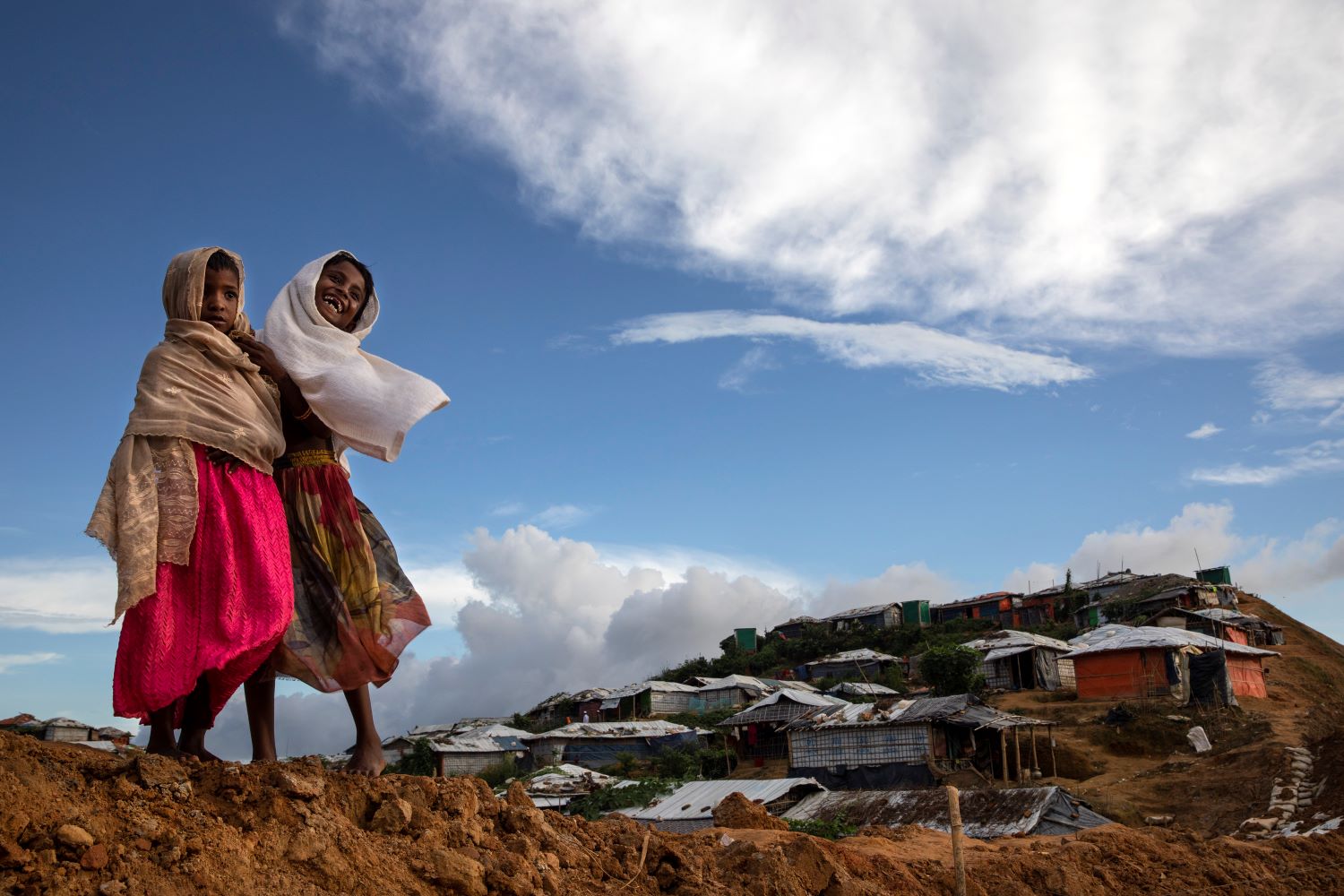 Refugee women, therefore, may feel more comfortable opening up to women journalists rather than men. 
Ahmed was often not accompanied by a woman when conducting his interviews in the refugee camps of Cox's Bazar, and he acknowledges that he struggled with interviewing Rohingya women "especially when we discussed issues like rape and domestic violence". He says that he also often encouraged his female colleagues to do the interviews instead of him. 
You will get better access if you follow local cultural requirements. That doesn't mean you have to wear a veil if you are a female journalist, but it would be appropriate to dress modestly when going to the camps. This means wearing long sleeves and covering your legs, for example. 
Seek permission in all circumstances
Always seek permission before approaching a woman in a refugee camp for an interview. Usually, this will be from her male guardian - for example, her father, uncle or an elder in the camp. Actively find out who is the person in charge and get their agreement.
Much as it is always desirable to get a woman's story directly from her alone, you shouldn't try to interview a married woman without the consent of her husband. Failing to ask for permission may even compromise her safety. This is even more crucial if you are a male journalist. If you wish to interview her alone without the presence of her husband, again you should ask for his permission first.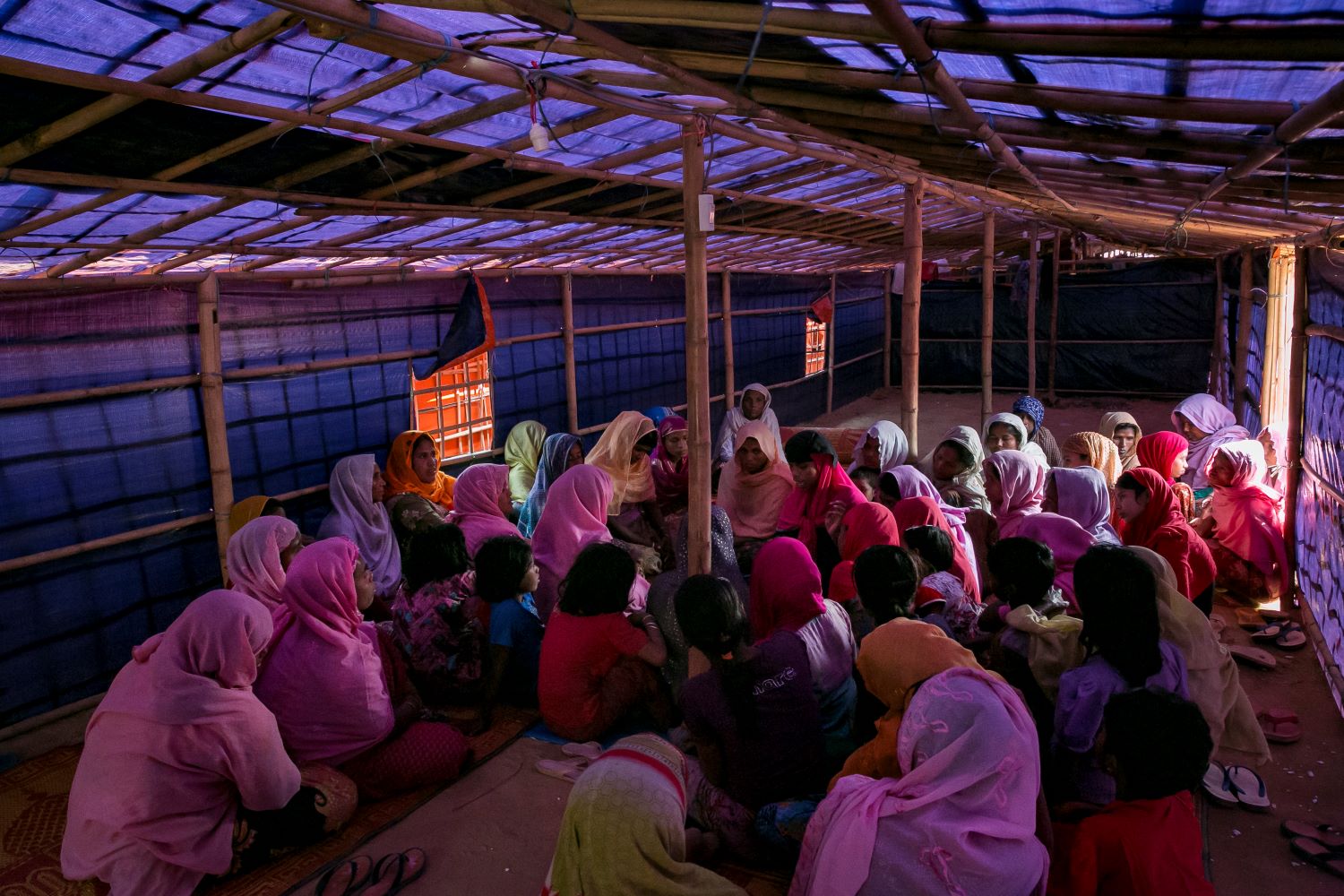 During an interview, a woman's male guardian or husband might sometimes try to answer for her. If this happens, look for a way to distract the man. This is something which Ahmed and his team experienced. He says that if you have a crew with you, "ask one of them to try to engage with [the man] separately, to take his photograph or even smoke a cigarette with him." Be creative but friendly and warm - do not be confrontational on this issue. 
Before conducting an interview, identify yourself, explain who you are and the reason for wanting to hear their story. Interviewees need to know if your story could result in any negative consequences. Often, women and girls do not want their names to be mentioned, to be photographed or filmed. It is very important for their safety that they know what they are getting into, so give them a full and frank explanation of what you wish to do.
If you are not conversing in her local language, ensure that your interviewee understands exactly what she is being asked via a third party who can speak to her in her own language.
When interviewing a refugee woman about trauma she has experienced, the answers to your questions may be vague or only seem to make 'partial sense'. This is entirely normal

 
Make sure she is aware the information will potentially be seen by many people. Ask if she is comfortable with this. In order to gain her trust, be transparent with her, ask permission and let her know when she is being recorded. 
Once you have a woman interviewee's approval and that of her guardian or spouse, and she has been briefed on the angle and purpose of your story, you can begin your interview but always be mindful with your line of questioning - it may be too intrusive. If necessary, re-formulate your questions.
If a refugee woman is happy to be photographed, but does not wish for her face to be shown, you can be creative in the way you capture her. For example, have her turn away or cover her face with a veil so she cannot be identified, and ensure she is presented modestly in the photograph. Alternatively, you could photograph her from a distance or focus on details such as her possessions - like the inside of her home, tea-cups, furnishings or other small details, such as her hands.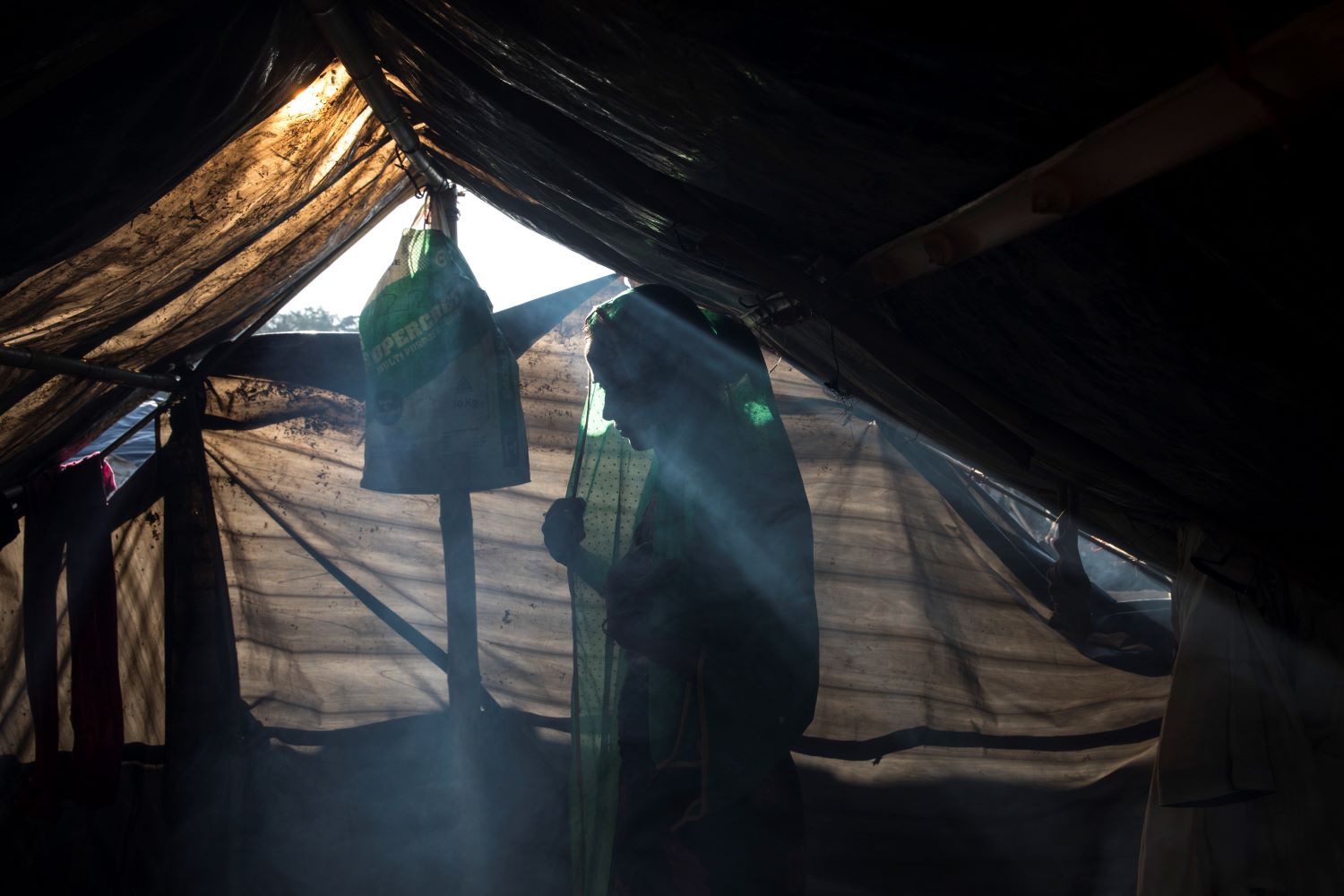 Don't try to push the boundaries of what has been agreed. Women in the camps can experience repercussions after a journalist leaves. According to a spokesman for Medecins Sans Frontieres, who answered questions from Al Jazeera Journalism Review by email, there have been instances where a girl has been subjected to threats or her "reputation" has been tarnished.
Lost in translation 
"Language barriers can automatically complicate building a rapport where a woman feels comfortable," explains an NGO worker at Cox's Bazar who also spoke to Al Jazeera Journalism Review on condition of anonymity. 
Sometimes, Rohingya refugees may be uncomfortable opening up in front of Bangladeshi nationals (if the translator is Bangladeshi, for example). Therefore, it may be better to ask for someone from their own community to act as a translator.
When interviewing a refugee woman about trauma she has experienced, you may find that the answers you receive to your questions are vague or only seem to make "partial sense".
This is entirely normal among victims of trauma. Try to frame your questions in a more sensitive way. Trauma survivors often feel a degree of guilt, shame or self-blame, therefore, avoid using language that would make the interviewee feel that way. Understand the basics of psychological trauma and thoroughly prepare for the interview. 
Interviewing survivors of sexual violence 
Getting access to sexual assault survivors can be difficult. Often, as Ahmed puts it, "many of them do not want to talk about it. Maybe her husband doesn't know or her parents do not know." The last thing they want is for the community to find out about her assault - this can hinder her chances of getting married, for example.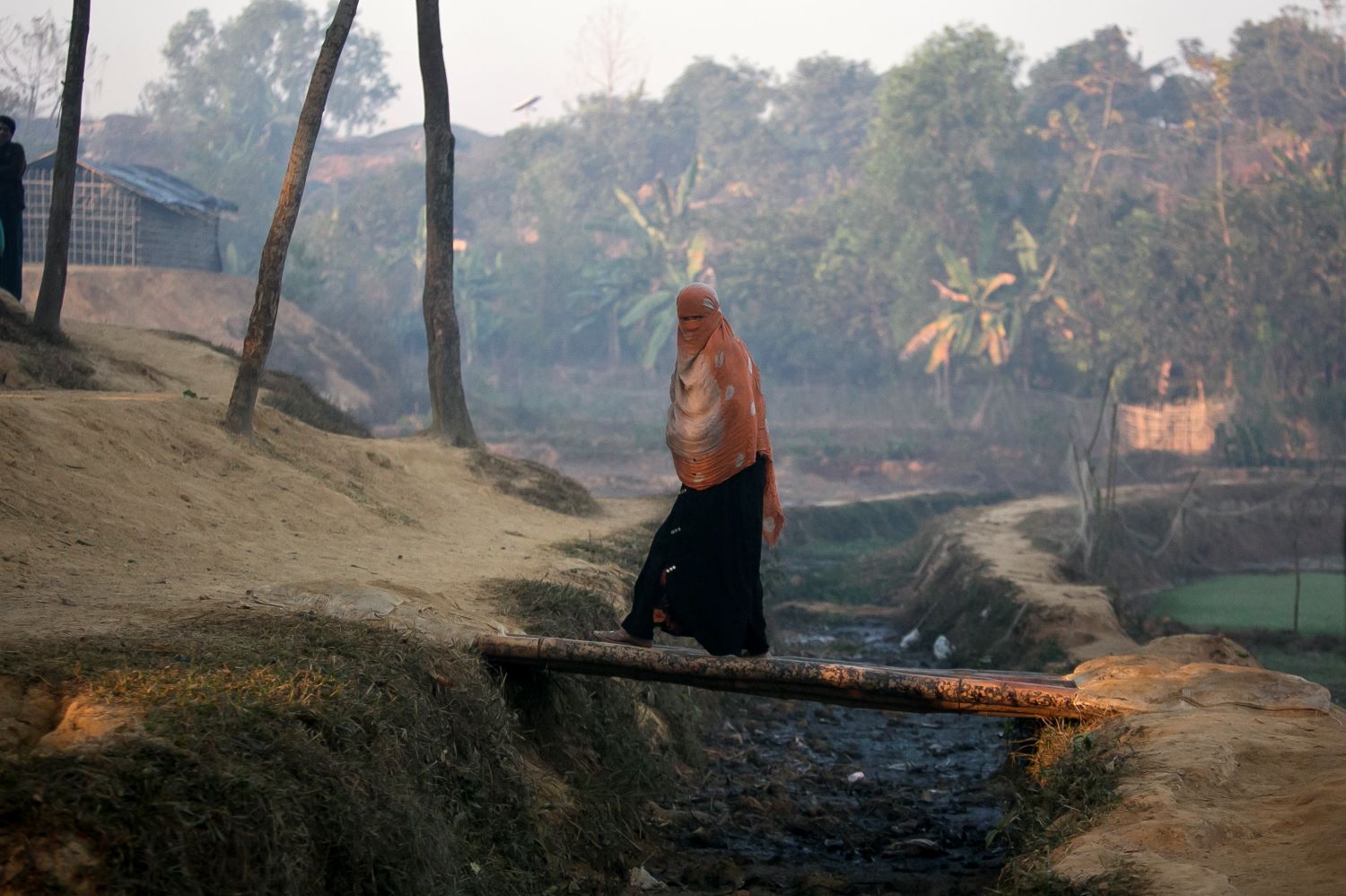 Women often do not feel comfortable talking about experiences of sexual or domestic abuse, especially to male journalists. It is, however, not completely impossible to report on such stories. Usually journalists resort to two methods: the first is to contact a local NGO for referrals to women who are able to speak to journalists about their experiences and the second is to ask for help from female counsellors working with women's shelters in the refugee camps. Explain that it is important for the world to hear these stories, but add that you understand the difficulties and will be willing to adhere to restrictions to ensure the womens' comfort.
Ahmed says he sought help from women counsellors, who can also assist with conducting the interview itself as well as making introductions. In Ahmed's experience, the counsellors would start off the interview with an ice breaker and help to put the subject at ease by talking about other subjects. Then, he says, "slowly delve into the topic you wish to talk about." 
Take your time
Take a soft approach and, most importantly of all, make sure you have ample amount of time to listen to her. 
It is not uncommon for journalists to simply gather their story and leave, particularly parachute journalists who often fly in to report for foreign media organisations. Unfortunately, these reporters often stay for only a short period of time and gain little knowledge or experience of the wider situation.
When a refugee woman starts to open up to you about her trauma or the difficulties she faces in the camp, do not rush her - let her talk. Do not look at your watch or appear impatient. 
This is especially important when you are reporting on sexal violence, such as rape. 
Time management is key, so plan your interviews accordingly. Make sure you have ample time when you are interviewing someone, taking photographs or filming. If you have the time to do so and it is acceptable to the interviewees themselves, consider visiting them a few times before the interview in order to get to know them more informally. 
If an interviewee changes her mind
Even though refugee women may have spoken to you freely, they may later change their mind due to their social surroundings or pressure from their communities. If this happens, you can try to calm their fears by offering not to reveal their identities or by not using their photo or video. However, you must also respect this change of mind and not publish when they are adamant this will cause them more harm. 
Sometimes, regardless of whether her husband or guardian has given consent, a woman may be reluctant to express herself freely for fear of repercussions, "especially if it is linked to sexual or gender-based violence or intimate partner violence," says one of MSF's Communications Field Officers. 
There may be religious issues or a woman may not be able to explain her reason for changing her mind at all. Do not pressure her.
Expect the unexpected 
Journalists have reported receiving threats from both people living in the refugee camps and from the Bangladeshi Authorities. 
"Your safety is paramount," notes Ahmed as he recollects an incident at Cox's Bazar which resulted in him reluctantly withdrawing his name from an article. His colleague, a British journalist from the Guardian newspaper, and he had been reporting on the rape of a Rohingya girl, who was sexually assaulted by a Bangladeshi Army Soldier.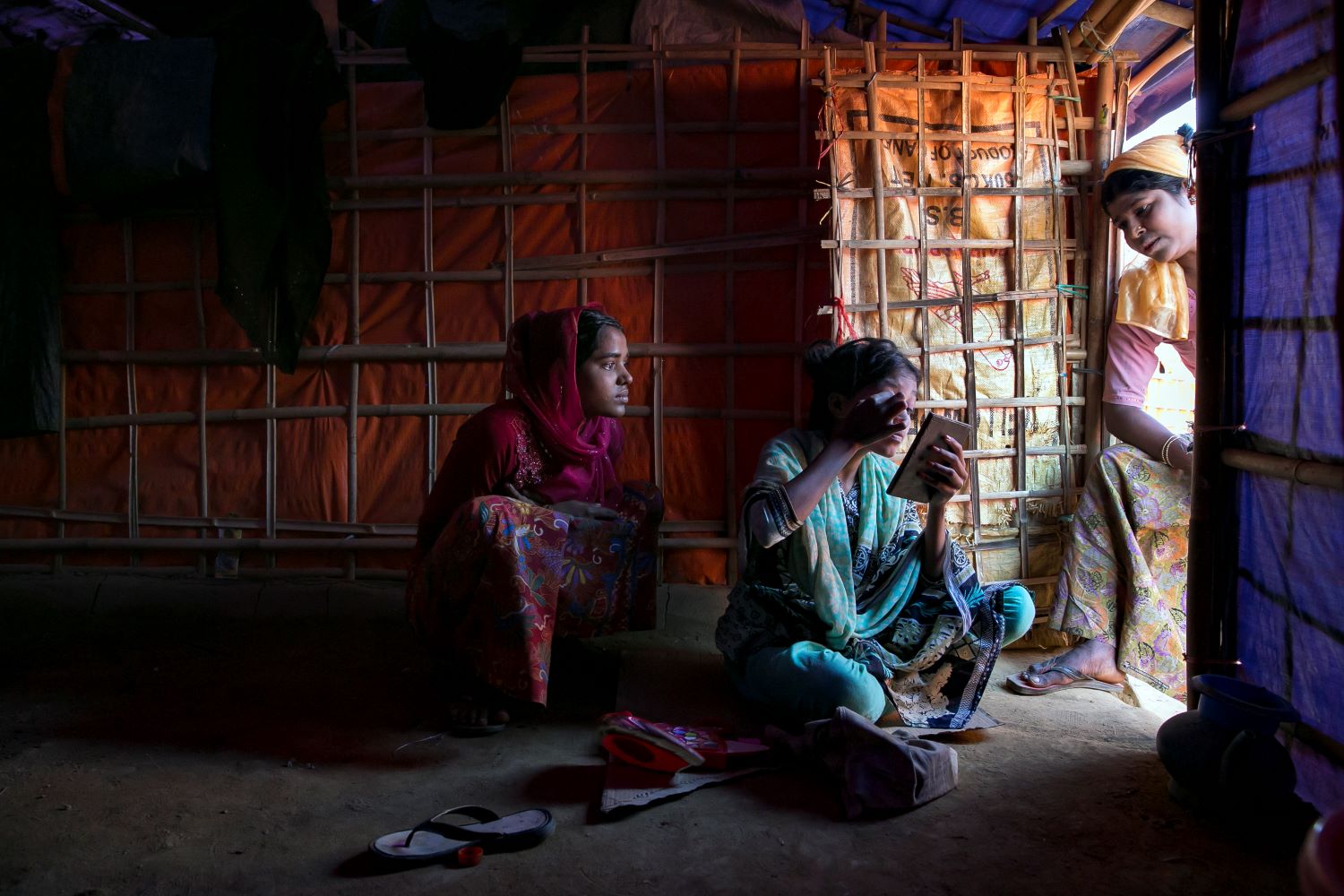 Getting into her house was a challenge as it was heavily guarded by security guards, he says. The entire situation was frightening but, after much negotiating, the journalists were able to enter.
However, things took a turn when, after interviewing the girl's parents, they left the house and were stopped by the guards. While they were never formally arrested, they were interrogated. "The moment we came out of the house…we were surrounded by these intel guys and they started to ask all sorts of questions, it was…," he hesitates and simply discloses that had to withdraw his name from the story and concludes by saying: "I did not feel safe." 
Since Ahmed lives in Bangladesh and wanted to continue writing more stories on the Rohingyas and on Bangladesh, he and his editors decided to withdraw his name from this particular article. Ahmed wanted to continue working freely without any fear of repercussions. 
Reporting on refugee crises and the consequences of genocide is an important part of journalism. Nonetheless journalists, filmmakers and photographers must be cautious and must be considerate and mindful about the position of refugee women and girls living in the camp, as well as of their own safety and that of any team members and fixers working with them. 
As a foreign journalist - or even a local journalist from outside the camps, you can leave but this is their home now and their problems continue even after you leave.