Journalists like Comfort Mussa, based in Cameroon, say that seeking out the untold stories of real people and having the bravery to cover taboo subjects are essential to their work 
For those of us who subscribe to solutions journalism - also known as service journalism - helping people to solve their own problems is what journalism should be about and the first step is to identify what those problems really are.
This is the modus operandi of Comfort Mussa, a journalist in Cameroon who has dedicated her career to telling the untold stories of the communities around her.
"If we want to change anything in society, we need to tell stories that matter and are relevant to the people in the community. We can't just talk about the big political and economic issues and ignore the voices that are missing," says Mussa.
Most recently, for example, she has worked on a story about two widows who lost their husbands to the armed conflict in Cameroon's Northwest and Southwest regions. 
The International Crisis Group says more than 6,000 people have been killed in the armed conflict and 70,000 have been displaced - but the real story goes far beyond just these figures. 
Mussa notes that most often when you watch the news about a crisis or conflict, you see only burgeoning statistics on the crisis, while the human stories are ignored. "Beyond those numbers are people who've lost relatives, source of livelihood, and property. It's due to the human suffering that those who've lost their loved ones go through yet, have to live on, that I'm eventually forced to put a human face to the statistics by telling their stories," she says.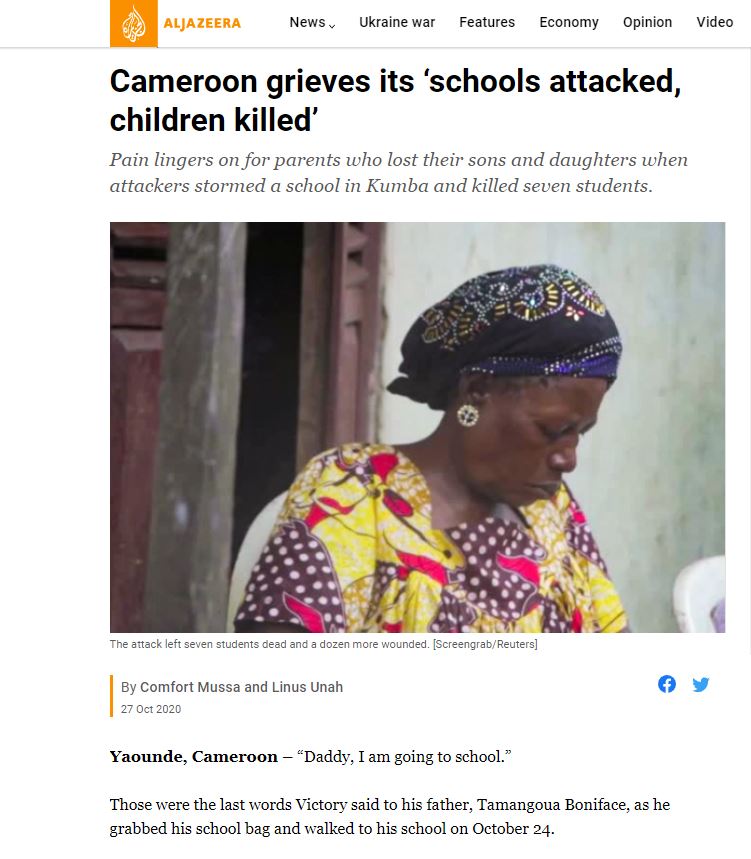 A story by Comfort Mussa, published by Al Jazeera in 2020, which focused on experiences of community members who lost children to school attacks in Cameroon
Journalism to those of us who believe in this approach should be inclusive of gender and disability, highlight minority voices, amplify their problems and propose solutions. 
Another follower of this method of journalism is Megan Griffith-Greene, service journalism editor at the Washington Post, who defines service journalism as "anything that helps people solve a problem". From Griffith-Greene's definition, stories should be actionable and accessible - speaking directly to the reader and providing solutions to their issues.
This has never been more the case than in the Global South where people want and need to solve their own problems rather than have "solutions" imposed upon them.
But in Cameroon, where both Mussa and I report from, stories that highlight the plight of minorities - something that is essential for this process to be successful - have been absent in the media landscape for too long. 
It's against such a backdrop that Comfort Mussa says she ventured into focusing on under-reported stories.
Telling unreported stories is what news is supposed to be - unearthing information that is not known and providing adequate information so that readers can make informed choices
Comfort Mussa, Cameroonian journalist
"My motivation for telling unreported stories that are lacking in mainstream media narrative is the fact that that's exactly what news is supposed to be - unearthing information that is not known and providing adequate information so that readers can make informed choices," says Comfort.
Journalists have a "voice, power and platform" to use for social change, she says. 
"My motivation is to use this voice, power and platform to draw attention to things that matter to me. Sadly, most of these things are grossly underreported. Here, I'm talking about themes on social justice, human rights, gender issues and disability," she says.
Alongside her journalism, Mussa also founded Sisterspeak237, an organisation that gives a platform to the voices of women and minority groups in Cameroon. 
Through her organisation, she trains and equips especially women with the skills and tools needed to tell their stories and be more visible.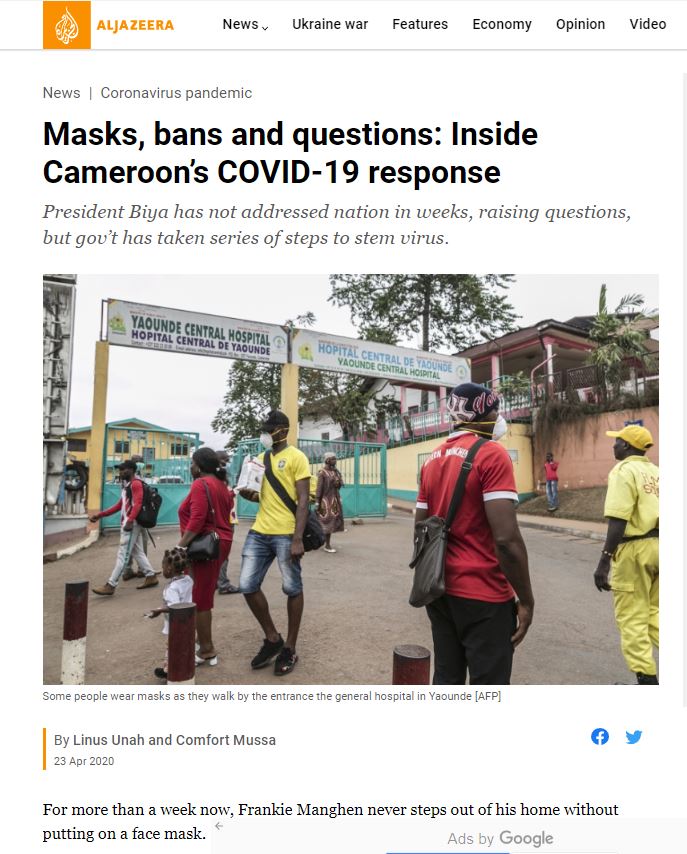 Comfort Mussa's story about life for people in Cameroon during the COVID pandemic, published by Al Jazeera in 2020
Solid, ethical, core characteristics - fairness, objectivity and honesty can make a good journalist. But it takes more to be a journalist who goes beyond just reporting events - to unearthing untold stories.
Besides the core ethical characteristics of a good journalist, it took Mussa an understanding of her community's needs and a desire to provide solutions - to opt for focusing on the under-reported in Cameroon.
"I come from a demographic that is not always visible in mainstream media. I'm a woman, an Anglophone in [Francophone dominated] Cameroon. As a young woman, I couldn't get information to make informed decisions about my own life. Growing up, I didn't see role models in the field. I had questions about sexual and reproductive health without answers from the mainstream media. So, when I set out as a journalist, I wanted to create content that could be relevant to people like me," says Mussa.
"I live in this society and know what's lacking – growing up I knew how difficult it was for me to find well-researched articles about certain topical issues. So, I understand the need and want to be part of the solution.
Abortion may be a no-go zone in daily conversations, but if women are dying as a result of it, then I should report about it
Comfort Mussa, Cameroonian journalist
"What I do is, I look for popular themes and tell the under-reported stories, as well as feature unknown heroes. It could be climate change or any other topic. Once I get the topic, I'll look out for those providing solutions to the issues of the day and spotlight them on my platforms. I often invite guests to my programmes to talk about an array of issues regarded as taboo subjects.
"I would say pretty much, I report on every topic, but I try to mainstream disability and gender and identify whose voice is missing from popular conversations, which stories are missing, and those are the ones I'll go for. As you know, news is new. News goes beyond the soundbites, goes beyond stating the obvious - to digging and telling people what's new and not just the obvious," she says.
Another subject that is underreported in Cameroon's media landscape is the issue of unsafe abortions. Abortion is not only a taboo subject in daily conversations in Cameroon, but is prohibited.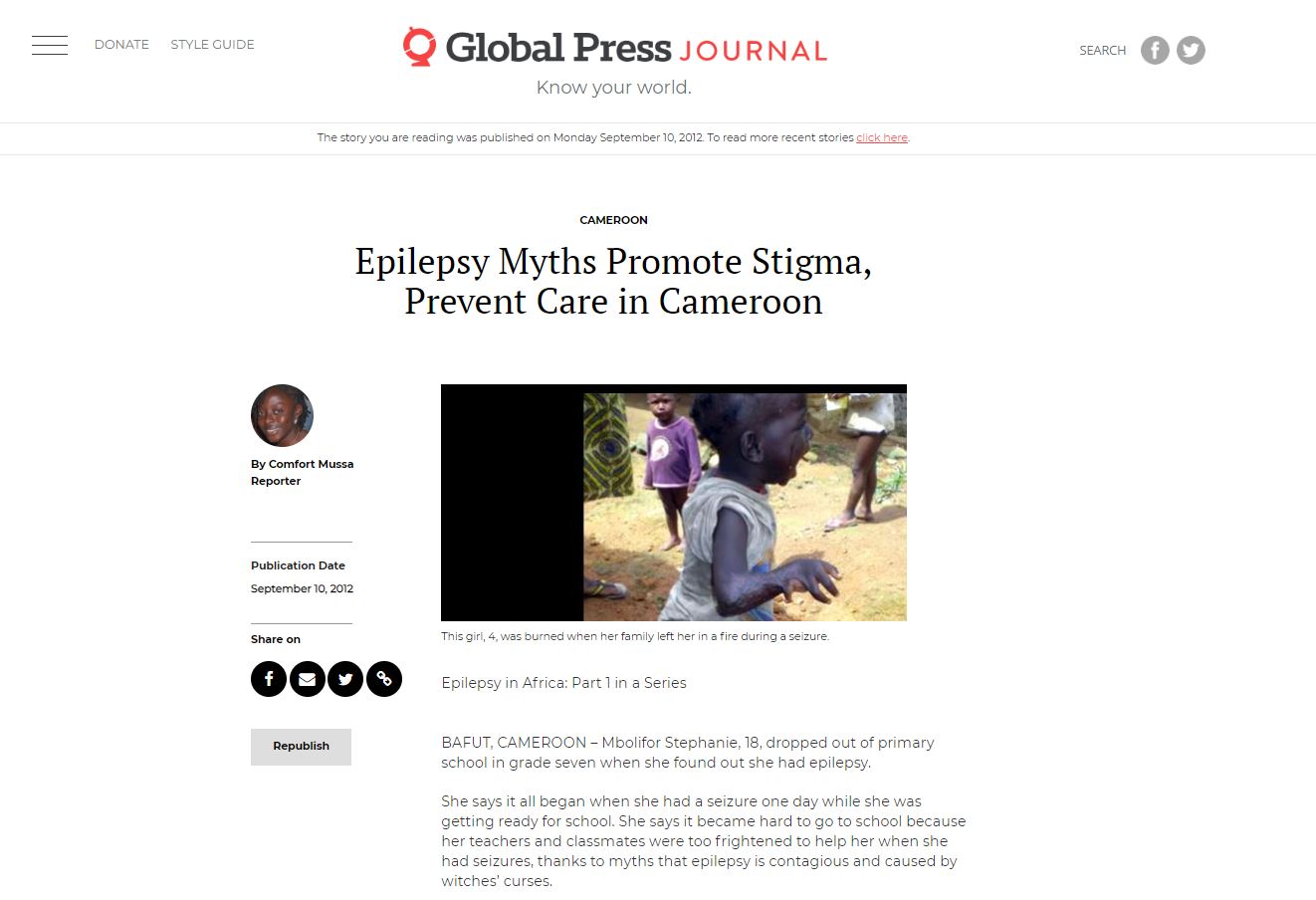 Comfort Mussa wrote about the stigma of suffering with epilepsy in Cameroon for the Global Press Journal in 2012
Comfort says the fact that unsafe abortions account for one-quarter of maternal deaths in the country is a huge cause for concern.
"It may be a no-go zone in daily conversations, but if women are dying as a result of it, then I should report about it," she says.
According to Cameroon's abortion provisions, anyone procuring or consenting to her abortion shall be punished with imprisonment of 15 days to 1 year or with fines, says the Centre for Reproductive Human Rights. 
The World Health Organization (WHO) says, "the rate of unsafe abortions is four times higher in countries with restrictive abortion laws".
"It's not always an easy thing, because some of the topics I write about are taboo subjects. For example, unsafe abortions, the use of contraceptives by women, and how they negotiate for safe sex, as well as the armed conflict in Cameroon's Northwest and Southwest Regions. Breaking the silence around these comes with a backlash and trolling online," she says.
"Irrespective of the downsides of bringing these stories to light, the advantages outweigh the trolling and backlash I've had in the past. Especially knowing that I contribute to this wealth of knowledge that helps people make informed choices about their lives," she adds.