Indian journalists say the platform is a more democratic and uncensored place to work, but is the growing trend of YouTubers calling themselves journalists a cause for concern?
Vikas Tiwari - pen-name Ranu Tiwari - runs a YouTube channel named Bastar Talkies from Central India's "naxal" (left wing extremism)-dominated state of Chhattisgarh. 
Tiwari's youtube channel has attracted more than 170,000 subscribers in just two years. Its content focuses on the issues relating to tribal living in the Bastar region - an area consisting of a few districts where left wing extremism is very active. 
Tiwari's content from his Youtube channel is used by mainstream media as well and he is amongst those rare journalists in India who have a presence on the ground in a conflict zone. 
YouTube has become extremely popular in India. It contributes an estimated annual 6,800 crore rupees (more than $800 million) to Indian GDP and has created thousands of jobs in India, according to a report by Oxford Economics based on a study of more than 6,000 Indian users and businesses.
Tiwari has been a TV journalist for eight years. In 2020, he says, he came to the conclusion that the outlet he was working for was producing mostly content in favour of the ruling government rather than providing completely objective coverage
"My channel asked me to do positive reports on the National Mineral Development Corporation (NMDC) and so I went to villages and tried as best I could to do what I was asked for," he explains. "I did a couple of positive packages but the reality I saw there was totally opposite to what my channel was broadcasting. The villagers were not happy with the NMDC and its work or any corporate social responsibility. I was not at all happy.
"On top of that, I also worried that the villagers would someday beat me up for these reports and then I decided to resign from the channel."
Tiwari's YouTube channel was already up and running at this point - producing content under the name of Vikas Tiwari. "I was uploading the unedited videos which were not being used by my channel and then one piece I did went viral. A senior friend from the industry advised me to change the name of the channel because Vikas is a very common name. He suggested I choose a name which could become a household name and this is how we came up with the name Bastar Talkies."
Tiwari says he no longer has any desire to find a job with a mainstream news channel - he is now fully committed to his YouTube channel.
"I am a journalist and I was made to tell stories to the world. I am not even skilled enough to sell tea roadside so as of now my only goal is to grow my YouTube channel."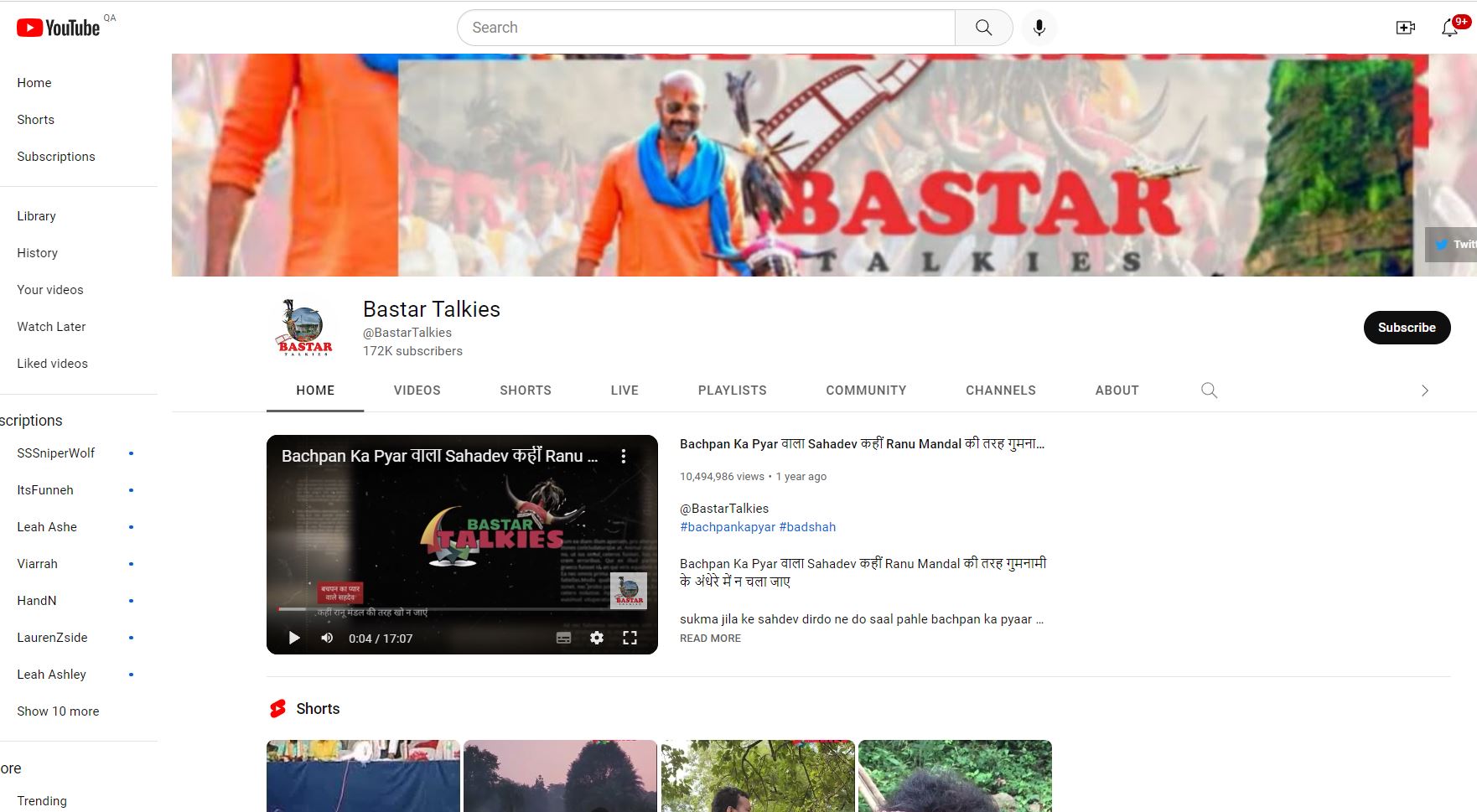 He is currently able to generate earnings of around 22,000 rupees ($267) each month from his channel - not a great deal to sustain a family but "something is better than nothing", he says.
Tiwari operates as a one-man band and has no resource other than his mobile phone which he uses to shoot videos, edit them through free android applications and upload them on the video sharing website.
He has now started giving some work to local reporters and pays them whatever he can. He says: "YouTube has given me wings. I am independent and I am doing unbiased work which makes me happy and satisfied. At least I am not cheating my audience."
'Mainstream media is dying'
Other established journalists are also becoming prominent on YouTube. In September 2020, Deepak Sharma, a well-known Indian investigative journalist, also started his own YouTube channel which now has more than 700,000 followers. The reason for starting his YouTube channel, he says, was so that he could more freely probe government narratives on key issues. 
Sharma has worked in television news since 1992 and has brought many important stories to public attention, including interviews with notorious underground criminals. 
Deepak says that while working with the television industry he started feeling discouraged when his story ideas failed to interest the editors in the newsroom.
"I have been an investigative journalist for over 28 years and I switched from mainstream when I started getting subtle hints on the stories that I wanted to do and editors were not interested in carrying them. 
"I felt discouraged and then decided to switch. Initially I started a website but we were not able to create revenue out of it so it failed. Then I made my own YouTube news channel.
"Basically there was no space for questioning the establishment. The crux of the matter was [a drive] to stop journalists like me from questioning. The pulse of the people is really different from what is being shown through mainstream media and it only creates a narrative while the things on ground or the ground reality is much different. Mainstream media is dying because they are just doing what is being told to them." 
Sharma says he feels that YouTube is a very "democratic platform" where one can really do unbiased journalism as long as they follow established best practice guidelines. 
He adds: "Young folks coming straight to YouTube is not good for journalism because they lack the editorial guidance. Many times I have seen people creating sensation with their thumbnails and headlines which is misleading and that does not sustain for long."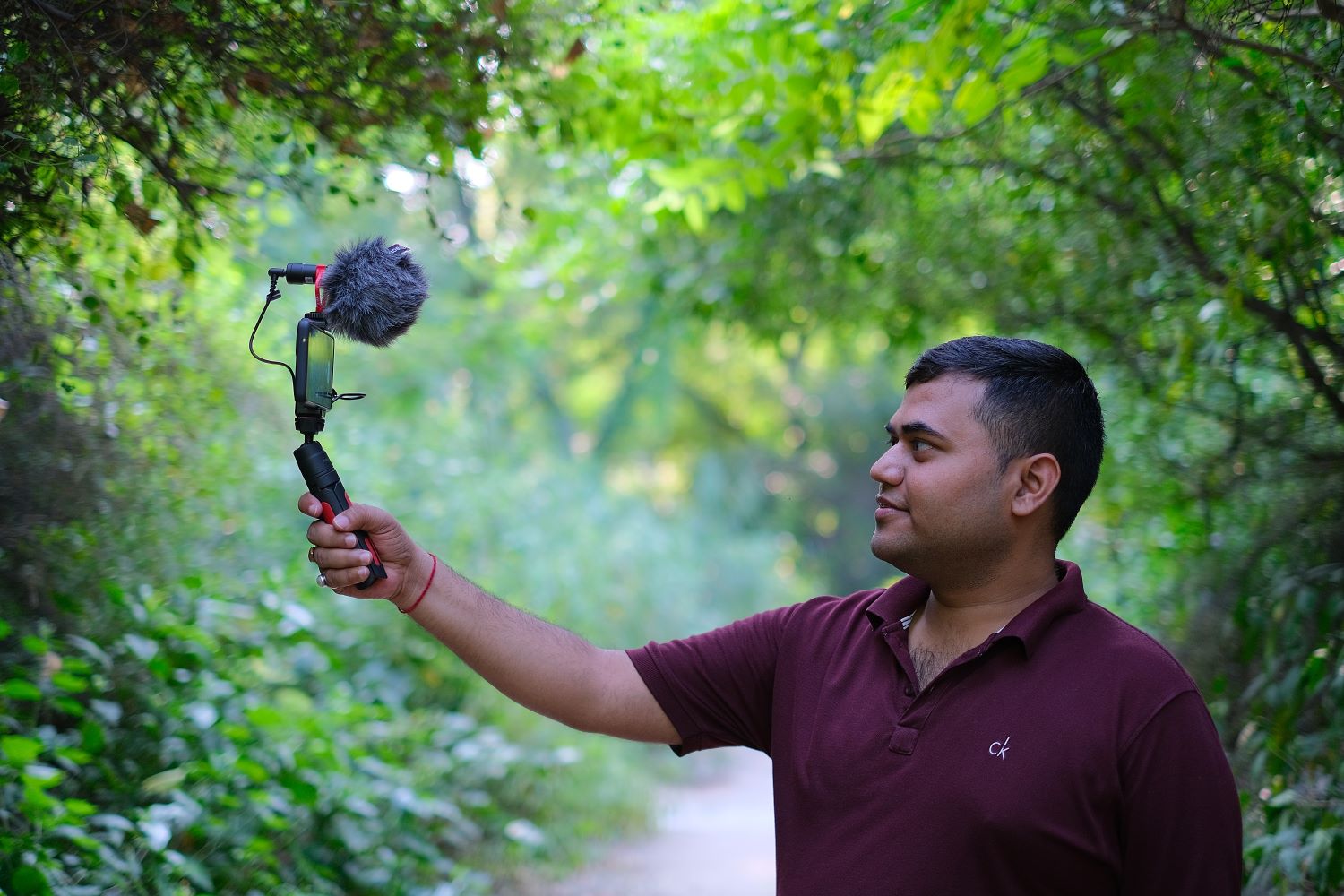 Quality is at stake
In fact, young reporters just starting out in journalism are also turning to YouTube because of the lack of job opportunities in mainstream media.
Aman Gupta, 25, finished his post-graduate degree in 2021 but failed to find a paid-internship opportunity in journalism, despite the fact that his father is a well-established video journalist with one of India's biggest TV outlets. He had no choice but to work without being paid and ended up just feeling exploited. So, he started his own Youtube channel and now splits his time between this and his job as a teacher. 
"I tried to create good content but it was taking time so I switched to teaching. Whenever I have the time, I upload videos to my channel but teaching is my bread and butter for now."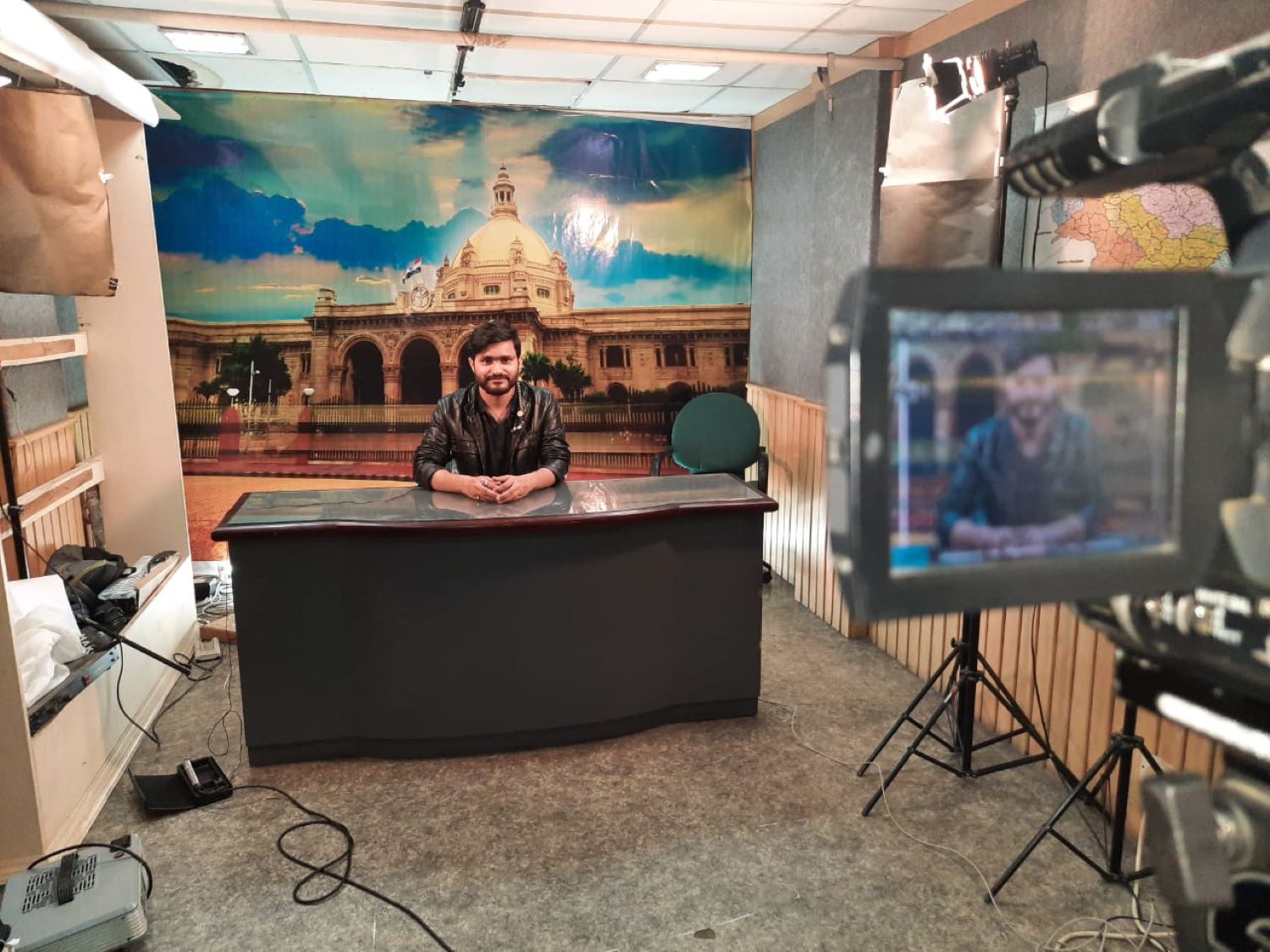 So far, he has not been able to generate an income from his channel, however. "I was not that lucky to get my channel monetised but there is no doubt that people are earning good money through it."
The problem, say media experts, is that young people with no training do not necessarily have the skills required to produce good journalism on YouTube channels.
Shailesh Shrivastava, contributing editor at Mongabay India, which focuses on conservation and environmental news, says: "It's true that different channels on YouTube have given a new boost to independent and unbiased journalism in India, especially at a time when a major part of the media industry is accused of being biased. However, the growing trend of Youtubers calling themselves as journalists is a cause for concern.
"Senior journalists who have switched to YouTube come with a good amount of experience, editorial judgement and follow the ethics of journalism in their work. But, in the absence of editorial supervision, [there is another] breed of these channels which show sensationalist content, breach privacy and create a certain kind of content aimed only at getting more views."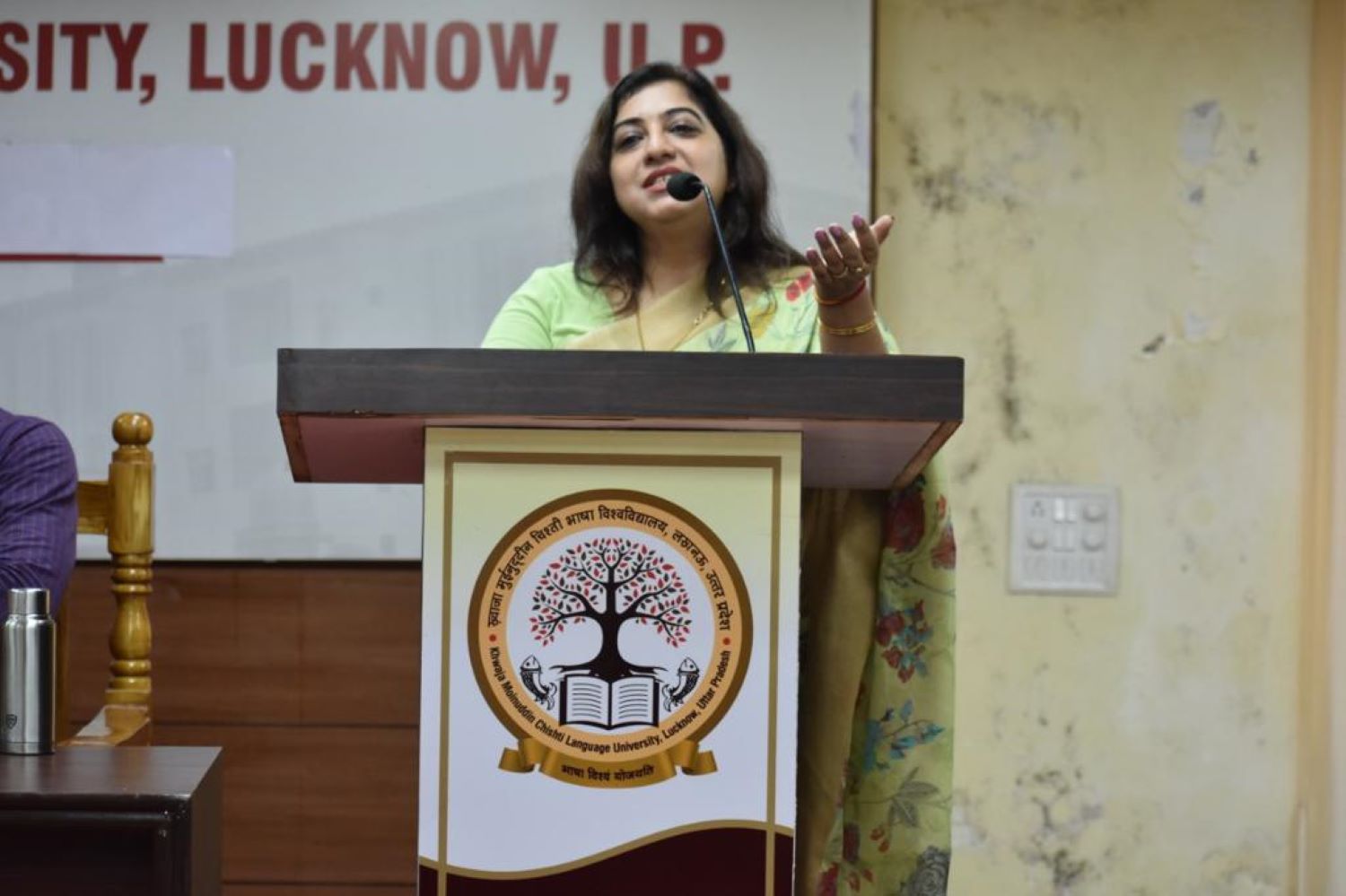 A lack of regulation for these platforms, says Shrivastava, is breaking down trust between viewers and journalists. "Viewers want to see quality and independent journalism on YouTube." His view is that the lack of paid internships in mainstream media is to blame.
Dr Tanu Dang is an assistant professor at the Mass Communication Department of Khwaja Moinuddin Chishti Language University in Lucknow, Uttar Pradesh. "YouTube channels today are providing a platform for all young media students who wish to share their viewpoints on different issues on society," she says. 
"While these channels provide them with the freedom of airing their opinions, without any censorship or government control,  they can also become a breeding ground for unverified and unbiased information."
The advent of technology has made it easy for anyone to access applications to edit and produce news "packages" ranging between 15 to 20 minutes on their smartphones, she says. "However, with their limited knowledge, expertise and editorial guidance, they often become carriers of misinformation."