Tracking ships and planes is an increasingly valuable technique in open-source investigations carried out by journalists. In part 4 of our special series, we examine how it works
Knowing how to track ships, planes and weapons can allow journalists to follow the movement of sanctioned goods, the travel paths of government officials and track illegal fishing or forced labour.
Tracking Ships 
Most ships have an Automatic Identification System, or AIS, which transmits a vessel's position over time. By collecting historical AIS data, an investigative reporter can gain a better understanding of where a particular ship has been, measure how long that ship has been in a particular location and detect unusual travel behaviour.
Read more:
Open-Source Investigations, Part 1: Using open-source intelligence in journalism
Open-Source Investigations, Part 2: What is open-source investigation?
Open-Source Investigations, Part 3: Planning and carrying out an open-source investigation
Al Jazeera Media Institute Open-Source Investigation Handbook
How to get started 
1. Choose a ship-locating website. Some go-to platforms for journalists looking for real-time shipping data include: Marine-Traffic; VesselFinder; and FleetMon.
2. Search for the name of the ship. You can search for a vessel using its name. To ensure that the ship you're tracking is the correct one, compare the ship's unique IMO (International Maritime Organization) number and its MMSI (Maritime Mobile Service Identity) number. The IMO number consists of the three letters 'IMO' followed by a seven-digit number and is never reassigned to another ship. The MMSI number is a unique nine-digit number for identifying a ship. 
3. Use the map to search for a ship in a specific location. If you don't have the name of the particular ship you would like to track you can explore the map by zooming in or out of a particular location and then click on the ships around a particular port or shipping route. 
4. Check with people on the ground or on the ship. It is very helpful to reach out to crew members or other people working on the ground. You can try to find them using LinkedIn or other social media platforms.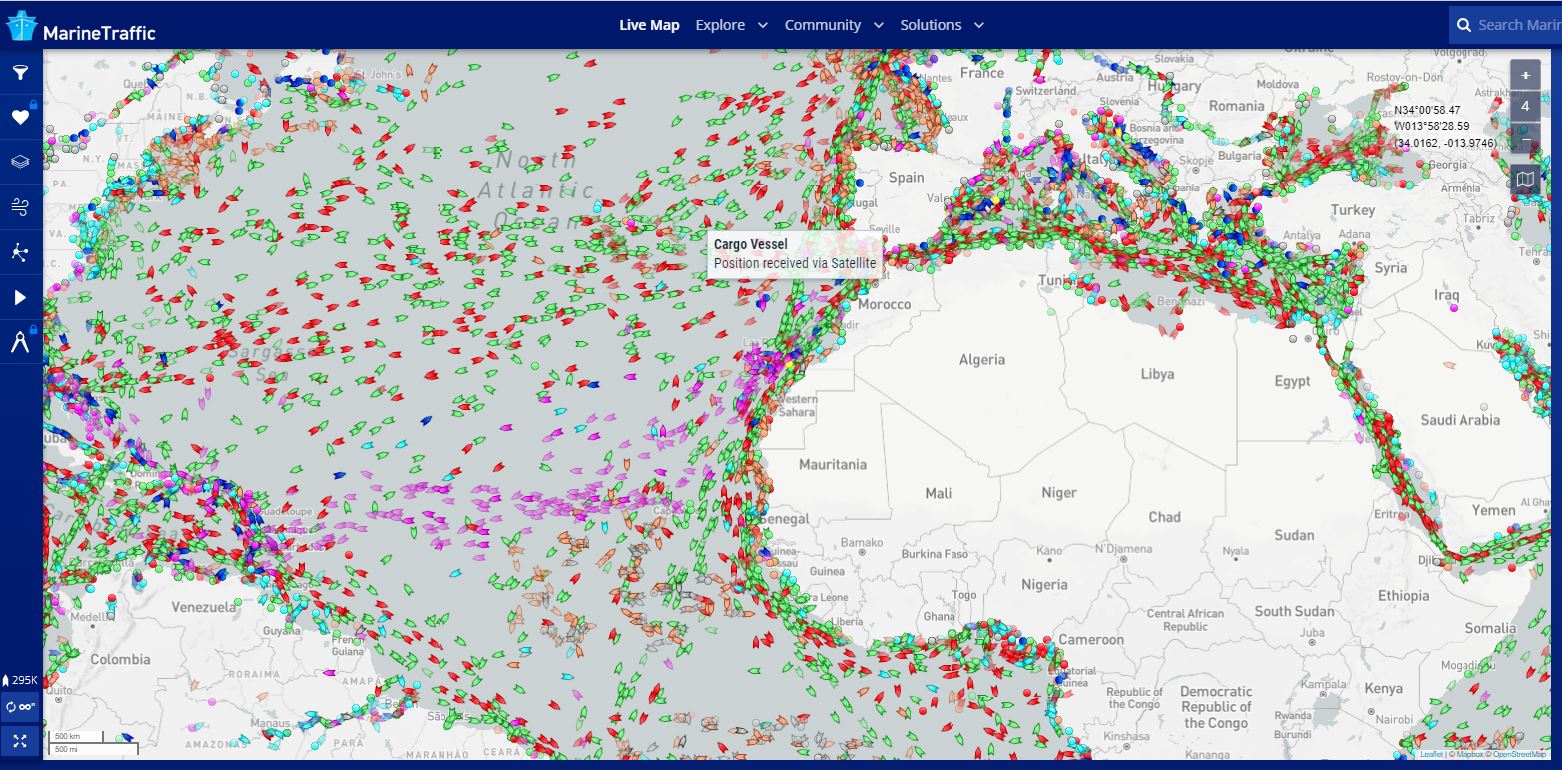 Other ship tracking tools 
Inmarsat Ships Directory - Find the contact information of a vessel by searching for its name, number or call sign. 
Maritime Database - Lists and details of shipping-related businesses and ports around the world. 
Global Fishing Watch interactive map - Open-access online platform for visualisation and analysis of vessel-based human activity at sea. 
An alternative way to track ships is by using the Vessel Monitoring System (VMS), a satellite-based system that provides data to fisheries authorities on location. VMS is used to monitor the position, time, course and speed of fishing vessels. It is a key part of monitoring, control and surveillance programs at national and international levels. Both AIS and VMS have limitations. If ships deliberately turn off their identification system, international, regional and national authorities, traffic management systems and surrounding ships are unable to identify or track vessels.
Tracking Planes 
Analysing an aircraft's flight pattern can help investigators track the movement of illicit commodities, scrutinise the movement of high-profile individuals and uncover the presence of surveillance aircraft. To get started with analysing a plane's movements, it is helpful to understand the following key terms: 
Key terms 
Automatic Dependent Surveillance-Broadcast (ADS-B) - A technology that broadcasts the position of an aircraft using satellite navigation or other sensors thus enabling open source investigators to track a plane's movements. 
The Call Sign - The letters and numbers which identify an aircraft. 
Hex code - A unique ICAO (International Civil Aviation Organization) 24-bit address, part of an aircraft's Certificate of Registration, used to identify an aircraft and broadcast by its Mode-S transponder. It allows for real-time and historical tracking. 
Registration number - The number that appears on the tail of every plane. Looking at photos of an aircraft can help you determine the history of a plane. Two popular aviation image sites to search for visuals are planespotters.net and jetphotos.com.
Serial number - Each aircraft is assigned a serial number by the manufacturer. This makes it useful for tracking a plane over time between owners, registrations and nations. 
ICAO airport code - A four-character alpha-numeric code used to identify airports around the world. 
Aircraft Ownership: Identifying the owner of an aircraft is theoretically possible, but practically difficult because most countries do not make their registries public. AeroTransport, CH Aviation, are good places to start looking, also see Airframes, RZJets and spotters.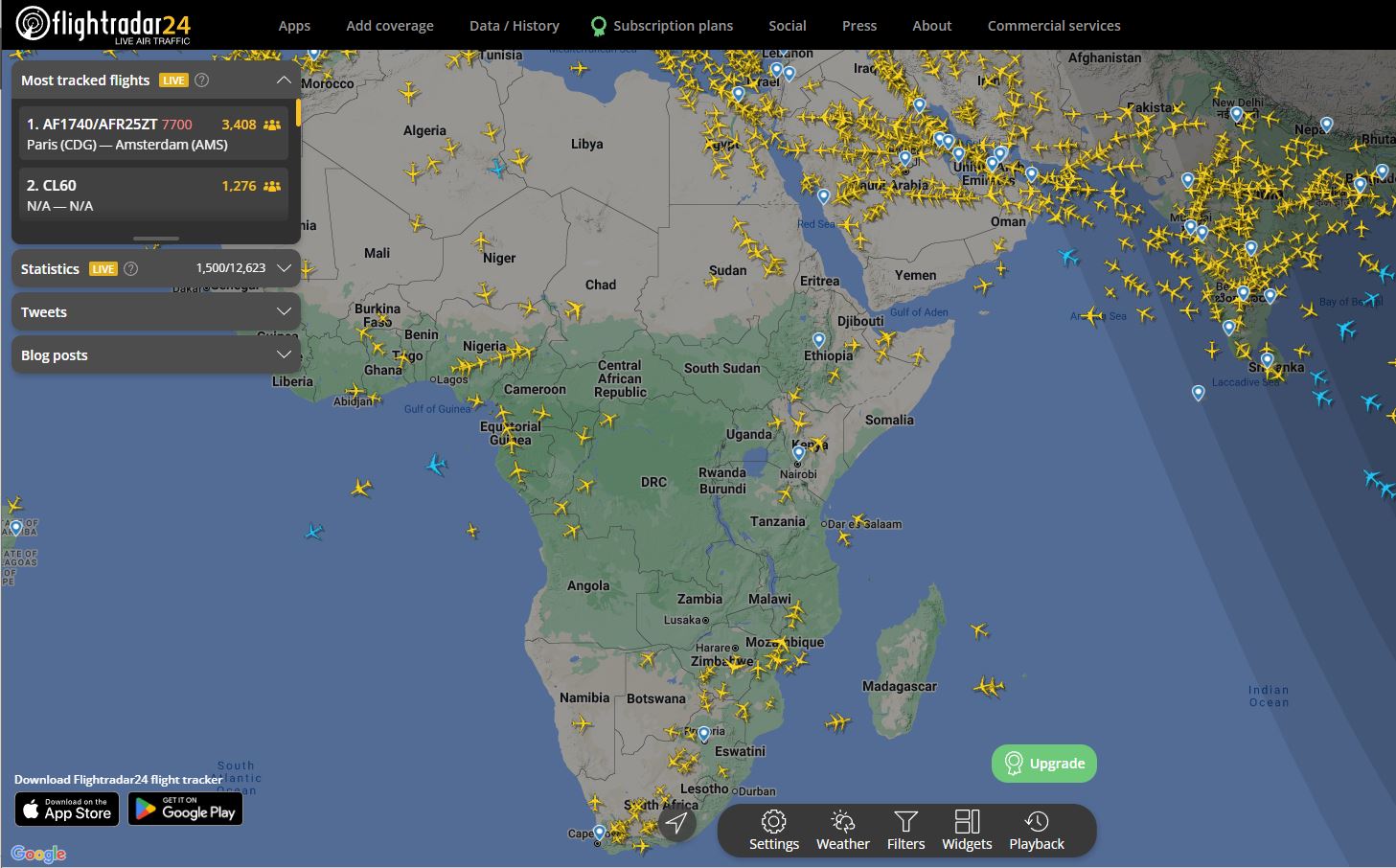 Aircraft Tracking Websites 
As long as the transponder of an aircraft is on, you should be able to use the following flight tracking services to track its movement: 
The world's largest source of unfiltered flight data. Does not filter out information about US aircraft that have requested anonymity. 
Allows guest users free tracking options, including alerts on planes of interest. 
A commercial flight tracking service that permits free tracking of flights. 
A flight tracker with live maps and search function. 
A flight tracker that includes military aircraft. It also has monitoring of air traffic control audio. 
A non-profit association based in Switzerland that provides open access to flight tracking control data. Anyone can deploy an ADS-B ground receiver that will triangulate satellite and aircraft transponder transmissions. If you are interested in helping increase ADS-B coverage, you can request a receiver from flightradar24. 
The Swedish aircraft tracking service will send you the ADS-B receiver sets (including receiver, antenna, and cables) free of charge that require a 10 to 20-minute setup, and once turned on will widen the coverage of ADS-B in your area.
Icarus Flights Washington-based non-profit C4ADS has released Icarus Flights, a robust new system designed to help journalists trying to monitor illicit activity over a geographic area or during a certain period of time. The Icarus tool kit includes transponder data, aircraft ownership records, and analytical tools. It provides location-based searches for investigators who want to study or document which aircraft have flown in a given area. https://icarus.flights/
 
How to identify weapons
Since the conflict in Yemen began in 2015, it has become harder for international rights organisations, UN bodies and journalists to document violations committed by all parties to the conflict. Investigators have to work very hard to identify and verify the details of possible unlawful attacks, mainly using intelligence gathering techniques and technologies. One of these techniques involves analysing photos and videos to verify the types of weapons being used. Investigators can study the shape of a crater left behind after a missile strike, watch footage of air raids to classify the types of missiles used, or analyse weapons trade data to understand ownerships of these munitions. This documentation can provide essential evidence which can later be used to hold perpetrators of violations accountable. Documenting and archiving these findings paves the road to justice through using them in legal procedures.
Here are a few steps to help you identify weapons
1. Determine the weapon's class.
Broadly speaking, there are three main classes of weapons: small arms, light weapons, and heavy weapons.
Small arms include pistols, rifles, light machine guns and other weapons that can be carried and operated by one person.
Light weapons include larger machine guns, rocket-propelled grenades (RPGs), man-portable air-defence systems (MANPADS), mortars and other weapons that require a small crew to operate.
Heavy weapons systems include tanks, helicopters, fighter planes, submarines and warships.
2. Determine a weapon's make, manufacturer and country markings. Weapons usually have markings that denote the make and/or manufacturer, country of origin, and, less frequently, the production facility and/or storage arsenal. This information can usually be found on the weapon itself as is highlighted in the image below.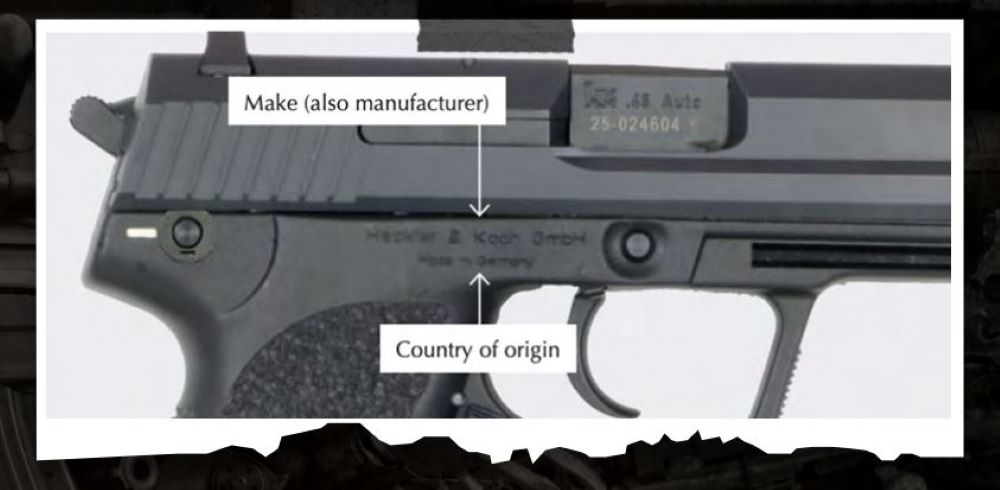 3. Model and calibre designations. The model refers to the make and design, while calibre refers to the diameter of the bullet - usually measured in millimetres or inches. One of the most common sizes is the 9mm calibre which is used in various handguns. 4. Find the serial number. Serial numbers are useful for tracing weapons when they are recorded in documentation pertaining to manufacture, import, export, licensing, or in-country transfer.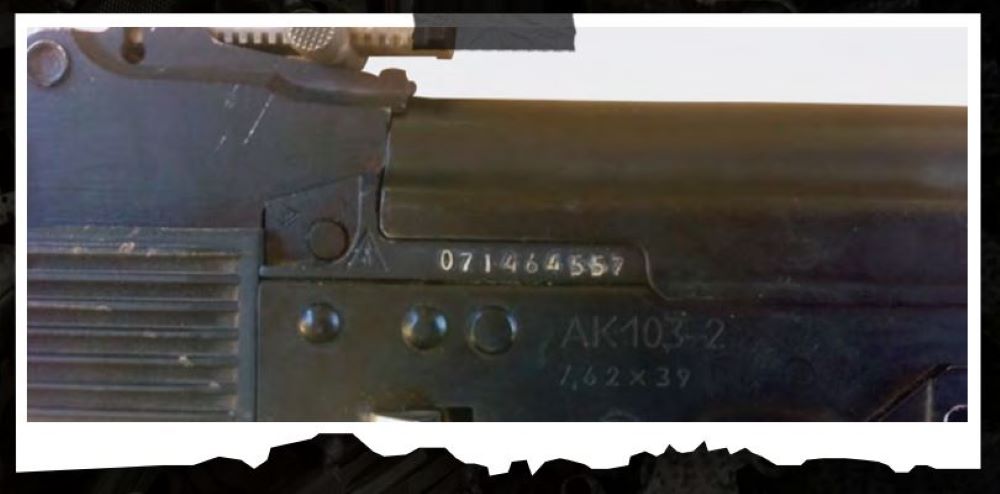 To track a weapon's origins, several databases are available for you to use: 
Weapons Identification Database 
The Weapons Identification Database includes several small arms and light weapons. The database about these weapons includes information about the producer, type, calibre as well as photos to help you visually match a weapon. 
The Arms Embargoes Database aggregates data about all multilateral arms embargoes that have been adopted by the EU or the UN, or a group of nations. 
The Arms Transfers Database traces suppliers and recipients of arms. It enables individual comparisons between countries with an option to select the range of years to cover and the weapon systems to include. 
The Military Expenditure Database contains data about the military spending of 171 countries since 1988 as well as of NATO member states from 1949 or from their time of accession.
Who owns a corporation? 
If you would like to investigate the world's largest companies and reveal who owns offshore companies and trusts, free databases are your starting point. There are other ways to research companies; you can find official and court records, and search on subscription databases or corporate websites. Whatever you are investigating on global money-laundering cases or bribery investigations, you can use OpenCorporates to try to identify who is who and who is transacting with whom. The database can provide the company's incorporation date, its registered addresses, and the names of directors and officers. You can search connections between companies, or work out which companies are run by the same CEO and even do more specific searches focusing on particular countries. Similarly, journalists trying to 'follow the money' across borders can use the Investigative Dashboard, created by the Organised Crime and Corruption Reporting Project (OCCRP), to allow access to hundreds of databases that detail company records and online and offline court records from nearly every country in the world.
If you are trying to expose organised crime and corruption around the world, the Offshore Leaks Database, developed by the International Consortium of Investigative Journalists (ICIJ), can help you to find information and documents on persons of interest and their business connections. The database contains leaked documents about nearly 785,000 offshore companies and trusts. If you are interested in covering oil, gas and mining and you would like to discover the connection between the companies that own and operate oil rigs, and how they are incorporated as companies in, or working through, maritime tax havens; check the portal Double Offshore developed by Code for Africa. The same organisation developed the project the Miners of Mozambique, to discover the individuals behind the mining industry in Mozambique and their connections. 
MORE:
 ● ResourceContracts: A portal that houses over a thousand mining and oil contracts.
 ● Resourceprojects.org: A repository of extractives projects