Last week, the image of a blonde-haired Palestinian girl standing up to an Israeli soldier was wrongly credited as an image of a Ukrainian girl confronting a Russian soldier. The intention was to garner sympathy for Ukraine, but the actual consequence was to highlight international media's double standards when it comes to dishing out sympathy to victims of war and oppression
During the first few days of the Russian invasion of Ukraine, a video appeared on Tik-Tok purporting to show footage of a young Ukrainian girl confronting a Russian soldier and firmly telling him to "go back to your country".
The eight-year-old, fair-skinned, blonde-haired "Ukrainian girl" was lauded as "courageous" and the video went viral, attracting millions of views and likes. 
But it was fake.
A few details should have given it away immediately. For one, the girl is wearing a sleeveless top in the middle of February and, more importantly, she is speaking in Arabic.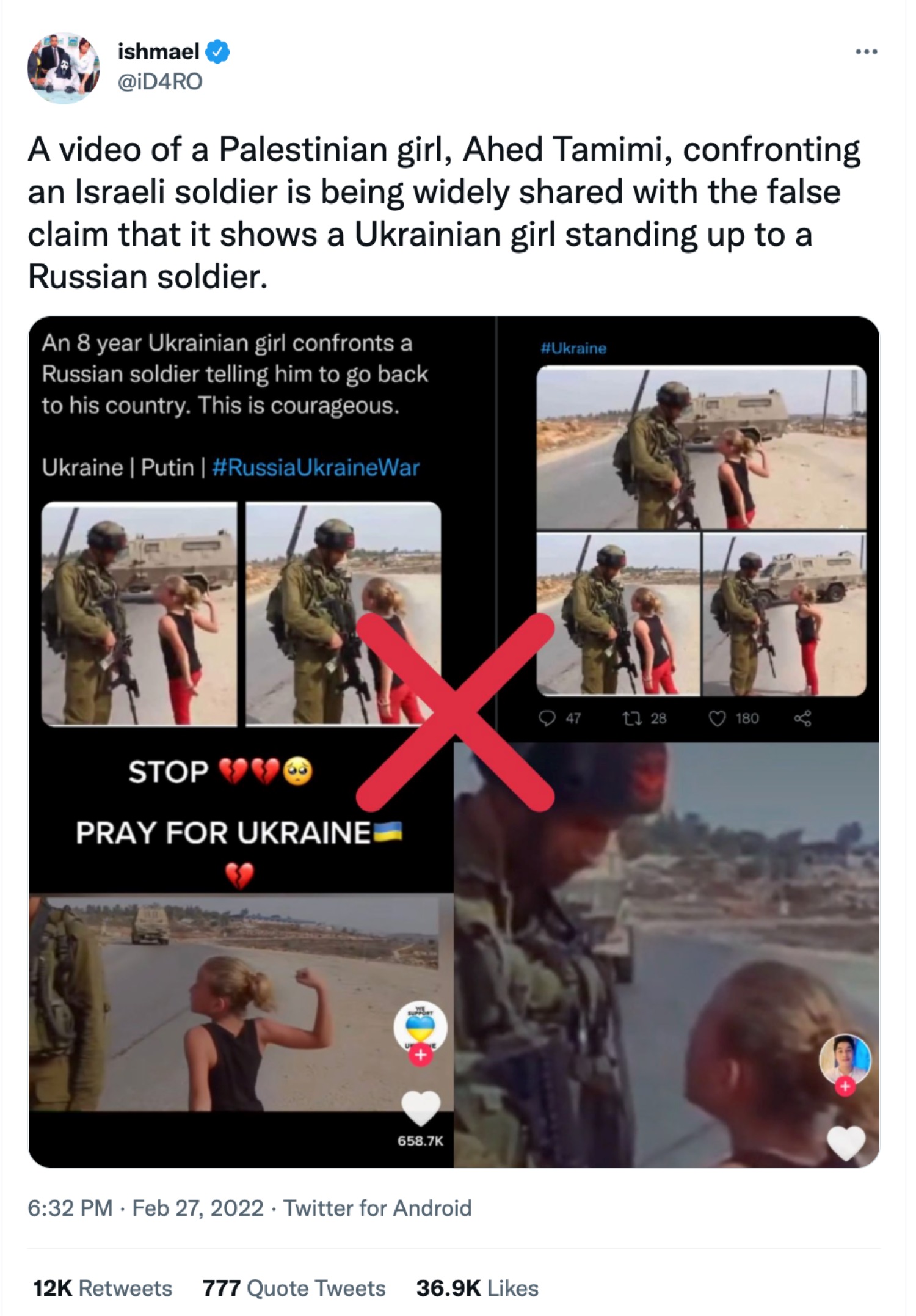 In fact, the video is of an eight-year-old Palestinian girl, Ahed Tamimi, and it is old. Tamimi is now 23 years old and the treatment she has received by international media for her acts of rebellion in the West Bank has been mixed, at best.
Indeed, at 16, she was imprisoned for eight months after another video of her - this time slapping an Israeli soldier in the occupied West Bank - was publicised. She was released in 2018.
So what made people believe this image of her was, in fact, of a young Ukrainian girl "courageously" confronting a Russian soldier and therefore deserving of praise? Of course, it was the fact that she "looks like a Westerner" with her pale skin, blonde hair and blue eyes - just as many people in the Middle East do.
After that most recent video, claiming to be from Ukraine, went viral, some journalists start calling out it's fakeness and correcting it, by sharing news pieces confirming that the girl was not Ukrainian and was, in fact "just" a Palestinian girl confronting Israeli occupation forces as other Palestinians have been doing for the past seven decades.
These corrections went viral as well. Some shared them to raise awareness about fake news and others to call out the Western double-standard sympathy-narrative. But the outcome was the same; the forgotten stories of Palestinians' struggle were seen and heard widely, and not just by those in whose neighbourhood they were taking place. 
Perhaps this image has even persuaded some international observers to question their previous perceptions of Palestinian resistance to Israeli occupation
Recent events in Ukraine have driven a huge amount of content - particularly visual - on social media platforms. 
So it is unsurprising, perhaps, that people looking for sensational content which will boost their follower numbers have resorted to posting old, manipulated or misleading images and information.
Compounded by state-backed propaganda, which actively seeks to distort narratives surrounding events such as the Russian invasion of Ukraine, this has left audiences sceptical about the truth of any type of content at all - whether from citizen journalists, political activists or even well-known, established media organisations.
Professional journalists will wait to verify content before reproducing any UGC (User Generated Content), and will fight the temptation to be swept along by the outrage or sensationalism sparked by it before confirming its authenticity. 
But, these days, calling out a piece of fake news can generate more interest than the original image or piece of information itself. 
This can be seen by the response to the posts countering the false information about the Ahed Tamimi video.
In this tweet, below, the journalist shared the New York Times piece about her, but only to confirm that she is not Ukrainian. It got more than 800 retweets with more than 4,000 likes.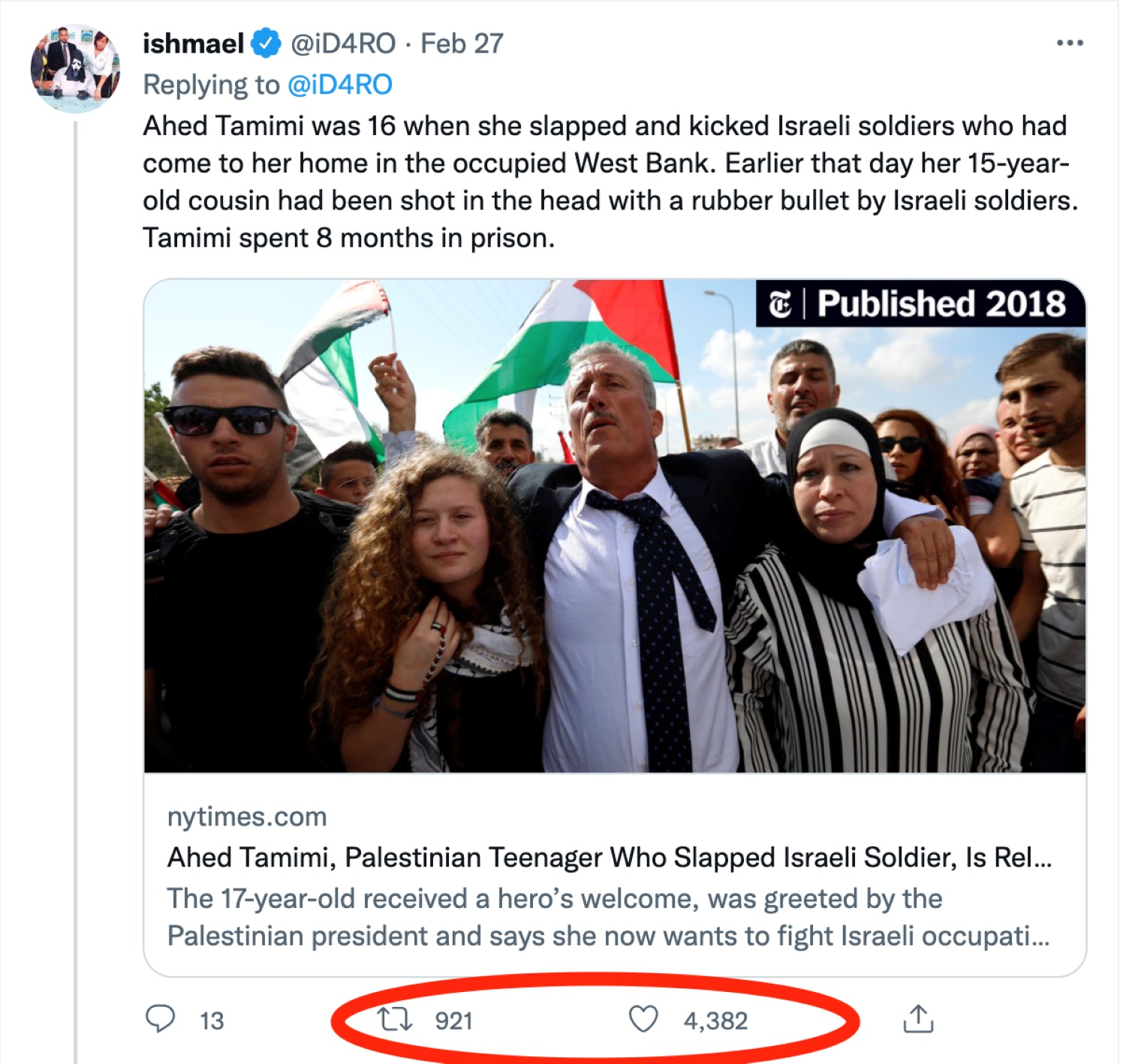 Compare that to the tweet published by the New York Times back in 2018, on the day of Tamimi's release from prison, which received only 10 percent of the engagement.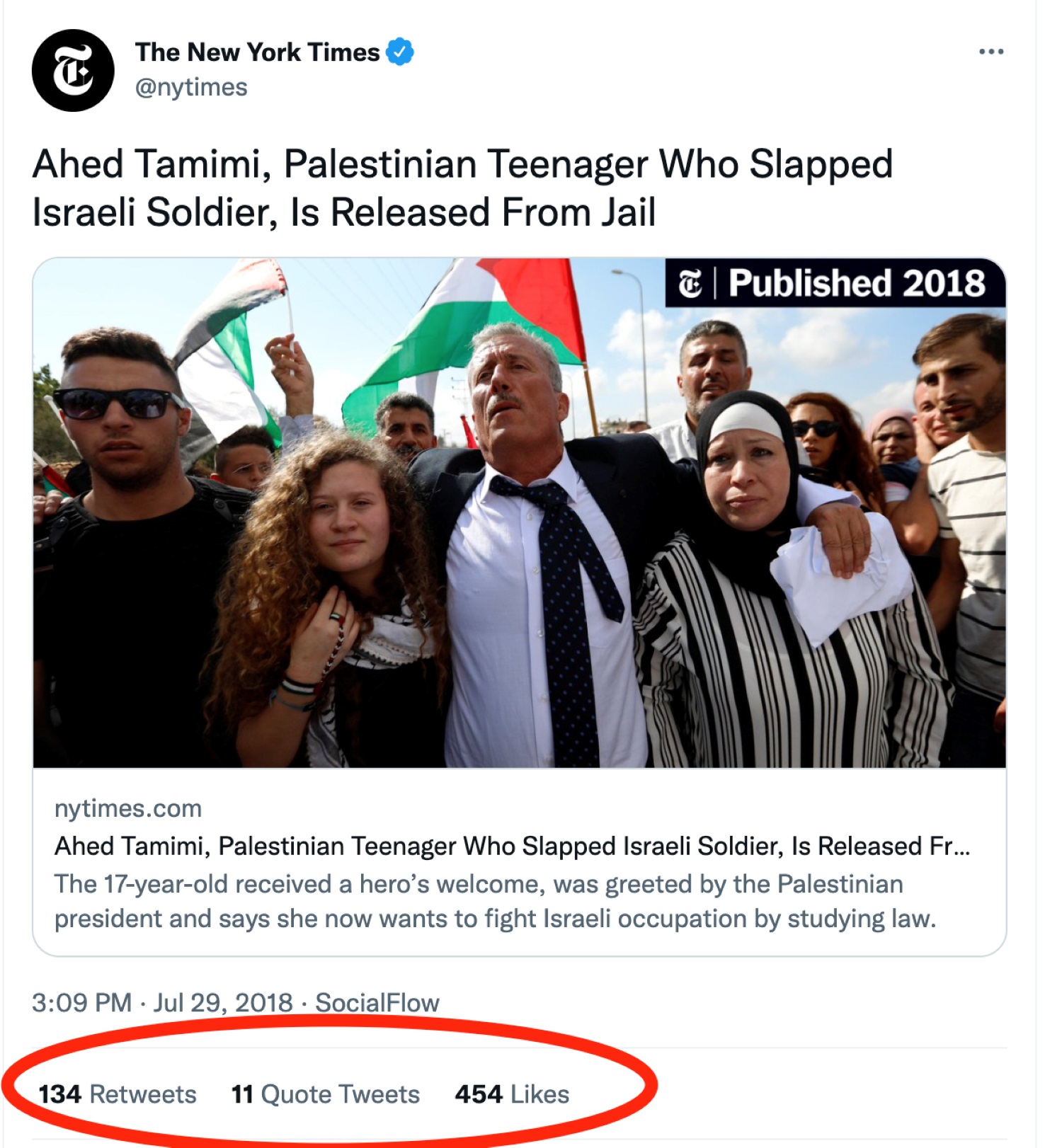 What this comparison tells us is that Tamimi's case was only revived because of the fake news around her story last week, promoting a narrative of resistance to oppression which was happening 3,000km (1,865 miles) away from her. 
The irony, of course, is that the real reason this story - "fake" news or not - has caught the interest of international media this time around is that, from a Western perspective, she "looks like us". This has, once again, resurrected damaging notions - perpetuated by media coverage everywhere - of there being "deserving" and "undeserving" casualties of war and oppression.
The silver lining is that this case serves to demonstrate these double standards very clearly and has brought attention back to the plight of Palestinians. Perhaps it has even persuaded some international observers to question their previous perceptions of Palestinian resistance to Israeli occupation.
I suppose we might be grateful for small mercies. 
Muhammad Khamaiseh is an editor at the Al Jazeera Media Institute
The views expressed in this article are the author's own and do not necessarily reflect Al Jazeera Journalism Review's editorial stance