Social media platforms are too easily dismissed as 'not serious' when it comes to newsgathering. But you can use them as you would the news wires - here's how.
I did not include social media skills on my resume when I applied for work at the newsroom of the Belgian public broadcaster VRT in 2010. However, with every passing day, the importance of being able to use social media tools in professional journalism grows. A budding journalist applying for a job today needs to have these skills that I did not include on my resume over half a decade ago. I have produced many television news reports that have been inspired by social media. Some have drawn a lot of attention, many likes and have been shared widely by other media outlets. 
I get really impatient when images and video clips do not arrive on time from the international news agencies. This impatience prompted me to resort to the internet and to explore the social media world and open up a new window of development in my work. The problem was not only images failing to arrive on time, but their limited quantity. Most international news agencies edit the footage (albeit slightly) before distribution. Thus, the need for original images and video sourced through social media has become the sum and substance of a scientific and sound methodological verification process. 
A new leap in the newsroom 
Voices of opposition continue to be heard against using social media sources in news bulletins. Many of these seem to be from veteran journalists who have a long experience in the field of news. These colleagues lived through various leaps in the media world from the birth of the computer to the introduction of mobile phones. However, the social media leap in news may be the leap or change that is most difficult to be accepted. 
Although most politicians and government officials here in Belgium, and in Europe in general, post their opinions and verified official stories through their personal accounts on Twitter and Facebook, taking a car and using a camera and microphone to interview a politician remains the only method accepted by many in this older generation. This is in spite of the fact that important political decisions and news making events are frequently announced first on social media platforms. This only correlates with recent studies that show that the majority of today's youth follow news through social media platforms especially Facebook and Twitter. 
A tweet is worth a thousand stories 
Take for example July 13, 2015, when the most important news of the day in Europe was the European Union reaching an agreement on Greece's debt crisis. Failure to do so would have likely led to Greece's exit from the bloc. The news was uttered not from the lips of Belgian Prime Minister Charles Michel, rather from his fingers. Michel tweeted from inside the negotiation room, using his personal Twitter account, just one word: "Agreement". That one word carried a weight that I had not yet seen in my years working as a journalist. 

Belgian Prime Minister Charles Michel effectively announced an EU agreement on Greece's debt crisis with a one-word tweet which was retweeted thousands of times in a matter of minutes.
However, the political exploitation of social media has not always been positive. There have been critical political ups and downs such as the moments faced by Theo Francken, the Belgian Minister of Immigration and member of the rightwing, conservative party, just days after his appointment. Members of Parliament dug up his past and demanded his resignation over phrases described as racist, which he had published on his Facebook account years before his appointment. Mr. Francken survived and did not submit his resignation, but he was forced to officially apologise in Belgium's Parliament for comments. 
So, the question is: How do you become one of those journalists that can benefit from this world of social media? How can you learn the skills to break news faster than the agencies, to be on top of your beat in your region? One of the most important things is to ensure you have a Twitter account - and master the world of Twitter lists. Doing so will help you filter out the noise of people sharing pictures of your lunch, to actually get through to the important news. 
Twitter lists 
My interest in Twitter lists comes from following tweets in the Arab World. I was simply reading too many retweets at peak times. At times of sports events, my "timeline" shifted to be made up mostly by tweets on sports and criticism of football teams and referees. 
Therefore, the solution offered by Twitter to its users is through lists. By using lists, you can classify your followers according to their interests. A person who likes football is placed on the "sports" list, and another colleague who is a fan of films can be classified under "cinema". This way, you can tailor your lists according to the interests of those you follow and it makes it easier to move from one list to another according to what you prefer to read. Creating lists or searching for established lists is very useful in important events and breaking news. 
Creating a list 
In your Twitter account, go to: https://twitter.com/yourusername/lists. On that page, click on "Create New List". Give your list a name, decide if it should be public or private (tip, private lists cannot be seen by anyone, and the Twitter name added to this list is not notified), and start adding relevant people. 
Searching for lists 
Lists created by other people can be easily searched through the Google search engine. For instance, to search for a list on Syria, enter the following search string into Google: site: twitter.com/*/lists/syria 
The advantage here is that you can benefit from work that other, reputable organisations have done in building their own lists. When you've found a list that's of interest to you, just click subscribe, and you can see the list whenever you want. One downside, however, is that you cannot then add other Twitter users to the list yourself. 
Monitoring Twitter like the newswires 
Any journalist used to working with the newswires should endeavour to work with Tweetdeck (https://tweetdeck.twitter.com/). This platform allows you to monitor different Twitter lists at the same time, making your interaction with the platform much more productive. You can also set up and monitor particular searches and search for Tweets on a map or in different timeframes. Tweetdeck really has become the platform of choice for the social media journalist. 
Case study: ISIL News - how to monitor newsfeeds through Tweetdeck 
It has become my morning routine while drinking coffee to check and browse social media websites. As part of that routine, on Tweetdeck, I check the lists that I have curated to follow certain topics. 
Over the last few years, social media tools have played, and continue to play, a very important role in creating a new area of newsgathering, and that is the individual and personal one. Had it not been for Facebook, Twitter and YouTube, we would not have known much about reality in Syria.
As for the Belgian fighters who joined ISIL in Syria and Iraq, their personal accounts had an important role in offering alternative materials about ISIL outside the frame of the professional media propaganda it pushes. 
For example, I have created a Twitter search to show all tweets containing the two words "Abu+Belgian" to follow all that appears on Twitter relevant to the Belgian fighters with ISIL in Syria and Iraq. Consequently, I was among the first to follow the accounts of Belgians who migrated to Syria to fight with ISIL, and among the first to follow Abdul Hamid Abaoud on social media. Abaoud was a main coordinator of the Paris attacks that took place in November 2015.
Abaoud and his Belgian and French comrades remained active on Facebook and Twitter early in their life in Syria. The images and videos that they posted on their personal accounts played an important role in influencing some youth and persuading them to migrate to Syria as well. Those photos and video clips did not revolve around the war and the ongoing fighting in Syria, but about enjoying the "good" life in the so-called "land of the caliphate". 
Among these "happy and unique" moments – if they can be described as such - which were broadcast on the news and discussed by newspapers in Belgium, is a video uploaded by one of the ISIL Belgian fighters on Facebook, in which one of his Belgian comrades is seen playing and laughing with sheep in Syria, speaking in pure Flemish with a Belgian dialect. Another video depicts Belgian young men jumping into a pool near Al Raqqa city, playing and laughing in the water. I was the first journalist to find these videos by tracking the account of the Belgian fighter who published them.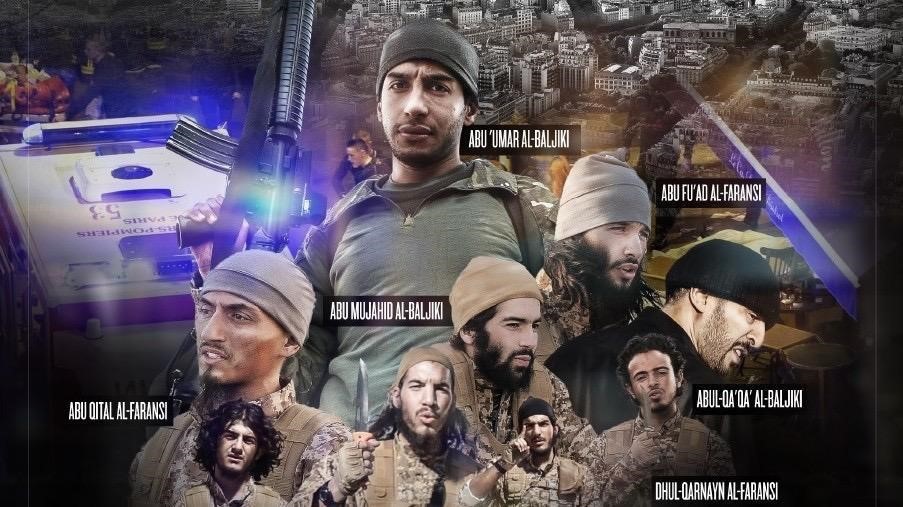 Discovering geolocated tweets 
It is possible to search for tweets based on geographical location by entering the following code in the Twitter search box: "Geocode:x,y,zkm". Here, "x" and "y" are the longitude and latitude coordinates of the geographic point in decimal degrees. This is an eight-digit number. These are coordinates that are very easy to find from various mapping websites, such as itouchmap. com or Google maps. As for the "z", this is the diameter of the circle to be searched in kilometres, with a 1-kilometre minimum. So, a search for tweets 1km around the Al Jazeera Media Training building in Doha, Qatar would look like: "Geocode:25.315098,51.496464,1km".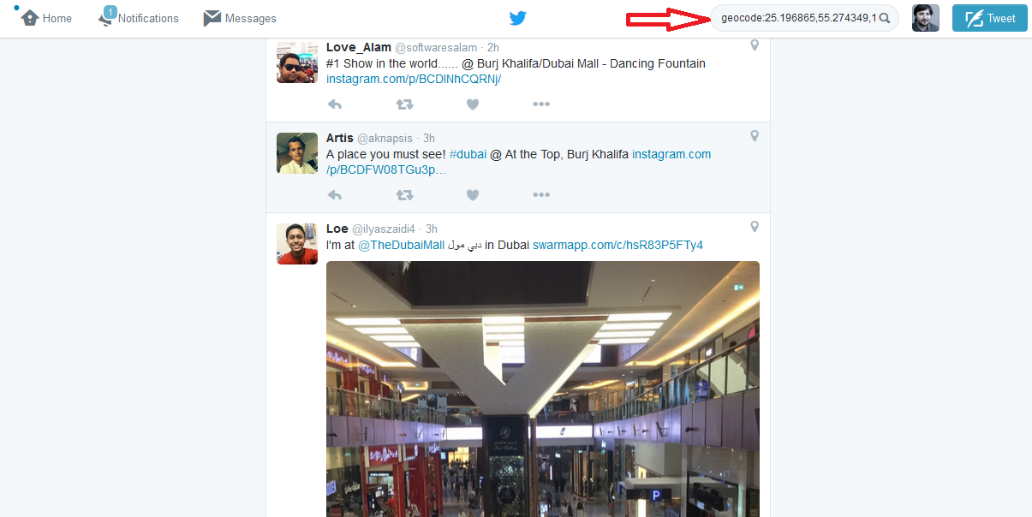 The "geolocation" feature is important not just to find content breaking news but also for international and sport events. Try for example to follow tweets and images shot in front of Burj Khalifah in Dubai or from inside the Santiago Bernabeu Stadium in Madrid during a soccer match. You will be taken aback by the number of tweets that do not have the hashtag or trending words used at that time, but are tweeting the event you are interested in. There are many Twitter users who upload images and videos without using an event's hashtag. Therefore, it is preferable to search by geolocation as well as with the classic hashtag search. At the same time, we must also understand that only around 3 percent of all Tweets are geolocated, so other methods of search are also needed on occasions. 
Case study: Power blackout in Amsterdam and eyewitnesses search 
The people of Amsterdam woke up Friday morning, 27 March 2015 to a unique event. Power had been cut to large parts of the city and neighbouring towns. The news agencies that day could not match social media in terms of the quantity of posted materials. While news outlets were broadcasting live images from Schipol airport and some Amsterdam city streets, social media was buzzing with funny and light-hearted images and videos from the people on Instagram, Twitter and Facebook. 
Geofeedia - a tool that allows us to monitor content posted to social media by location - was very useful in following the content stream including images and video, some of which we selected at VRT to broadcast in our bulletin. Geofeedia is a paid service that allows you to follow and monitor social media content flow based on a geographic location. All you have to do is draw a circle or rectangle around a site on Earth in various sizes, and you will see all the tweets and Instagram and Facebook posts that are available instantaneously. It does not matter if the circle is around a continent, country, street or even a house. 
In spite of the immense capacity of this application, the weakness is that the service is restricted to highlighting the geo-tagged posts of account holders. However, it remains an important application to follow news from the event location.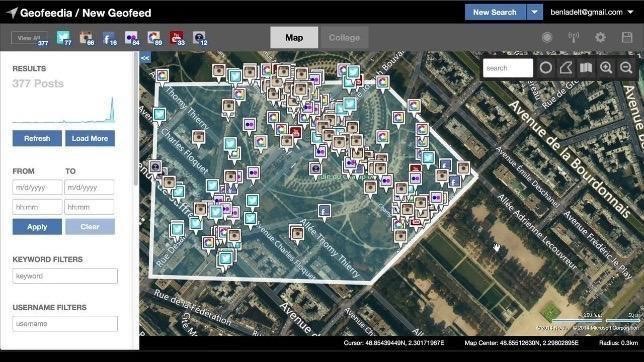 There are also free alternatives to searching for tweets or Instagram posts based on the geolocation for those who do not wish to pay money, as noted above. 
Away from Twitter - The evolution of social media newsgathering 
Journalists have historically depended on Twitter as the primary social media newsgathering tool. However, we have to pay close attention to how users' habits are changing and evolving - and this means we also have to understand how to use messaging apps to our advantage. This is covered in detail in Chapter 6, but here are some of my experiences with using WhatsApp - one of the most popular messaging tools. 
WhatsApp and newsgathering 
Since early 2014, after it was acquired by Facebook, WhatsApp's user base began to grow in Belgium and across Europe in general. In spite of the application's popularity in the Gulf and other Arab countries before 2014, it spread in Belgium later. Today, I still have many Belgian colleagues who find my use of WhatsApp in communicating with witnesses or investigating an important story bizarre. 
Advantages offered by WhatsApp to journalists 
• Easy and prompt sharing of images and videos taken by smartphone, which can be included in a television report after verification. 
• Communication with witnesses where mobile networks are weak but internet networks are available. 
• With internet connectivity, the application allows you to audio record statements. 
• The application allows sharing the speaker's geographic location. 
• End-to-end encryption - WhatsApp is now encrypted end-to-end - which protects against messages being intercepted. Careful, however, if the phone falls into unfriendly hands, this does not stop messages being read by someone you may not want them to be. 
Case study: WhatsApp and Palmyra's Victory Arc 
A few hours after news leaked on the destruction of the Victory Arc by ISIL, I started looking for proof of the Arc's actual destruction. I first resorted to traditional social media methods (YouTube, Facebook and Twitter), but found nothing. I tried through some Facebook accounts to communicate with Palmyra residents, however most had left the city but did not change their place of residence on their personal accounts. After continuous research, I found a person in Palmyra through WhatsApp (see screengrab of the Arch here). The person offered to leak a video of the Arc after its destruction in return for money. My news organisation's management rejected the offer due to the large sum required, which was several hundred dollars in return of a short 15-second video.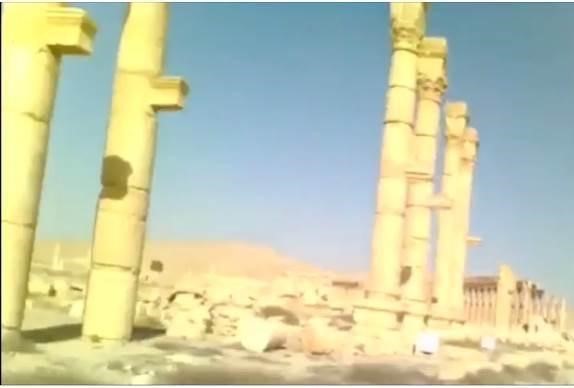 The next day, a video was shown by news agencies after the initial scoop by the Huffington Post. 
Case study: Direct communication with refugee boats 
Credit is given to WhatsApp in many journalistic searches and assignments that I worked on. In 2015, while hundreds of thousands of refugees arrived and passed through the water passages between Turkey and Greece, I was able – after much work – to persuade a special group of volunteers to add me to their WhatsApp communications group. The volunteer group's mission was to track boats leaving Turkey for Greece and continuously communicate with a refugee until the boat reached safety. In the event of any emergency, the person in charge of the group communicates with the Greek or Turkish coast guard, depending on the boat's location. 
I was able to monitor the group and its unique work for weeks and to include the search in the news reports. It is worth noting that WhatsApp can also archive the conversations to maintain information for future use. 
The challenges of using social media in newsgathering 
Social media newsgathering brings with it many challenges - in particular in the area of verification - which is the theme of this book. Let's discuss some of these. 
Events in remote areas 
I was working in my newsroom in Brussels when the German Wings plane crashed in the French Alps in the summer of 2015. The crash happened in an isolated area without internet access, except for in villages that were far from the site of the incident. This made it more difficult to track information about the plane or its debris up close. On the other hand, to our advantage, we understood that there was no real content showing the crash due to the isolated geographic location of the event and were then able to dismiss so many of the images that were circulated in the first hour as they were fabricated or depicted past accidents. 
Big mistake on Egyptian TV 
In October 2015, on the day the Egyptian authorities announced the crash of a Russian plane carrying tourists in Sinai, the images that were received from traditional Egyptian newsgathering sources were very limited. The Egyptian authorities also hindered the work of many of the photographers from international news agencies and restricted their access to the crash site. Accordingly, it took a few hours to access the first shots, which opened the door for fabricated images and clips. However, this only led to a big mistake by an Egyptian television news channel, which broadcast an old online video of an American plane crash in Afghanistan as the first scenes of the Russian plane's crash. 
WhatsApp use in media 
Verifying the individual's geographic location: In some sensitive areas, such as conflict zones, the witness may prefer not to disclose his location as a precaution, because his statements may impact their personal safety - or the safety of their families or friends. It is well-known that the registered phone number of the user does not necessarily reflect his whereabouts or country of residence. Many Syrians residing in northern Syria in the areas bordering Turkey use Turkish numbers because the Syrian phone network is either too weak or altogether unavailable. 
Important ethical considerations for using social media 
Recently, I have been facing ethical issues in social media, especially with regards to breaking news. A large number of journalists in newsrooms around the world still do not pay attention to ethical issues and the safety of the others involved in the story. To be honest, I personally did not give this any consideration at the expense of getting the story or communicating with the witness as soon as possible. During important events, like a hostage situation, after a victim tweets "I am fine" or "they are ten", it does not take long for him to receive requests from international newsrooms to secure an exclusive interview. Unfortunately, many journalists do not take into account the fact that the witness may still be near danger. In hostage situations, the easiest and fastest way for a person to make his fate known is to tweet, but do not reply, like or retweet, before thinking first of what the tweet says. Nothing can guarantee that you are not the reason his phone rings because of your response or retweet while the person is still held by gunmen. 
Therefore, think carefully before communicating with the victim or witness, and pay attention to safety. You do not want something bad to happen to someone because you were excited about news. 
Recommendations for journalists 
• Try to search for a story in more than one language and dialect. If you are looking for images of the Jenadriyah Festival, try to enter the words using the Saudi dialect in the search engine, if possible. Do not suffice with classical Arabic or English. 
• Pay attention to professional ethics and people's safety. Do not get excited about finding a witness and working quickly in the newsroom. Be careful! 
• Use Tweetdeck to monitor tweets and the topics that interest you. Try to create Twitter lists based on your interests. 
• Do not forget the phone! Social media does not render it obsolete, and do not forget to search for local numbers and to communicate with sources on the ground. A nurse at hospital reception desk may give you information over the phone that is much more accurate than a hundred tweets about a certain incident. 
• Download the video before verifying it. There is no guarantee that it will not be removed or blocked from the internet minutes after it is uploaded. 
• Develop your ability to search various social media outlets simultaneously to compare various sources. 
Social media has revolutionised newsgathering. This means that the skills required to discover and verify a piece of social media content now need to be a part of every journalist's skill-set. Learn how to discover and verify content. Also, understand the ethical considerations about using such content. This book provides a good introduction to all of this. Use and learn from it. 
This essay was first published under the title Social Media Discovery and Verification as a Key Newsroom Skill in Finding the Truth Amongst the Fakes [PDF], an Al Jazeera Media Institute publication.