Criticism of Qatar in the lead up to the World Cup was always a given. But some of the hypocrisy on display is something else
It was inevitable of course. With the approach of the World Cup 2022, a plethora of articles in the Western media criticising the host country, Qatar, has descended.
"Why Qatar makes this football fan so uneasy," shrieks the headline of David Aaronovitch's op-ed in the UK's Times newspaper this morning. "Allowing autocrats to stage a World Cup is wrong and advice to fans to 'respect' their hosts adds to the sadness."
Let us imagine that a country more palatable to Aaronovitch was hosting this year's World Cup. America, say. Now, let me rephrase that headline for his convenience. "Why the US makes this football fan so uneasy. Allowing militant imperialists to stage a World Cup is wrong and advice to fans to 'respect' their hosts adds to the sadness."
See what I did there? Now you try it. Pick any Western nation you like and see what you can come up with.
And before we get into the rights and wrongs of labelling the US a "militant imperialist" country, let's not be naive. This is the nation which operates secret drone missile attacks within the borders of other nations it has no sovereignty over, and which has "kill lists" of people who challenge its narratives about what constitutes terrorism. 
A kill list is essentially the death penalty without trial, which is not a great look when you are criticising other nations for human rights abuses. This is the country in which Black people die with disturbing frequency at the hands of the police and for which invading countries like Iraq and Afghanistan alongside a good lashing of military meddling in the internal politics of South American countries is viewed as good and just.
Then we have the slightly annoying human rights "campaigner", Peter Tatchell, who claimed he was arrested by Qatari police for staging an LGBT protest outside Doha's National Museum this week. Thankfully, some of the Western media did report the truth of the matter - he was not arrested, merely politely asked to move on. But the reporting was all done with a distinct air of condescension and dismissal of another country's values which differ from their own.
At least Tatchell has been consistent and also protested before the start of the Russia World Cup. Western media protests against Russia - that bastion of LGBT rights - hosting the World Cup of the sort we have seen about Qatar were pretty thin on the ground back in 2018.
Next up is the Guardian newspaper which eagerly headlined a protest against Qatar by the Australian Socceroos this week. "The Socceroos, including their captain Mat Ryan, have issued a strong collective statement of protest over the human rights record of Qatar, the country which will controversially host the tournament starting next month".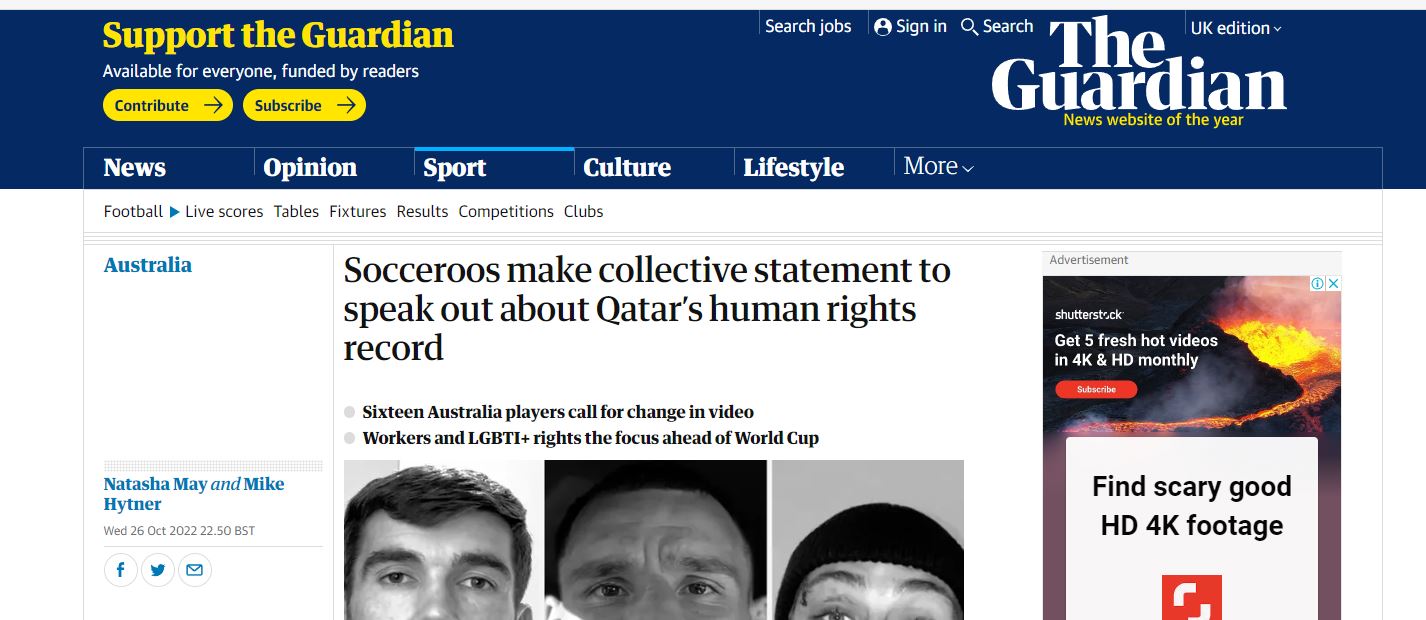 "Controversially": that's a pretty impressive piece of hyperbole - doing some exceptionally heavy lifting here - considering we're talking about a nation with one of the most xenophobic immigration policies in the world. Australia has an appalling track record of brutalising migrants and refugees arriving on its shores. Many get herded off to remote offshore detention centres where they are left to languish for years.
Let's try that headline from David Aaronovitch again, shall we? "Why Australia makes this football fan so uneasy. Allowing brutalisers of migrants to stage a World Cup is wrong and advice to fans to 'respect' their hosts adds to the sadness."
Can you imagine a headline like that from Western media? No, neither can I.
How many other countries could we apply our new headline to, I wonder? The UK, perhaps, which wants to deport refugees and migrants en masse to Rwanda - some of them tied forcibly to their seats? 
Indeed, the irony of placing this particular cartoon right next to Aaronovitch's op-ed can surely not be lost on anyone, right?
Sadly, I think it is lost on very many in Western media. And that's because Western political leaders and the media which blindly swallows everything they say (please see, eg, Guantanamo Bay for definitive proof of this), is so completely convinced that the Western Way is the "good" way. It's all a bit distasteful and colonialist really.
And, just as American policing of Black people is deeply rooted in its own history of racism, so is this. 
If only countries which look and feel like Anglo-America were allowed to host the World Cup - well, that would be rather racist wouldn't it?
Nina Montagu-Smith is editor of Al Jazeera Journalism Review