Cassandra was cursed to always see the future, but to never be believed. For female journalists like Carole Cadwalladr, long dismissed as a 'mad cat lady', it's a familiar tale
It's a typical tale of male-god arrogance. In the Greek myth, Cassandra, daughter of the Trojan King Priam, dared to spurn the advances of Apollo. In return, he cursed her with the ability to see the future, but with the small inconvenience of nobody ever believing her. It's not clear how Apollo thought this might be all that much different to the normal state of Being A Woman.
There have been many Cassandras in the history of journalism. Even the much-feted Clare Hollingworth, the first reporter to break the news of Germany's invasion of Poland in 1939 on the front page of the Daily Telegraph, was initially disbelieved. 
While reporting what she had seen with her own eyes along the German-Polish border, she had to hold her telephone receiver out of a window to relay the noise of the build-up of German troops before British Embassy officials in Warsaw would believe what she was saying.
At least other journalists believed her. The same cannot always be said of the Observer's investigative reporter Carole Cadwalladr who has been warning about the links between Russia and the British establishment - especially regarding the Brexit campaign and 2016 referendum - for years.
She has also written about allegations of Russian influence on the 2016 US Presidential election as well as links with Nigel Farage, Britain's Blustering Buffoon-in-Chief and, incidentally, leader of the campaign for Brexit in the UK. 
It's not just the Russians she has set her sights on - Big Tech is under the spotlight as well.
In 2019, Cadwalladr gave a TED talk, entitled "Facebook's role in Brexit - and the threat to democracy". Mark Zuckerberg declined to attend and give his own side. 
Cadwalladr was also among journalists to report on the Cambridge Analytica scandal, in which the group had harvested personal information from millions of Facebook users without their consent and then allowed clients, such as senator Ted Cruz in the US, to make use of it for political campaigns.
A quick scroll down to the comments below Cadwalladr's May 2017 long read in the Observer entitled "The great Brexit robbery: How our democracy was hijacked" quickly shows the disdain so many people have held for Cadwalladr's reporting. Many comments have since been deleted for being too offensive, but remaining ones include: "Well, it makes a change from 'we lost because the others are thick, xenophobic bigots' excuse, I suppose" and "The Guardian gets more desperate every day. I look forward to tomorrow's exclusive expose of how aliens were responsible for Brexit."
Last weekend, the Sunday Times reported on how Evgeny Lebedev, the Russian billionaire son of the owner of London's Evening Standard and the Independent newspapers, was present at the dinner between Boris Johnson and Michael Gove, at which they reportedly decided to back Brexit. Furthermore, Johnson ignored advice from his own intelligence services not to give Lebedev a peerage because of concerns about his links to Putin. Now, Lebedev and fellow oligarchs are facing asset freezes in the UK as a result of the Ukraine invasion.
It has seemingly taken an invasion of a European country for much of the mainstream media to start asking hard questions about these people's questionably gained billions and their influence on political leaders. But Carole Cadwalladr has been warning about much of this - and been lampooned by fellow journalists - for years through her own investigations of hi-tech and Russian meddling in the US and the UK.
The response? "Karol Kodswallop" is what Andrew Neil, veteran British journalist, BBC political presenter and stalwart of the right-wing media, called her. "Mad Cat Lady" is how she is not-so-fondly known by others, as well as by Arron Banks, the pro-Brexit campaigner who is suing her for suggesting that he might have lied in the past about his "relationship with the Russian government".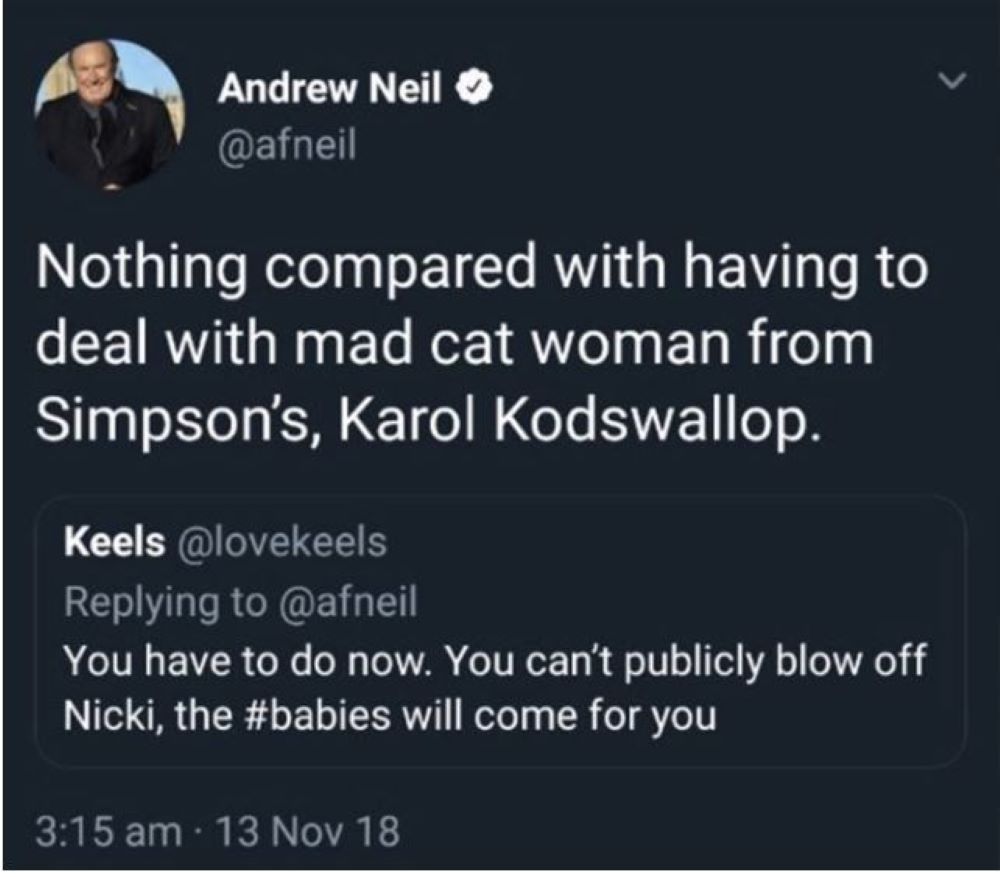 Now, with the invasion of Ukraine, the chickens are coming home to roost for many in the UK who have benefited from the largesse of Russian oligarchs, many of whom have inexplicably got through UK money laundering rules to buy property in London. 
While most Brits have to jump through all sorts of hoops to explain where we got the deposits we scrape together to pay for our absurdly priced homes, for example, the stepdaughter of Russia's foreign minister, Polina Kovaleva, 26, somehow bought a 4.4-million-pound flat in London's swanky Kensington, in cash, no questions asked, at the grand old age of just 21. If that isn't "unexplained wealth", it's hard to say what would make the grade.
As more and more revelations leak out about just how insidious Russian influence within the British establishment has become, it seems increasingly likely that Carole Cadwalladr was right - about quite a lot of things.
Cadwalladr is far from the only female journalist to be ridiculed for her reporting and it is well-known that female journalists receive far more online abuse and threats than male journalists. Last year New York Times journalist Taylor Lorenz was lambasted by Fox News' Tucker Carlson when she wrote about online harassment which she said had destroyed her life. Carlson retorted: "Destroyed her life, really? Lots of people are suffering right now, but no one is suffering quite as much as Taylor Lorenz is suffering." His attack led to a new online onslaught of threats and harassment directed at Lorenz.
Elsewhere in the world, the journalist and Nobel Peace Prize winner, Maria Ressa, is a frequent target for attack in speeches by Philippines President Rodrigo Duterte which has led to her receiving threats and harassment online as well.
It's not so surprising, really, that female journalists like Cadwalladr have been so easily dismissed as the ramblings of a mad cat lady (one of the more misogynistic terms of abuse commonly used to describe women-who-won't-just-shut-up-when-told-to in the West). 
After all, tens of millions of Americans couldn't bring themselves to believe that a dedicated politician, former state secretary, senator and First Lady might be more qualified to lead their nation than an incoherent, ranting, fake-tanned blancmange of a man who has steered six companies to bankruptcy, been sued around 1,500 times, was found to have defrauded students through Trump University, and had multiple credible allegations of sexual assault stacked up against him. 
But that's just the general public - journalists do not have this excuse. We are charged with finding and telling the truth. It's our actual job. There should be no room within our profession for smearing a woman trying to do just that.
Nina Montagu-Smith is the editor of Al Jazeera Journalism Review
The views expressed in this article are the author's own and do not necessarily reflect Al Jazeera Journalism Review's editorial stance