Western media's response to the killing of veteran journalist Shireen Abu Akleh by Israeli forces in Palestine is shameful. Until the media starts reporting the truth about Israeli brutality in Palestine, the killing of journalists doing their job will continue
"Israel has carried out near-daily raids in the occupied West Bank in recent weeks amid a series of deadly attacks inside Israel, many of them carried out by Palestinians from in and around Jenin. The town, and particularly its refugee camp, has long been known as a militant bastion."
That is the sign-off in the Washington Post article (bylined Associated Press) today announcing the death of Shireen Abu Akleh, Al Jazeera's correspondent in Palestine, who was shot in the head by Israeli forces while wearing a clearly-labelled "Press" vest. One of her colleagues, Ali Samoudi, Al Jazeera's field producer, was shot in the back with live ammunition, but is believed to be stable in hospital. Video footage of the incident – which has been seen by Al Jazeera – appeared to show they were shot by snipers.
"Deadly attacks", a "militant bastion" – these are words used to describe Palestinian resistance to the daily hell of Israeli occupation in their own land.
For a journalistic institution such as the Washington Post, it's a very poor effort. "Deadly attacks" would suggest that Israel suffers large numbers of casualties at the hands of Palestinians, when it does not.
In fact, last year, Israeli security forces killed 313 Palestinians, including 71 children. Five more were killed by armed settlers or soldiers escorting them while another Palestinian child was shot by an Israeli civilian and, later, again by Border Police officers.
The casualties on the Israeli side for 2021? A total of nine Israeli civilians, including two children, were killed by Palestinian rockets. At least 20 Palestinians were also killed by those rockets.
The Washington Post is just one of many Western media institutions which have been quick to soften the narrative surrounding Israeli brutality.
The framing by Western media of Israel's aggression in Palestine as a conflict of equal sides is completely false. It is also really poor journalism.
AP reported the brutal killing of Shireen today, as the journalist having been "killed by gunfire" as if she had been accidentally caught in the crossfire rather than killed during a brutal crackdown on Palestinians by Israeli forces.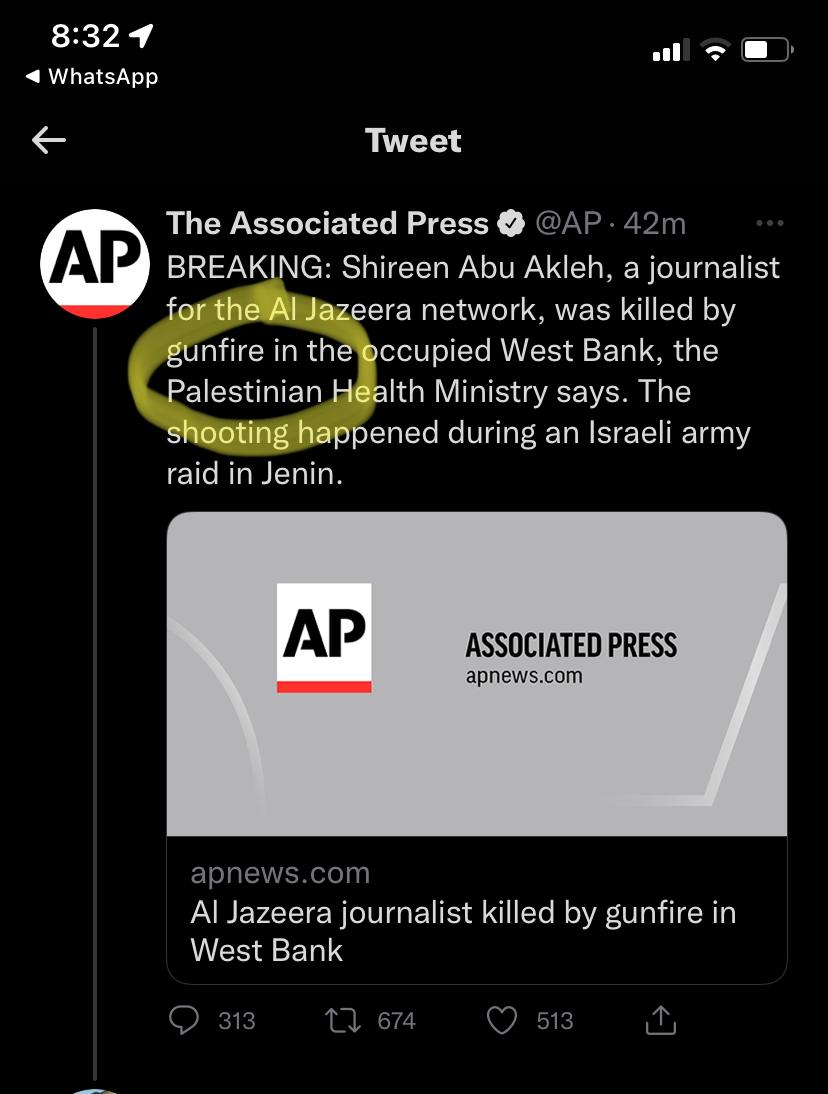 The same AP which Tweeted guidance for journalists in 2020, stating: "Avoid the vague "officer-involved" for shootings and other cases involving police. Be specific about what happened."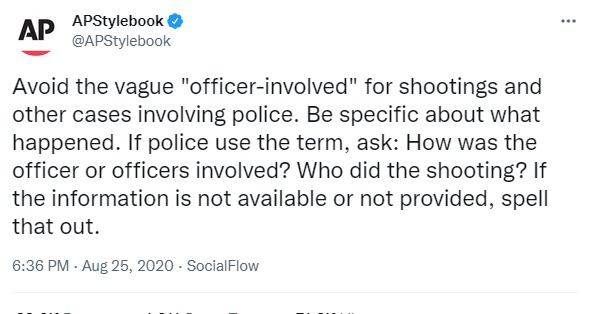 CNN reported in a similar woolly "killed by gunfire" fashion.
The New York Times wrote: "Al Jazeera said one of its journalists was killed in the West Bank city of Jenin during clashes between Israeli forces and Palestinian gunmen." Again, as if this is a conflict of equal sides. Reuters also reported the Israeli assertion that she "may have been shot by Palestinians as they clashed with its troops".

This is despite the testimony from colleagues who were with Shireen this morning that there was no confrontation from the Palestinian side in the moment that she was killed and that Israeli fire was targeted at the group of journalists.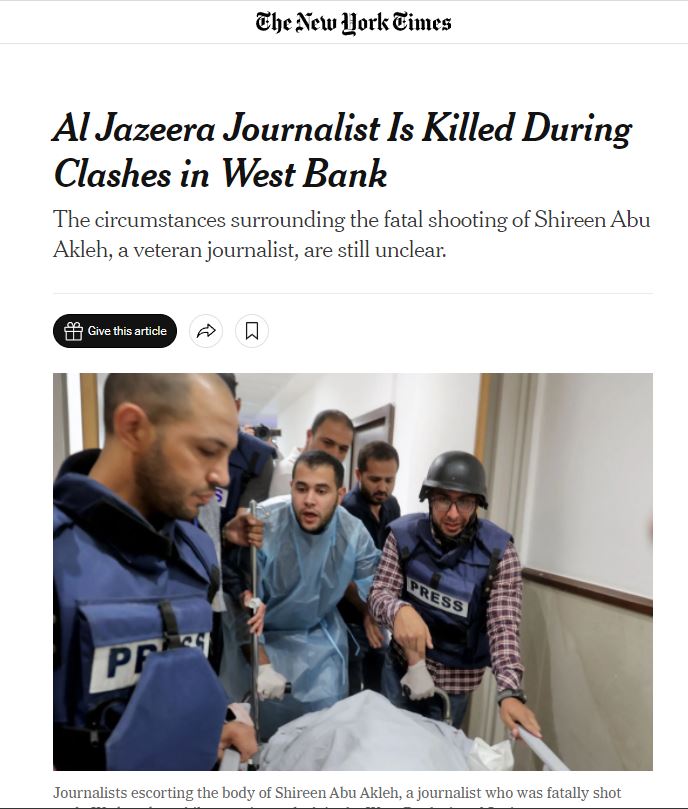 And still Western media trots out the same excuses: "Hamas is hiding in schools". Well, they don't have much of a choice of venue to base themselves, given that Gaza is effectively a tiny, cramped prison camp under siege.
It's the equivalent argument of: "But, her emails!"
The hypocrisy of Western media when it comes to narratives about oppressors and the oppressed has shone bright and clear recently.
Facebook continues to censor pro-Palestinian pages and content while giving a green light to content directing Ukrainians on how to make Molotov cocktails.
Children arrested and imprisoned for throwing stones at Israeli soldiers are framed as armed aggressors.
The Ukraine war is clearly framed as the Russian invasion that it absolutely is, while Palestinian resistance to illegal Israeli settlement and occupation is labelled as "terrorism".
Shireen Abu Akleh was well known and highly respected in Palestine. Her death is a huge loss to journalism. She had been reporting from the occupied territories for Al Jazeera since the start of the second Palestinian Intifada in 2000. Everyone knew who she was – everyone knew she was a journalist.
It's time for all journalists – particularly those in the West – to start reporting these events truthfully and without bias. Until they do, these tragic deaths will continue to mount up.
Nina Montagu-Smith is the Editor of Al Jazeera Journalism Review