The BBC's decision to censor satire in future political panel shows at the behest of the UK's new prime minister shows it is hardly different to any state-controlled media organisation operating under authoritarian regimes
Satire is not just a tool for speaking truth to power. It is a litmus test for democratic freedom.
This week the UK's BBC was forced to decide to "reset" the tone of former political editor Laura Kuenssberg's new political affairs show after a comedian took aim at the incoming prime minister, Liz Truss, who really can't take a joke.
Kuenssberg's debut show featured a 15-minute slot with Truss who, at the time, was widely expected to be chosen as the next leader of the Conservative Party and, thus, the country's prime minister. A panel of guests was lined up to give their verdict on the interview immediately after.
"I loved it. I thought she was very clear, she gave great clear answers," gushed panellist Joe Lycett. "I know exactly what she is up to. Most people at home are going to feel reassured."
It quickly became clear that Lycett, a well-known comedian, was making ample use of the satirical tool of sarcasm to underline his view that Truss had not, in fact, said anything of much use to anyone at all.
Lycett declared himself "very right-wing" before saying of Truss's performance: "The haters will say that we've had 12 years of the Tories and we're at the dregs of what they've got available and that Liz Truss is the backwash of the available MPs."
The result was fury and indignation from Truss's political team and an immediate demand that the BBC not host such guests again - one the organisation has seemingly caved in to without putting up the slightest hint of a fight. Britain's flagship for right-wing journalism, the Daily Mail, was so outraged at the mocking of the future prime minister, that it made the incident its front-page story the next day - something Lycett also joked about on Twitter: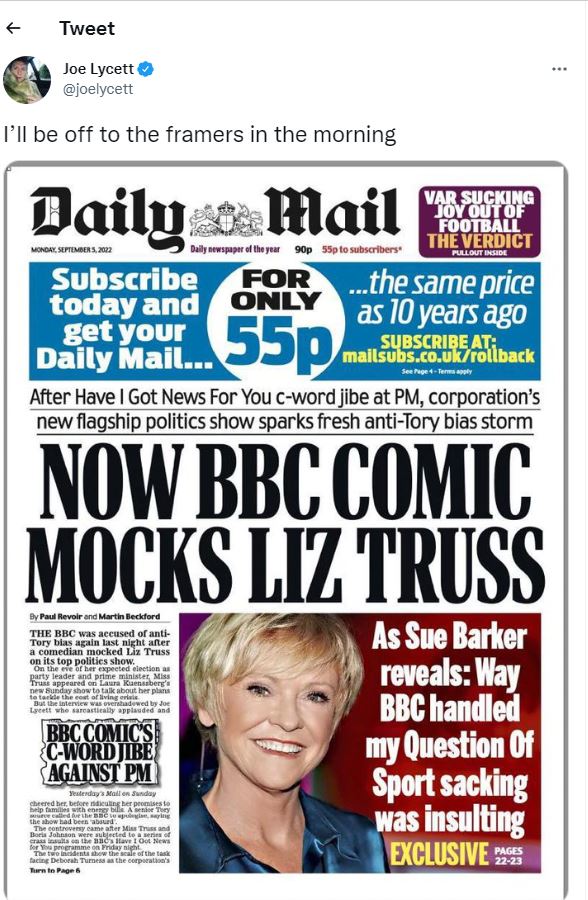 The Daily Mail's take on this was a bit rich, frankly, given its own love of making fun of left-wing politicians. Take this for example: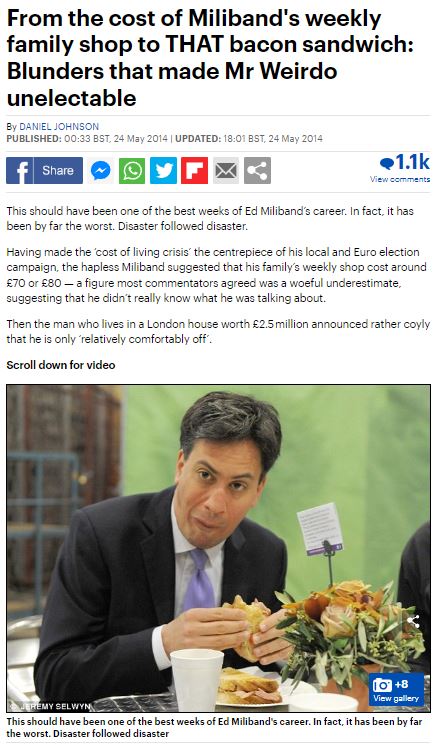 I digress. Back to the point in hand - if the BBC is ready to roll over and cancel satire for any political leader, what, exactly, marks it out from any other state-controlled media organisation too afraid to deviate from the Party line?
This is one of the clearest signs yet that with its current Conservative leadership in place, the UK is straying dangerously far from its democratic path.
The censorship of satirists and comedians has been a strong marker of this before.
The Iranian scholar, Dr Mahmud Farjami, has lived in exile since 2010, most recently in Oslo, working for Kristiania University College. Before the revolution in Iran, satire was Farjami's modus operandi and it was one he could freely practise, he says.
"After the coup it got tighter and tighter. My website was shut down, my daily column in Tehran Today was banned and in the end I had no job," he told Kristiana University's newspaper.
"I was interrogated by the Ministry of Information called Vezarat-e Ettelaat, more like the KGB. In May 2010 I realised I had to leave the country as soon as possible, especially when I was asked to go to the Court of Media."
In Egypt, after the ousting of President Mubarak in 2011, the new elected government took a relatively soft line but after the military coup in 2013 the country headed down a newly authoritarian path, including the banning of satirical work which it considered unacceptable. The country's most popular television satirist, Bassem Youssef, was shut down after he made fun of the army chief.
Similarly, in China - another country not known for being a bastion of democracy and free speech - the works of satirical novelist Yan Lianke are subject to an "unofficial" ban after his 2005 novel, Serve the People, featured a commander's wife and her young lover smashing statuettes of Mao and urinating on his books. 
The UK government's move to cut out satire on a political show is a regression. After all, it was back in 1599 that the Archbishop of Canterbury and the Bishop of London banned the printing of satires and ordered the burning of any that already existed. We are supposed to have moved on from those days.
It is true that journalists in the West don't tend to be jailed or exiled for upsetting their governments - although that may be about to change given the current persecution of Julian Assange (for the record, not my favourite "journalist" but that's besides the point) as well as America's propensity for "kill lists" which at least one US journalist has found himself a target of.
Furthermore, little by little, Western governments are making it easier for journalists to be prosecuted. Take Joe Biden's Disinformation Board, for instance, which was set up to debunk fake news from Russia but has little to say on the matter of fake news about the Ukraine war emanating from Western media. What happens to any journalist who does dare to question the Western line on Ukraine?
The fact is that any government that cannot laugh at itself or tolerate jokes at its expense is on a slippery slope towards authoritarianism. Satirical writers and journalists are our gatekeepers - long may they amuse us.
Nina Montagu-Smith is editor of Al Jazeera Journalism Review