How rumours and speculation about a refugee 'Convoy of Light' descending on the Greek border with Turkey were taken up by some members of the press - when it never actually happened
Every journalist wants to be the first to break the news. It's an honour that can earn you accolades from your colleagues and, if you are a freelancer, it can also mean a huge boost to your earning potential.
If you are late to covering a breaking news story, your newspaper or media outlet will be forced to rely on wires copy - and nobody wants that.
So of course I was excited when Lara Villalon, a Spanish journalist covering Turkey, told me in early September about a Telegram chat group with a rapidly rising number of members among Syrian refugees in Turkey. The group administrators, who had remained anonymous, were proposing to launch a coordinated march, dubbed the "Convoy of Light" (قافلة النور ), towards the Greek border in order to enter the European Union. 
If enough people showed up for a peaceful march, accompanied by the press, NGOs and UN representatives, the coordinators assured their followers, Greek authorities would feel compelled to open the border and let them pass.
This seemed a rather risky assessment. Both Lara and I remembered well the migrant flood we had covered together in February and March 2020, when tens of thousands of Syrian refugees, joined by Afghans, Somalis, Pakistanis and Eritreans, had arrived at the Greek border, following calls in social media networks, where they were told, falsely, that Greece had opened the borders. 
This was in part a misunderstanding - the Turkish government had said it opened their own borders, not that Greece would do the same - but it was in part also fuelled by anonymous voices spreading false rumours about the EU being ready to open its gates. 
The result was a humanitarian disaster, with tens of thousands of migrants camping along the Evros river for days on end, spending what little money they had left on a futile attempt to cross the border. Many had been scammed by unscrupulous smugglers who promised them a safe passage only to abandon them somewhere in the nearby woods or even on an island. 
"As a journalist, you must assume that everybody will try to instrumentalise you and use you for their own goals"
Daniel Iriarte, journalist and teacher of journalism
Some Syrians, who had been making a small but stable living in Turkey had been so taken in by the rumours, they had sold all their possessions and left their jobs just to arrive at a frontier that remained closed. 
Would a repetition of this incident - albeit better coordinated and with people carrying placards - really yield a different result? 
There had been no lack of media coverage back in 2020 - the plight of the migrants had been live-streamed on every European channel, but Brussels hadn't moved. Of course, if there was to be a new migrant wave, we would have to cover it. But was there? Would there be? 
By September, the Telegram group, now grown to 80,000 followers, seemed confident enough and although no specific date was set, departure seemed imminent. An inattentive follower might have been excused for thinking the caravan had already departed, as the administrators had begun sharing some coverage of the initiative by other social networks often addressed to Arabic-speaking migrants in Germany. 
A screenshot from a purported Facebook group called "Germany Times /ألمانيا تيمز ", showed a large column of people walking through the fields, without explaining that this was a picture taken during the refugee crisis in 2015 somewhere in the Balkans. 
After that, the Dubai-based Syrian site, Orient News, started covering the issue, also using footage from 2015 without always making it clear that these were archive pictures. At least, it would not be clear to anybody who saw the screenshots in the Telegram group. 
When a French agency distributed the story, even with the emphasis that no date had been set for the convoy to take place, news screenshots appeared in the Telegram group. 
And, on September 20, it was the prestigious British daily, the Guardian, that ran the headline "Syrian refugees mass in convoy on Turkish border to walk into Greece". Although the picture's caption noted that it was taken in March 2020, the story itself suggested that the convoy was already forming at the Greece-Turkey border.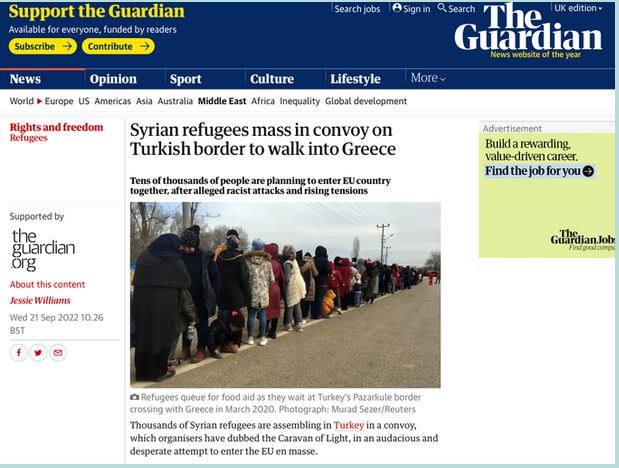 "As dawn broke on Monday, members of the caravan began their journey to the designated meeting point of Edirne", the story, written by freelance journalist Jessie Williams whose website says she is based in London, stated. The screenshot made it straight onto the Telegram group and sparked new hopes: if the British press was covering the march, it must be really successful, was the suggestion.
At least, that was what we imagined, because the reaction of the 80,000 followers was unknown - only administrators of the group were allowed to post messages. 
Following the Guardian's story, a Turkish journalist took a look around Edirne and managed to speak to a few Syrians who had come to wait for the "arrival of the convoy", which never took place. 
There were of course dozens of migrants in the city looking for a way to cross, but many of them were Afghans or Africans and not members of the Arabic-language Telegram group. 
Finally, a smaller subgroup, created to coordinate those who really were travelling towards Edirne, and soon followed by 13,000 people, announced a meeting point in a village in Edirne province on September 25. The next day, a group of Syrians arriving there found only "a dozen people, with no leaders and no coordination at all" and decided to return to Istanbul. Confusion was spreading and a few days later, the convoy was officially called off.
The dilemma before journalists covering the region was the following: should we cover an initiative that is limited exclusively to messages in a Telegram group or should we wait until it actually happens? 
It was quite clear, observes Lara Villalon, that press coverage was used as a factor to show that the initiative was solid, "that it was not just a conversation on Telegram but that the convoy did exist" and that things were going ahead planned. This encouraged people to sign up. "There were no logistical details; instead they posted things like 'we have appeared in the German press', without even showing the news, and there was quite some tenacity in pushing people to up and leave for the frontier", she says.  
Although the real impact of the press coverage screenshots in the Telegram group is difficult to assess, it is easy to imagine that many refugees would have understood that a huge number of people had indeed already gathered at the frontier.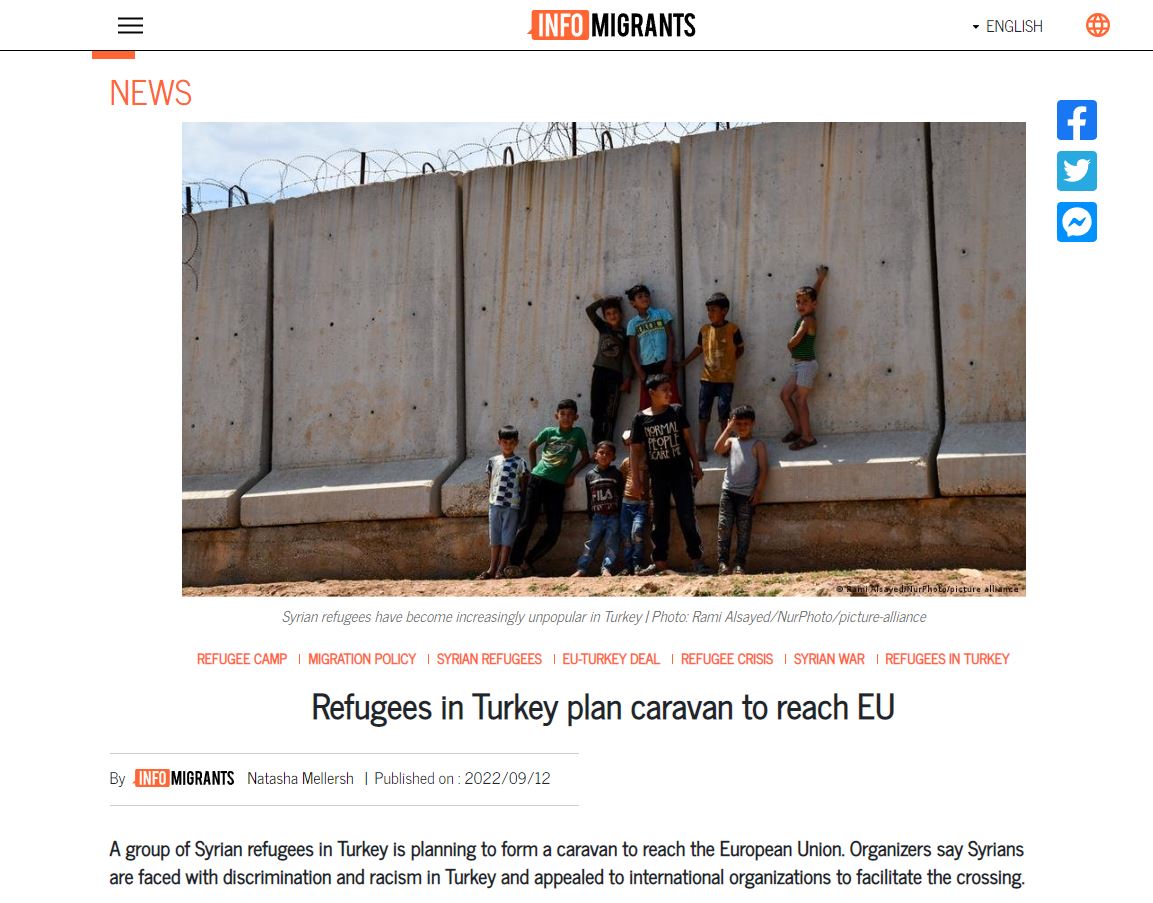 And of course, every new story about the non-existent convoy would have had a domino effect on the rest of the press - the more the media tell a story, the greater the pressure on other correspondents to come up with new stories about the same "event", even if they feel there is nothing to tell. 
In this sense, "breaking a story" is not always about being the first to discover a newsworthy fact, but is sometimes about being the first to decide to publish a fact as if it was newsworthy, setting the lead for the rest of the media, who have little option but to follow suit. 
The coverage by some wires services and, later, by the Guardian wasn't enough to put this sort of pressure on the community of correspondents in Turkey, or so it seemed. Few others ran with the story, although dozens of journalists were aware of it and enquired about the details among their colleagues. 
Had we all decided to put out the news, however, the Telegram group would have been flooded with screenshots and perhaps a bigger number of people would have climbed into a bus to Edirne to join the "convoy". 
We cannot know that for certain. But if it had happened, we as journalists would have been partly responsible for anything happening afterwards, whatever that might have been.
Maybe Greece really would have opened the border gates - desperate to avoid a disaster like that of 2020. But should journalists ever contribute to whipping up the news they are covering? 
As physicists know, you cannot observe a particle without influencing it, and the same goes for journalism
As a principle, we must say no. Because even if the cause seems noble or humanitarian, we cannot always know beforehand what exactly we are contributing to. In the Convoy of Light case, says Villalon, "it was not clear who was organising it, and it could be a real group of refugees, but as well an organisation with political aims, perhaps wishing to undermine a specific political party or polarise (Turkish) society with a certain debate".
But the decision to keep silent is sometimes a hard one to take, says Daniel Iriarte, himself a long-time correspondent in Southeast Asia and in Turkey, who is now teaching journalism courses. He quotes the instances of certain extreme right-wing groups that launch short, public street actions designed to stir up anti-immigrants sentiment. If nobody takes any notice, nothing would happen. "For a journalist it is very hard not to cover it," Iriarte admits, because the action is real. 
However, it is the picture of the action spread all over the media that will enable the polemic to gain ground and attract extremists from all sides who will convert "into a real cultural or religious confrontation that otherwise would not have been more than an ill-intended prank", he adds.
"As a journalist, you must assume that everybody will try to instrumentalise you and use you for their own goals", he says. "A source who leaks classified information might have their own interests. Your article, once published, will be quoted by politicians for their own goals. But you cannot pay heed to those considerations either and silence the facts. Just ask yourself: is the fact relevant enough?" 
As physicists know, you cannot observe a particle without influencing it, and the same goes for journalism. But when our coverage forms an essential part of events taking place or yet to take place, we should think twice before pushing out the headlines. Breaking the news is great, but don't create the news first in order to break it.